A friend showed me how to use Spotlight search on my new iPhone 4, and it's a great way to find things quickly, but I really, really don't want to have it search the thousands of songs I have on my phone, just my contacts and address book information. Is that something I can tweak or alter?
You can indeed change the settings of your Spotlight search on your Apple iPhone, whether it's an iPhone 3G, iPhone 3GS or iPhone 4. In fact, you can tweak it whether you're running the latest version iOS 4 or have an earlier version of the iPhone operating system firmware.
That's handy, eh?
Before we proceed, however, I am guessing that most people reading this have no idea what we're talking about with a "spotlight" search on the phone. Maybe they know that the little magnifying glass icon on the top right of a Mac gives you quick access to a search system called Spotlight:

but that's not available on the iPhone. Is it?
In fact, it is. On your phone, tap on the home button (bottom center circular button) to get to your home screen, then tap on it one more time. Everything shifts right and you get to a screen that looks like this:
Do a search with it in its default settings, and it finds
everything
that matches, whether it's an app, a song, or even an email that's come in.
To change that, go to Settings and tap on "General":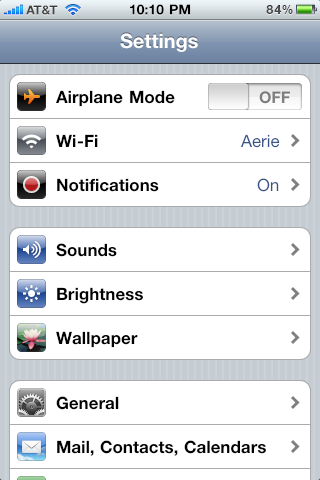 Once you've done that, notice in the middle of the screen is "Spotlight search"…
Tap on that and you'll be able to specify which elements should show up in your Spotlight search results on the iPhone: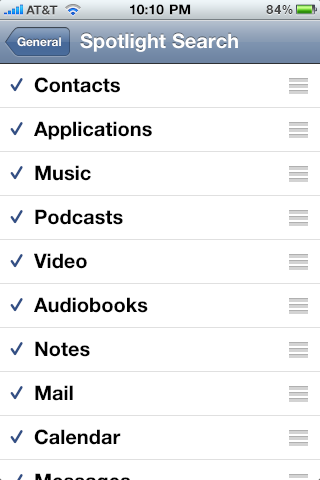 Tap on the check mark to the left of a category of content you don't want showing up, and if you tap and drag on the small horizontal lines spot to the right of a category listing, you can move it up or down to change the order of Spotlight search results.
Voila!