Every time I try to login to my facebook account it comes up with my nephew's account. How can I get the system to recognize my account again and not bring up his?
That's an interesting problem, because it highlights a modern design feature of a lot of different Web sites, from Facebook to Twitter, Google to Yahoo and even Hotmail Live: to make it easier for a user who returns to the site day after day, most sites can now leave you logged in for convenience. Which works great when there's just one person using the system, but not so good when it's not a dedicated system.
This goes double for any public system, of course: if you're ever using a machine on campus or at a business, or especially at an Internet café, then it's critical for your account security that you never leave your account logged in when you're done.
That's what your nephew has done on your computer, left himself logged in to your Facebook account.
No worries. To log out go to Facebook and look on the top right. It'll look like this:


Click on the small white triangle and a menu pops up: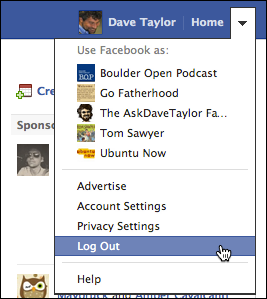 You can see the option you want – I've highlighted it! Click on
Log Out
and your nephew will be signed out of Facebook, leaving you able to sign in yourself:

Pay particular attention to the small checkbox labeled "Keep me logged in". That's what you
don't
want to have checked unless you're sure that no-one else will use your computer. When your nephew comes back and uses the computer, ask him to remember not to check that box too, so you don't have to fuss with this next time.
Hope that helps you work with Facebook!