I saw that Instagram now offers a cool photo mapping feature that lets you look at all your photos — and those of other members who opt in to photo maps — on a map. Neat idea, but I'm a bit anxious about privacy: some of the pics I post are taken from my house and I don't want everyone on Instagram knowing where I live. Should I just skip Instagram Photo Maps or is there a way to control what pics are posted?
I'm glad to see you being conscious about privacy with regard to your photos, first off. Too many people forget that especially with mobile devices when you take a photo and post it, the picture includes geographic information that lets someone pinpoint on a map exactly where that photo was taken. If it's your children's day care or school, if it's your elderly Mom's house showing her shiny new flat panel TV, if it's your house and you prefer a bit more privacy, well, yikes.
Some apps are smart enough to wipe or mask that data and you can disable the geolocation feature on most smart phones, but then they complain and keep prompting you to enable it again. Hassle, for sure.
But don't throw out the proverbial baby with the bathwater. Instagram's photo map feature actually lets you omit any previous pic you've uploaded (which is, of course, easier if you have twenty pics uploaded than 200!) and any subsequent photos you Instagram can include – or exclude – the geolocation information.
Let's have a look!
First off, in the Instagram app, go to your own profile. It'll look like this: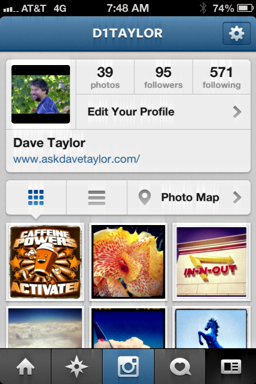 Tip: You can look at my profile too (and follow me!) on Instagram by searching for "d1taylor" in the "Explore" area. Now ya know!
Notice the label "Photo Map" halfway down. Tap on it to get started. Don't worry, you'll be able to select which pics you include or exclude!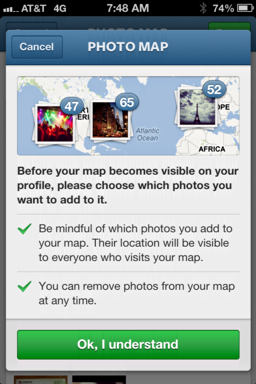 Here's the intro screen from Instagram. Basically it reinforces what I'm already saying, right? Note that by default the map
isn't visible
too. Smart.
To proceed, tap on "Ok, I understand".
Now it shows your photos in geographic "clusters" to make it easy to include or exclude entire venues. Took a bunch of pics on a secret trip to Aspen? You can omit that entire location by tapping on the green check button that's on the map.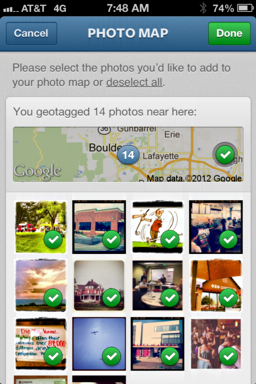 Or, go to a specific location and you'll find you can tap on individual photos to exclude them too: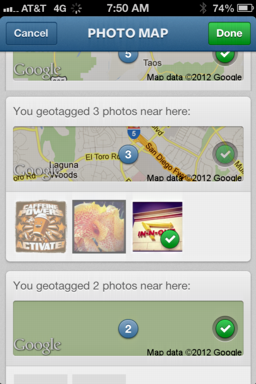 Only photos that have a green checkmark on it will be included. Above you can see that's only one of the three pictures taken in this specific location.
Scroll down, add or exclude geographic areas and individual photos. Double check, if you'd like.
Now tap on the green "Done" button on the top right when you're all done.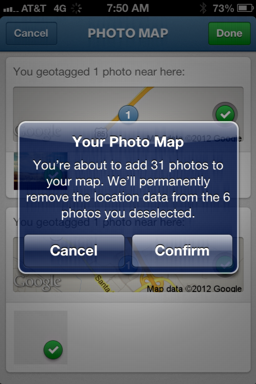 Notice that I have highlighted six pictures that included geolocation data that it turns out I don't want to share. Ooops. It happens. Now Instagram will permanently remove that data from those pics as part of assembling my Photo Map.
Sounds good! I tap "Confirm" and…
Nice. Now if I look at my Photo Map, it's quite slick:
You can see clusters of photos in greater Los Angeles, California, New Mexico and Colorado. Double-tap and the map zooms in. Check out my profile for yourself and you can see the pics, including the weird eyeball, creepy horse sculpture and In-n-Out logo. 🙂