I saw your article from a while back about blocking Coasterville notifications on Facebook and was wondering if you had a shortcut or faster alternative as that's really kinda crazy complicated. Is there an easier way to block a game, game invite or game notifications?
You're correct that I didn't mention a shortcut you can use from the Notifications menu on Facebook for blocking apps and, specifically, game invites, but the reason is that not all game notifications show up there, most seem to just show up on your newsfeed, in which case you're stuck with the more complicated solution I demonstrated in that other article.
However, if you do occasionally see notifications show up in your Notifications menu, often invitations to join someone playing the game in question, there is a neat shortcut, an example of something that I think most people don't realize: you can delete notifications in the menu and perform other basic administrative tasks right there in the menu itself. This is, of course, non-intuitive if you're used to a Windows or Mac interface, but we'll cut Facebook some slack because it's so darn useful.
First off, the notifications list I'm talking about is one of the three pop-up menus on the top left of all your Facebook pages. It looks like this: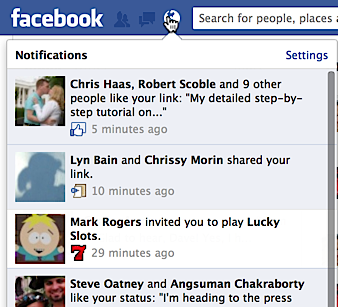 If you look closely, the third entry is an invitation from Mark Rogers for me to join him in the game Lucky Slots. But… but I don't really play games on Facebook so I not only want to decline the invitation, I want to block the app from every bothering me again.
To do that, I move the cursor to the top right of the box containing that specific notification:

That's kind of fun, dueling pop-up tips. The 'x' appears out of nowhere and, as you can redundantly see, "Turn Off …" is what'll happen if I click on the 'x'. I do so, and…

That's what I seek, the ability to turn off all notifications from Lucky Slots so that the app never bugs me again, so I click on "Turn Off" and, hallelujah! Facebook affirms:

That's all there is to it. If you get a notification from an app in your notifications menu that comes from an app you just don't want to ever see again, a few clicks and you'll never be bugged again. Nice.