Hi Dave. I wanted to show my 12th grade a documentary about Fermat's Last Theorem. I was planning to send them the link via e-mail, and have them watch it at home. But the link (below) has a porn site listed under "related videos", so I don't feel that I can send it to them.
http://video.google.com/videoplay?docid=8269328330690408516
Do you know of a way for me to download that video onto my computer?
That's a great question and it highlights one of the ways that children can be exposed to material that parents aren't necessarily enthusiastic about or even approve of. For adults, we can see the stupid "related videos" and ignore them without more than a neuron or two being involved, but kids don't have that cognitive filter and for them it's better to not show that in the first place. Ten times so if you're a teacher and want to send a link to your students: one parent seeing a link to something that inadvertently includes some pornographic or obscene material, and, well, it's World War III. Not good!
I don't want to debate whether children should or shouldn't be shielded from this, however, so let's just noodle on whether there's a straightforward solution to the problem, okay?
On some video sites like YouTube, you can tweak the URL so that it doesn't include Related Videos, but Google Video doesn't have that option, which is too bad. There are basically two options you can see when you go to the video: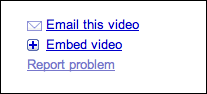 Let's try the first one to see how that goes, shall we? Click on 'Email this video' and here's the kind of message that's produced: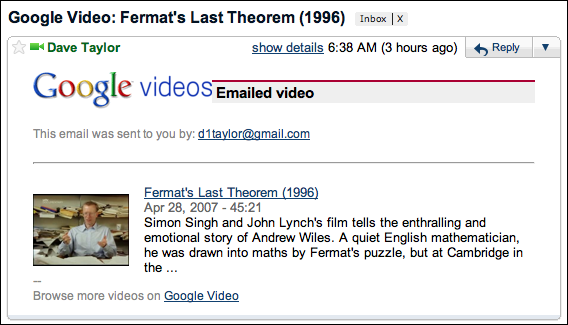 Pretty, but still ultimately just a link back to the Web page with the material you want to avoid, so that's useless.
The other solution, the one that will work for us, is to "embed" the video itself. To do this, you'll need to create a rudimentary Web page in HTML, but it's not too daunting. Open up NotePad (if you're on a PC) or SimpleText (on a Mac) and type this skeleton in:
<html><title>Fermat's Last Theorem</title>
<body bgcolor="white"><center>
<h2>Fermat's Last Theorem (1996)</h2>
</center></body></html>
See that blank line in the middle? That's where we'll copy and paste the actual embedded video. Before we do, though, I have added the title of the video to the page title and as a headline, just to make things look pretty. You can skip those or replace them with "video player" or similar, depending on how rudimentary you want it to look.
Now let's go back to the Google Video page and look at the second option, "Embed video". Click on the little "+" button and you'll see something new appear: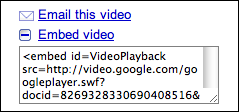 That code fragment is what you want to copy and paste, so click in the box and if it's not automatically all selected, choose "Select All" from the "Edit" menu, then "Copy" from the same "Edit" menu.
Now go back to your HTML and paste that code fragment. The result should look like this:
<html><title>Fermat's Last Theorem</title>
<body bgcolor="white"><center>
<h2>Fermat's Last Theorem (1996)</h2>
<embed id=VideoPlayback src=http://video.google.com/googleplayer.swf?docid=8269328330690408516&hl=en&fs=true style=width:400px;height:326px allowFullScreen=true allowScriptAccess=always type=application/x-shockwave-flash> </embed>
</center></body></html>
That's it. Now you can simply email the HTML file to your students and when they double click on it, they'll see the video playing in a clean, empty browser window: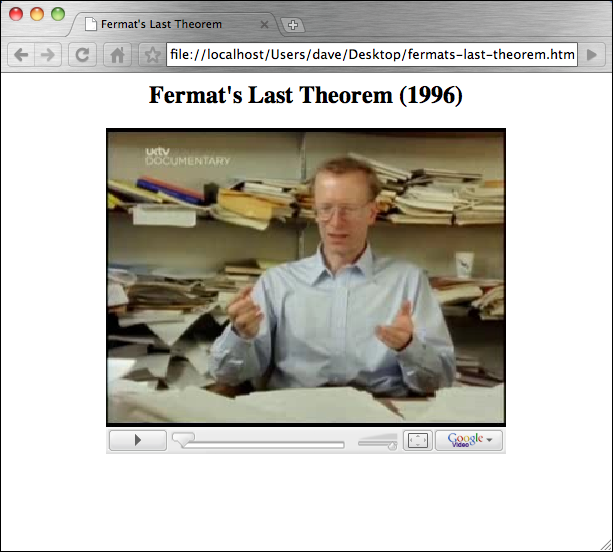 For bonus points, you could add some information about the video, links to usefu articles online, etc and make it a nice reference page. Either way, at least you've gotten rid of the Related Videos and other clutter from the video display page. Hope that's helpful!