My mom sends me the most hilarious photos and memes that I want to share with my wife. Is there a really simple way to share photos and other images from one Messages conversation to another in the latest iPhone?
Images that are shared with you via text messaging, MMS, SMS, or Messages (yeah, they're all really the same thing) are easy to save and share, but you need to experiment a little bit to figure out how it's done. Or… just follow along with this tutorial! I suppose I should mention that you might want to be sensitive to privacy issues if someone shares an image with you in confidence, that doesn't mean you necessarily have the right to reshare it with others in any venue or forum. In your case, however, I expect your Mom wouldn't be too upset if you're sharing her memes with your brother!
There are also two main ways to accomplish this task, one of which involves you actually saving the image on your phone into the Camera Roll, the other of which doesn't involve any additional storage requirements by just sharing it directly. I'm going to focus on the latter because it's so much easier and avoids you running out of storage space even more quickly. If you really want to know how to save the image or photo into your Camera Roll, read this: Save SMS Messages Photo to your Camera Roll.
HOW TO SHARE AN IPHONE TEXT MESSAGE PHOTO
Here are a couple of photos that my son sent me from taco night at a friend's house:
Looks good, doesn't it? It's the second photo I want to share with my friend Harry, so I'll tap on it to have it front-and-center in the Messages app on my iPhone 13 Pro. It is displayed like this:
Quite the spread, much better than my dinner was last night! Anyway, the important thing to notice is the four icons along the bottom. Left to right they are Share, Reply, Tapback (inexplicably the "+" in a talk balloon), and Save. Yes, the latest version of Messages makes it really easy to save images from Messages!
Tap on the Share button on the left and lots of sharing options appear: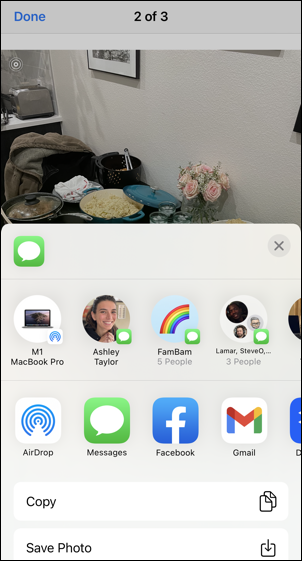 I can AirDrop the image to my "M1 MacBook Pro", text it to my daughter Ashley, or to one of a couple of text message groups. Below are apps AirDrop, Messages, Facebook, Gmail, and more app icons. Below those are additional links "Copy", "Save Photo", and more. Plenty of different choices and options!
Since my friend Harry isn't shown as one of the shortcuts along the top, I'll copy the image back into Messages by tapping the "Messages" app icon in the second row.
SHARE PHOTO FROM MESSAGES WITH SOMEONE ELSE
Once I tap on "Messages", the iPhone instantly pops up a text message balloon with the image included, letting you specify the recipient:
At this point you can type in the recipient's name or phone number. I'm going to send this to my pal Harry Potter. Be aware that you can also add additional text or even emoji immediately below the photo, all in the same text message balloon:
Easy enough, right? Enter the additional text you want and tap on the green up arrow. SENT!
Now here's what Harry receives (on his Android phone):
Neat, and notice that Android's also offered up some response shortcuts if Harry's in class and needs to sneak a quick response.
Pro Tip: I've been writing about the iPhone and iOS since the very first iPhone was released. I have quite a few iPhone help articles here on a wide variety of topics, so please check 'em all out while you're visiting. Thanks!