I need to share documents with my attorney on a case and as she's a friend, we are constantly chatting about the case on Facebook. Is there a way in Facebook Messenger to exchange files directly rather than me emailing them to her?
I guess I shouldn't be surprised that an attorney is using Facebook to communicate with a client, but somehow the unknown security of those messages does make me a bit anxious about the attorney/client privacy aspect of your messages. Then again, I'm friends with my legal team and we are connected on Facebook and LinkedIn, so perhaps it's only a very small step from where I am to what you're asking about. 🙂
With very little fanfare, the Facebook team has been adding capabilities to Facebook Messenger chat too, which is most easily seen in the mobile version. But every version has the ability to share photos, files and even add additional people to the chat, making it a 3-way, 4-way or bigger, rather than just one-to-one. Darn handy, actually.
To demonstrate, I shared a file with my sister on Facebook. Here's what we were chatting about at the time:
(If you're curious, we're planning a family holiday for later in the year and comparing prices of different vacation rentals)
To share photos, it's super easy: just click on the camera icon on the very bottom. Then you get a file selection window:
The problem is that the PDF document "CA options.pdf" is greyed out: it's not a photograph.
Shoot. That'd be a neat place for them to include general file sharing capabilities, but that ain't how it works.
Instead you need to click on the gear icon at the top of the chat window to pull down the options menu: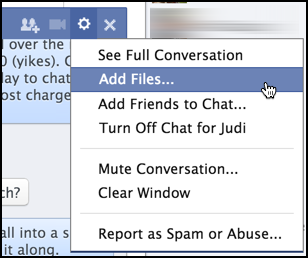 As you might imagine, "Add Files…" is the option to use.
Do so and the file selection window opens up again, but this time just about everything's available: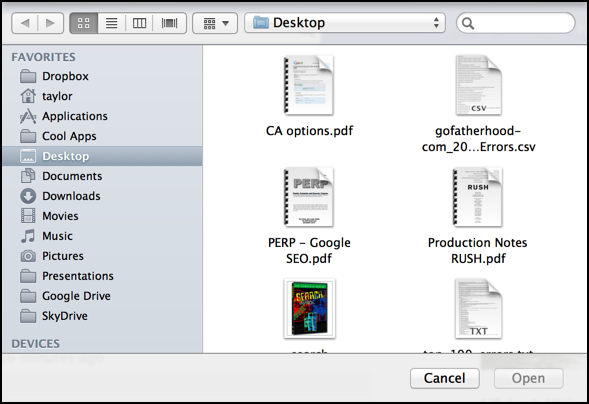 A click on "CA options.pdf" and then the "Open" button on the lower right and we're good to go:
Actually, no we're not. This is something that tripped me up the first time I tried this. When you see the file on the very bottom of the chat window that means it's in the queue, ready to share, but hasn't been uploaded yet nor actually shared with the other person (or people, if you have a 3 or more person chat). Confusing.
To make that happen, simply send some sort of message and it'll piggy back on that. Here's what I mean:
As you can see, now it's shared and my chat bubble now includes the file link for everyone else to click and download.
Now about that privacy piece between you and your attorney, that's another story. You might double-check with her that it's an appropriate communications channel…