I have an online business and it's going pretty well, but I've hit a wall: I want to establish and set up an 800 toll free number for customers to call, a number that goes straight to voicemail, but lets me easily call them back to answer questions or concerns, help track shipments, etc. But how do I set up a toll free number without paying a ton of money?
There are a number of choices available for you to have a toll free number, actually, and one way to find them is to do a simple search for "toll free number provider". You can also ask friends and colleagues what service they're using and if you aren't concerned about it being a toll free number at all, services like Google Voice can be a good solution too.
However, the service I recommend and have been experimenting with is eVoice
. At its basic configuration, for less than $10/month you can not only add a toll free 888 number, but you can also have it route directly to voicemail (which then is emailed to you as an audio attachment + transcript) and even have a forwarding schedule where during business hours incoming calls bounce to your cell phone or other telephone, and off-hours it's voicemail only. Powerful, flexible, and quite a bargain in my opinion.
Let me show you the process of setting up your own toll free number, then I'll also share how voicemail messages show up and even how to create a specific schedule for forwarding incoming calls…
First off, go to the site and here are the three basic options:


I suggest you start out with the "Basic" service at $9.95/mo, which lets you set up two extensions (each of which can forward to a different cell phone or landline number, btw) and that all important 30-day free trial.
Click on it and you can go through the different toll free numbers available to pick one that looks good, sounds good, etc:


Initially I thought (888) 411-8340 was going to work, but the more I thought about it, the more I decided it was confusing to have "411" as part of the sequence, so in fact I scrolled down and found another choice that was better.
Once I'd picked a number, I had to enter some basic billing information, including a main phone number, the number that by default calls will be forwarded to:


Mission accomplished. Click "Save" and once it verifies your credit card payment info, you're ready to proceed. As you can see, my toll free number is
(888) 582-0229
. I think that's reasonably easy to dial and remember!


Once I've signed in with the new account information, it's time to decide if I want to set up extensions. Here's where you can have some fun and setup your business to sound a lot bigger than it is. You know "Press 1 for accounting, 2 for marketing, 3 for customer support". Of course, the basic account only gives you two extensions, but you can upgrade at any time if you're so inclined.


I'll stick with no extensions — a toll free number that goes straight to a human, imagine! — by clicking on "I Don't Need Extensions".
One more step: Set up your own voice mail message or have eVoice set up something on your behalf for a nominal fee: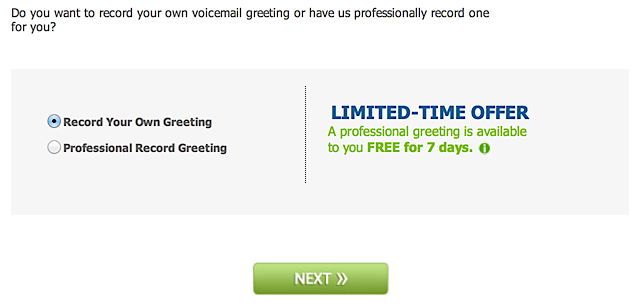 I can record my own greeting, so I choose "Record Your Own Greeting" and click "Next".
The system them tells me exactly how to set things up:


Again, mission accomplished, a click on "Finish" and I'm done.
The number is now set up and configured to go straight to voicemail for the present. To test it, I call myself and within a second or two a voicemail notification email arrives in my regular mailbox:


See the grey "Click to Return Call" link? When I click on it, the result is quite interesting:


You can see that eVoice can act as the middleman, calling your number, calling the customer, and showing a Caller ID to the customer that matches your toll free number, effectively masking your own personal or mobile phone number. Fast and easy.
If you don't want to deal with messages via email, you can also log in to the eVoice service and go through all your voicemail with its email-like interface:


Finally, on that above screen capture, see on the lower right where it says "Account Settings"? That's how you can get to the Call Routing area, which lets you specify what times of the day and what days of the week calls should be forwarded to your phone, and when incoming calls should go straight to voicemail:


Notice that you can even have multiple phones ring simultaneously if you want to have more than one person working customer support at a given time or day: Whoever answers it first gets the call. Easy enough.
All in all, I'm happy with my tests of
eVoice
and encourage you to check it out if it's time your business had a toll free number or if you simply want to have more control over how your customer calls are routed and handled based on schedules and times.

Tip: Don't forget that eVoice has a 30-day free trial
if you want to explore.
Disclaimer: I have used affiliate links in this review. You pay the same price for an eVoice account, should you decide you want to give it a try, but I get paid a small commission that helps keep AskDaveTaylor running. It's a win:win.