I'm wondering if you can step me through the process required to configure one of the new Linksys routers, specifically the AC-1750? I'm excited to get 802.11ac and its huge speed improvement, but am leery that it's going to be a bear to set up. Got one? Can you help?
You're totally in luck. I've been in the loop at Cisco for more years than I care to admit. Let's just say that when I first started visiting the company it was about a dozen people in a crummy office in East Palo Alto, back when that was a very rough neighborhood. They've come a long way since then, including their acquisition of Linksys (hence the "cisco Linksys" router brand).
This query was a good excuse for me to ask Cisco to send us one of these units and it's a pretty darn slick device, I have to say. From its built-in parental controls — on the router, not on a child's computer — to the ability to prioritize Internet traffic based either on app (Skype gets priority, network backups don't) to even designate a particular computer — like your own! — as always being a higher priority network user than other devices on the network, it's quite well designed.
In fact, I'm going to answer your question, but I'm also going to make this a review of the cisco Linksys AC-1750 Router too. Ready?
First off, in the box is a router, a power adapter, Ethernet cable and CDROM. Drop the CDROM into your computer, it's both Mac and PC compatible, and double-click on the "Setup" app, as needed.
It'll actually step you through everything required to configure the device to help you run a lightning fast 802.11ac router! Here's step one: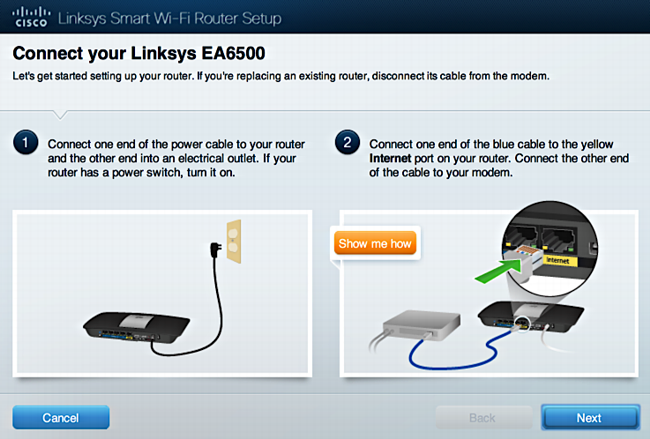 Easy enough. Plug things in as shown and click "Next", and once the app "sees" the new router it'll proceed doing all the necessary configuration automatically: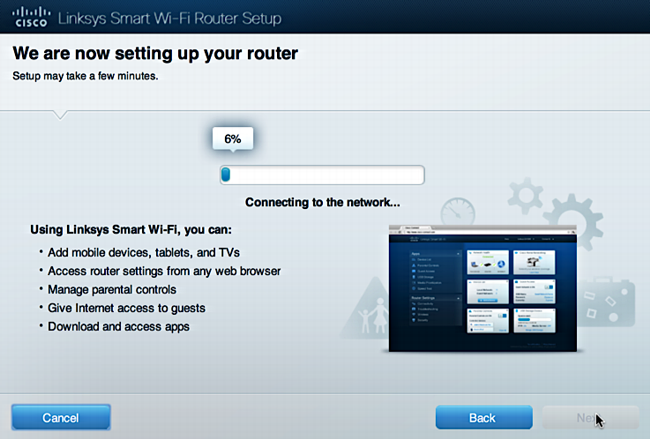 Unless you, well, hit the wall, as I did: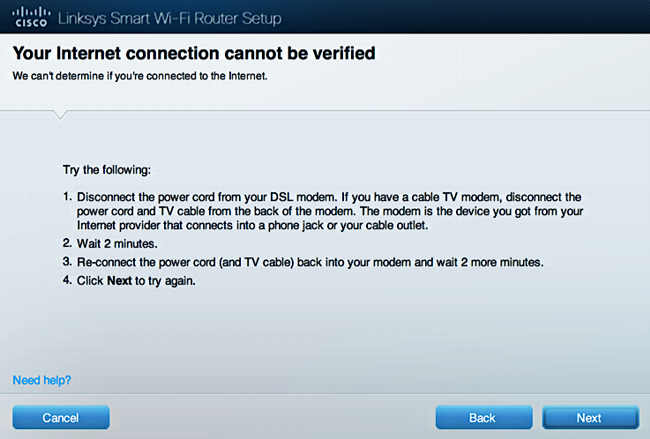 I tried "Next" a couple of times, without a clue what was wrong, and finally had the option to proceed without the last piece of configuration being automatically completed. I took that option and was dropped into some more manual settings, but I like getting my hands dirty with network devices, and definitely want to know about the router and wireless passwords anyway.
For reasons that are inexplicable to me, the default wireless network name defaults to
BeigeRabbit
on my device. My guess it's two words randomly glued together. But Beige? Rabbit? Odd.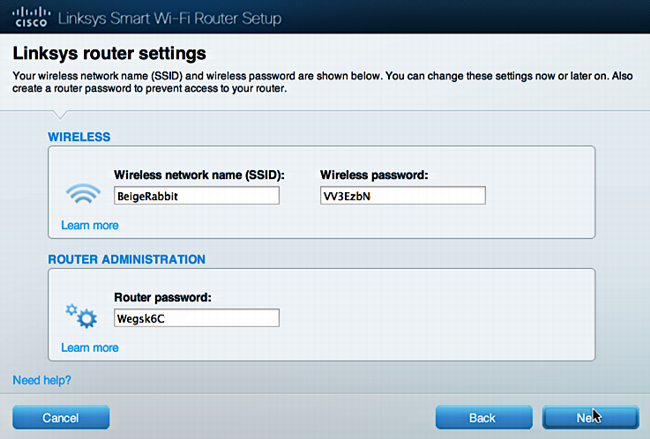 I changed the network name, network password, and router passwords to values that I preferred (and wrote them down temporarily), then clicked "Next", at which point it jumped back into the automatic configuration process, rather to my surprise: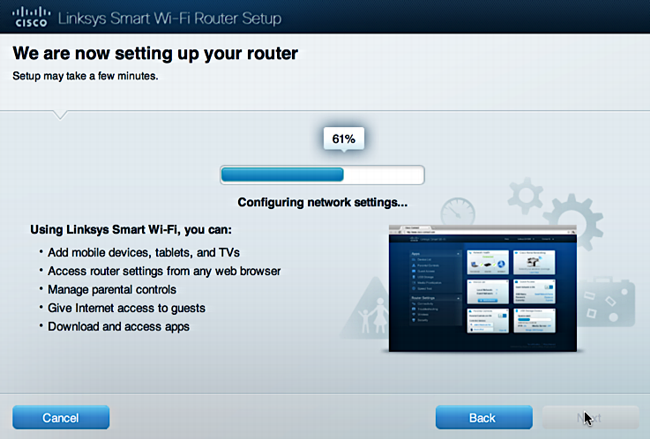 Once done it immediately recognized that there was a firmware update and grabbed that as part of the install process too:


The download went fairly quickly and the firmware was then updated. The result? A router ready to go: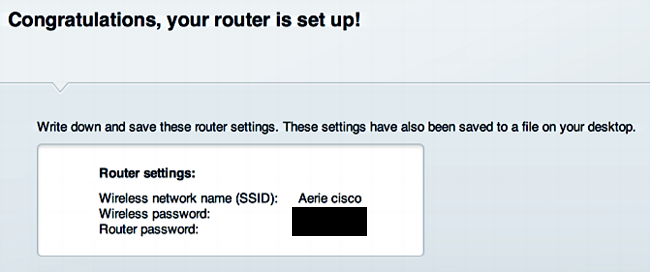 I've redacted the passwords, but if you forget to write the info down this is a handy screen to print, as needed.
And that's it. The zippy world of 802.11ac is now ready to go. And how much faster is it? It's 3x 802.11n, which itself is approximately 2x the performance you'd experience with an 802.11g wireless wifi router. That's a lot of speed!
One cool thing about the Linksys router is that the configuration is not only all Web based, but it really is on the Web, so you can access your Router and tweak its settings from anywhere in the world.
Just start here:
linksysSmartWifi.com
. Pretty amazing, actually.
Once you've configured everything for cloud access, you'll see the many Smart Wi-Fi Tools that are available: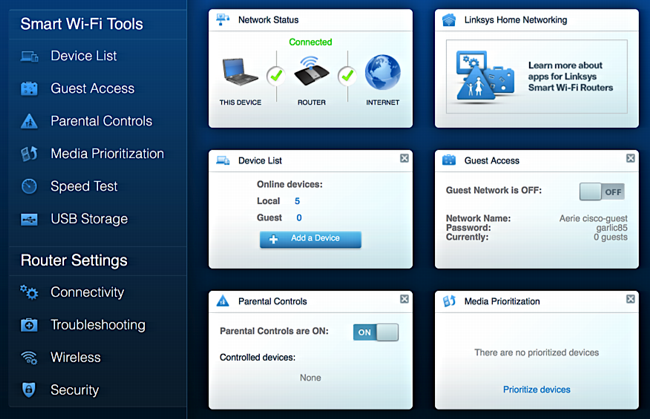 Click on "Parental Controls", for example, and you'll see that you can specify offline hours for specific devices (like your son's computer between 11pm and 7am):

There are no warnings, unfortunately, so you'd definitely want them to set a timer or something so as to ensure they didn't lose any work (or game they were half-way through).
Another area worth exploring is the Media Prioritization area. As you can see, it differentiates between popular online games, specific applications, and devices:

A close look will also reveal that my computer "Dave's MBP" is the only device that gets high priority in the network traffic. This bit I'll forget to tell everyone else, but it's good to know that my router's got my back when everything gets busy. 🙂
I've been using the same router — an Apple Time Capsule — for years and the upgrade to this new top-end Linksys AC-1750 Router felt like going from a Honda to a Lambourghini. It's quite clearly faster and the configuration options are remarkable, far more sophisticated than my previous routers. The ability to access my network remotely is also very cool and could be helpful if I realize when I'm on the road that there's a file I need on the server.
At $185 street price, it's not the cheapest router by a long shot, but automatic prioritization of traffic by type will ensure that your VOIP calls are always clean and uninterrupted, and, if you configure it properly, your streaming movies never stall out. Very nice. And as a parent who believes in helping my children be safe online and learn good computing habits, being able to have parental controls on the router itself rather than on their computers is terrific.
And one more thing: The AC-1750 has a very slick guest access system very akin to what you'd find at a coffee shop: you connect to the "guest" wifi network without a password, but then have to enter the guest password to be able to actually access the Internet. Handy for those otherwise leech neighbors, for sure!
In summary, it's an expensive router, but with the super-fast 802.11ac protocol and its array of management features, it's a great option for any home or small business network. Learn more
at Linksys
, or check out
the reviews on Amazon.com
.
Disclosure: cisco sent us the Linksys AC-1750 to review without charge.