I'm a big fan of the Starbucks app on my iPhone, but it's a hassle when I'm standing in a big line at my local Starbucks and there's an insufficient balance on my virtual card for the transaction to go through. Is there a way to program the app so that it'll automatically reload if I get below a certain balance?
You and I both. I'm also a big fan of the Starbucks application on my iPhone 4s, and I really like that it's not only a stored value utility, but a loyalty rewards program too: Every fifteen beverages I buy gets me a coupon for a free Starbucks. That one, of course, is then a venti, to maximize its value. 🙂
I know what you mean about having an insufficient balance (in banking parlance, we'd refer to this as NSF, the bizarre acronym for "insufficient funds") while you're in line too: it's about that time that I forget my password too, and get increasingly embarassed as the people behind me wonder what kind of dork has to use their smartphone to buy a chai but can't figure out how to have enough money on the account to pay for the silly thing. D'oh.
Fortunately, those savvy folk at Starbucks have figured out we coffee pros would really like to have a magic card that never has a zero balance, and created an "auto-reload" capability in the app.
Here's how you set it up…
First off, launch the app, make sure your card is hooked up, and get to the "My Card" area of the app: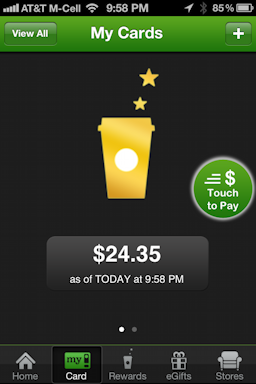 $24.35. I'm probably safe for now. But let's set it up!
To reload the card or set up autoreload, tap on the current balance button. A raft of possibilities appear:
I like the "Recent Transactions" button because I can ensure my kids haven't snaged the phone and bought a half-dozen frappuccino drinks! For this task, however, tap on "Auto-Reload".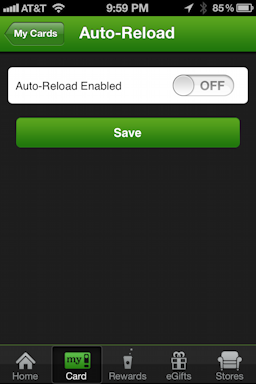 Want to enable it? Slide the option "Auto-Reload Enabled" to "ON", at which point it'll show you the various thresholds and settings available: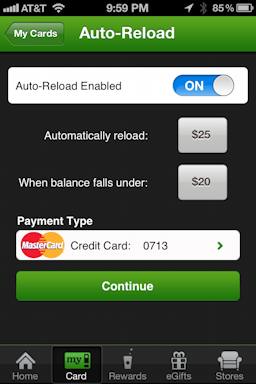 For this moment, I'll leave the payment on my MasterCard because I want to tweak the first two settings. To change the "Automatically reload" amount (that is, the amount that'll be added to the card when you fall below the specified threshold), tap on "$25" and pick your preference.
Similarly, you can fine tune the threshold. Here's what I actually set up: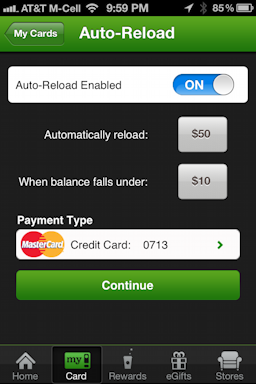 Rather than use my MasterCard, however, I want to automatically pay via PayPal. To do that (and it's a pretty slick feature, Starbucks!) I tap on the credit card info summary. Now you can see the payment methods I've set up: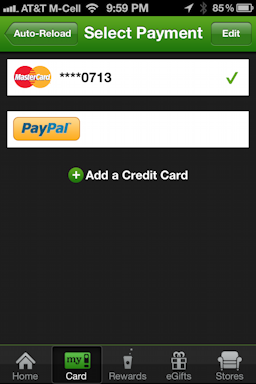 Tap on PayPal and it'll move me back to the previous screen, at which point I want to tap on "Continue". A summary appears before I can proceed:
Looks good! To continue, I tap on "Confirm" and it then prompts me for my Starbucks account password: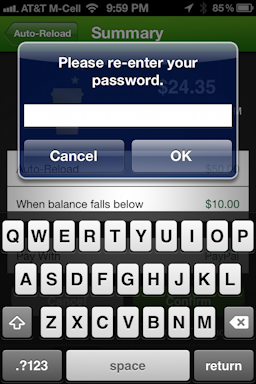 Did you enter your password correctly? If so, you'll get the good news: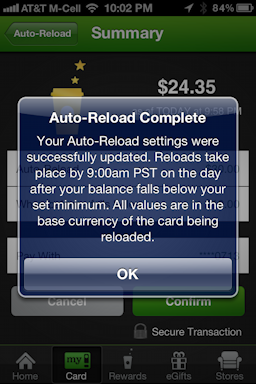 That's all there is to it. Now whenever the app balance is below your threshold, it'll automatically reload it by adding the specified amount of money. For me, when it drops below $10, it automatically adds $50. Helpful!