Love my Amazon Echo, though I really want to call her "Lexi" not "Alexa", and heard that you can send text messages through AT&T with it? Excellent! How do I set up the AT&T texting skill with my Echo?
Unfortunately you can't change the "trigger word" for your Amazon Echo so you're stuck with either saying Amazon or saying Alexa at this point, though you're right, Lexi has a nice ring to it. It is a pretty slick device, however, and generally easy to work with: say what you want and it figures it out. Nice.
You're also right that AT&T has introduced an Echo skill that lets you say "alexa ask at&t to text mom" and then dictate your text message. Nice feature, but I'll warn you up front, it's a bit tricky to set up because you have to verify your cellphone identity to AT&T then go onto a special Web page to add which names you want on your enabled list. Straightforward, just a lot of steps.
To start, open up your Alexa app on your smartphone and tap on the menu icon on the top left. You'll get a list of options like this:
From this point, tap on "Skills" to get to the AT&T Echo Skill.
Now search for, logically enough, "AT&T", or, more specifically, "AT&T Send", as you can see:
That's the app. Tap on it to learn more. You'll find that it has a bunch of nifty tricks up its proverbial sleeve: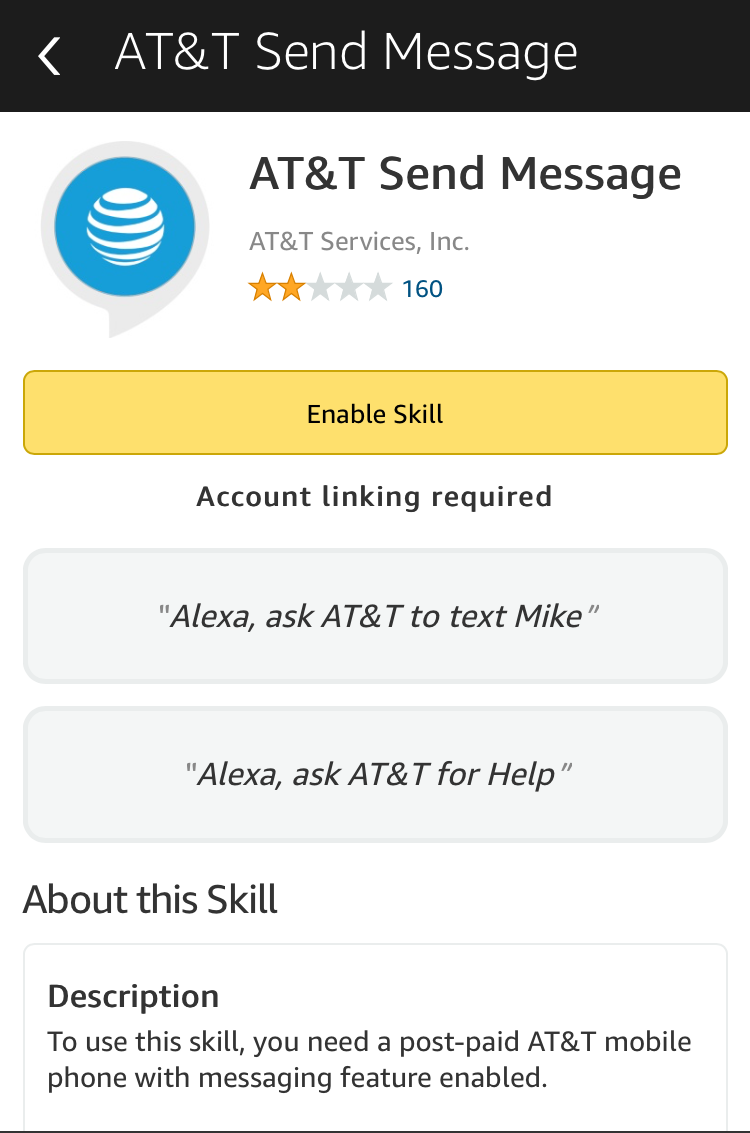 I don't really understand the "post-paid" comment at the bottom, so let's say it a different way: You can't use this skill to send text messages through the AT&T network unless you have an AT&T cellphone with service. Which makes sense!
Tap on "Enable Skill" to get AT&T Send Message up and running.
And here's where it gets a bit confusing. What you want to do is look in the lower portion to see what your next step as it isn't to Open Messaging as the orange button suggests. Instead, you need to jot down or otherwise remember that you need to send a specific text message sequence to an internal AT&T number. You can see it above, I need to send "shirt" to the number 86600049. Your word will vary, but the number will probably be the same.
To send a text message from your AT&T phone to a seemingly random number, open up the Messages app on your iPhone or equivalent on your Android device, then enter that number, 86600049, as the recipient. Then send the word specified. Like this:
Once I send it there's no response from the AT&T system, but in the app (after a few seconds) it switches from the above display to this:
I will note it took me a few times to get this to work properly, so don't be discouraged if it sits and waits for your verification even after you've sent it. Just try again!
And finally…
Now you're done with the Alexa app on your smartphone. The next step is a bit confusing but you need to go to another AT&T site to enter your phone numbers and their associated names. These will be the only ones enabled with the Texting Skill (so you can't just specify anyone in your address book, unfortunately).
To do that, go to https://alexa.andyet.io/ or, if you want to be safe (smart cookie that you are!) click on the link on this AT&T page instead,. where it says "add contacts" near the bottom of the page: https://www.att.com/offers/send-messages-amazon-echo.html
Now you'll get to go through the send-secret-word dance again:
As you can see in the middle of the screen, this time I need to send "shining" to that same number, 88600049. Once done, I see a rather austere page with name & phone number pairs. I enter a few of my friends with their numbers (and personally I like that their numbers don't just show up: I don't want my phone book on other Web sites):
Now I can send a text message as easy as saying Alexa ask AT and T to text steve then, when it prompts me, say the message I want to send. Like "Hi". Which he then receives like this:
Seriously, how cool is that?? And now you know how to set it up, step by step.