I have to take a leave of absence from work and want to set up an autoresponder to let my colleagues know I'm out. Is that something I can set up in Outlook.com? I use the online program, not the standalone app.
There's not much you can't do in the latest generation of Microsoft Outlook's slick online email program, and all generally with an intuitive user interface. It's a completely different user experience from Google Gmail, particularly with preferences and settings, that's for sure! Being a global company, however, Microsoft doesn't refer to the vacation autoresponder as, well, a "vacation" autoresponder, but instead calls it simply "Automatic Replies". Not exactly the same, but so it goes…
You'll want to log in to your Outlook.com account, then it's time to go to the Settings menu to find the right spot. I will note that there's a possibility your admin might have disabled this feature – particularly since in some instances these sort of automatic email 'bots can cause chaos on mailing lists as your notice goes to hundreds of subscribers. Not a good thing. I imagine Outlook's able to differentiate, but be prepared to have one or two cranky messages if you're on a lot of big, busy email lists!
MICROSOFT OUTLOOK.COM VACATION AUTORESPONDER SETTINGS
As always, start by going to the Settings menu, which offers a lot of handy shortcuts without any further effort: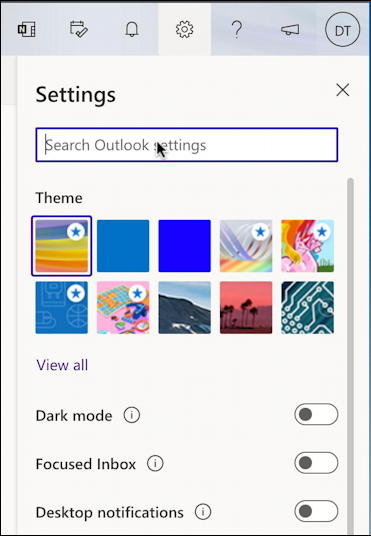 There are more options on this list – and do try "Dark mode" to see if you like it! – but for our purposes, you can use the Settings search feature as a shortcut.
Search for "vacation", which has rather a surprising number of matches:
You can get to the full set of Outlook settings with the handy "View all Outlook settings" link on the bottom, but while it might not seem a match, clicking on "Automatic replies" will get you to the right spot without any further fuss.
A click and here's what you'll see:
If you're navigating here in Settings, it's Mail > Automatic replies. Either way, it's ready to set up, but you won't be able to do anything until you enable this feature, so click on "Turn on automatic replies".
A number of options will suddenly become available: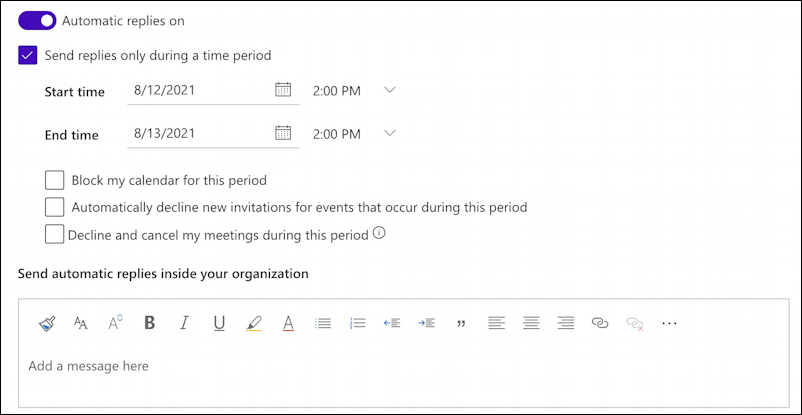 You can set things up to run until you disable it – which can be helpful if you have a new email address, for example, or have switched departments – but remember that it will still accumulate email messages so that might not be optimal. Some people use this sort of feature to simply warn senders that they get a lot of email and might take a few days or longer to respond. And some people are just on holiday, something that's easy to set up.
CONFIGURE THE OUTLOOK HOLIDAY AUTORESPONDER FEATURE
I'll set up a 24-hour digital detox vacation so you can see how this all works. Start and stop times can be the default, and here are a few other options I opt to enable:
Notice that Outlook differentiates the message you want to send to people in your organization (shown in the previous photo) and the message you send to people outside of your organization (immediately above). You can set up one or both, and if you do have a message for external senders, I encourage you to consider also checking "Send replies only to contacts" to minimize the risk of any email loops or other problems with messages from strangers or unknown folk on mailing lists.
Here's what I set up for internal use within the organization:
Since my organization also uses Outlook for scheduling and calendar management, I am going to block off my calendar so I don't get included in any meetings during the period I'll be away. I even give it a handy label: "Digital Detox". If it's an emergency leave, you might also want to check "Decline and cancel my meetings during this period", but most people find that's not necessary.
Done. All set up and Outlook is ready to respond to anyone who emails you as per your setup.
VACATION AUTO-RESPONDER IN OUTLOOK.COM
While your automatic replies feature is set, a small window will appear on the top right of any Outlook screen:
Notice you can turn it off at any time directly from this notification window. Darn handy!
What will it look like for an email sender? Basically, like this, the autoresponse I received when sending myself an email from Gmail:
Not beautiful by any means, but entirely functional.
Pro Tip: I've been using and writing about Microsoft's Office Suite for many years. Please check out my Outlook help library for plenty of useful tutorials, as well as additional Office 365 help pages! Thanks.