I saw that quite a few years ago you wrote about how to choose a different default email program on the Mac, but I want to use Gmail in a Web browser. Is there any way to do that? I use Google Chrome on my MacOS system.
You're right that I last addressed this question quite a while ago; my 17yo daughter wasn't even walking when I wrote about How to Set The Default Email Program in MacOS X. What's amazing is that the answer still holds to be true; if you have an email program and want to set it as the default for new email messages on your MacOS 11 system, you'll still want to go into the settings in Apple Mail and choose the program in question. But Gmail is a bit of a wrinkle because it's not really a separate program but rather a service that operates within your Web browser.
There are third-party Gmail programs — I use an app called Kiwi — but for the vast majority of its over 1 billion active users (yes, you read that correctly. Over one billion users) it's just another tab in their Web browser. Making it more interesting, there are plenty of Web browsers out there now too, with Google Chrome the most popular last time I checked. Perhaps predictably, Safari si the most problematic when it comes to setting Gmail as the default email program for mailto: links, but… let's get to that.
CHOOSE DEFAULT EMAIL PROGRAM IN MACOS 11
As a first step, go into Apple Mail and check Settings > General to see what you have chosen as your default email program for the system. You'll see a set of choices similar to: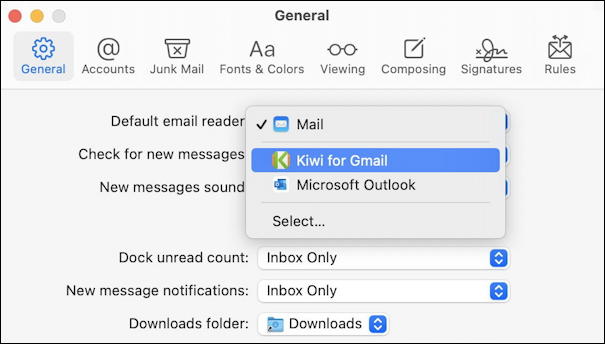 No surprise that the default will be Apple Mail (oops, sorry, "Mail") but you can see the other email programs I have on my Mac system too, notably Microsoft Outlook and Kiwi for Gmail. If you are using a standalone program for Gmail, choose it here.
ENABLE GMAIL FOR MAILTO LINKS IN CHROME
Chrome has what are known as service handlers to enable specific behaviors, and Gmail is a prime example of where it's a great solution. In fact, if you're already in Gmail within Chrome then you might already have a service handler icon in the address bar:

There are a lot of tiny icons in the address bar above, actually, so no worries if you've never noticed this one! Click on it, though, and a window pops up that makes it pretty darn easy to proceed: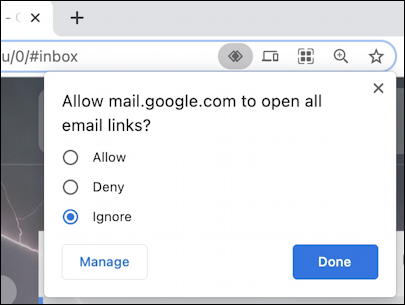 Choose "Allow" and… you're done. Now any mailto: link you click on in Chrome will be handed to Gmail as you'd prefer.
But what if that tiny eyeball icon doesn't show up? That means at some point you've chosen to ignore the service. Not a huge hassle. Go to the URL chrome://settings/handlers or dig into the Settings yourself, choosing Privacy and security > Additional permissions > Handlers, as shown: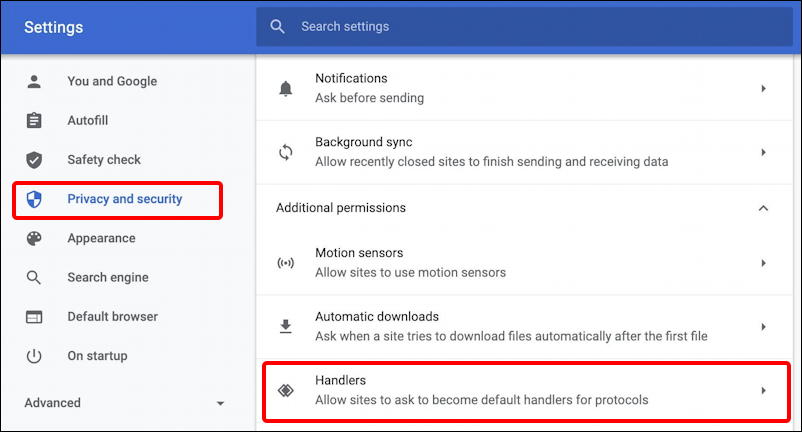 Either with the shortcut or by clicking into that specific area of Settings in Chrome, you'll end up looking at this:

If you see an "X" adjacent to the mail.google.com link, click on it. If you see the "•••" vertically oriented as I show above, click on it to reveal a menu of options:

Choose "Set as default" and, again, you're ready to roll!
ENABLE GMAIL FOR MAILTO LINKS IN MICROSOFT EDGE
Since the latest generation of Microsoft Edge is built atop Chromium, the free version of Chrome (more or less), it turns out that the process is completely identical. In fact, that same handler icon appears in the address bar as needed: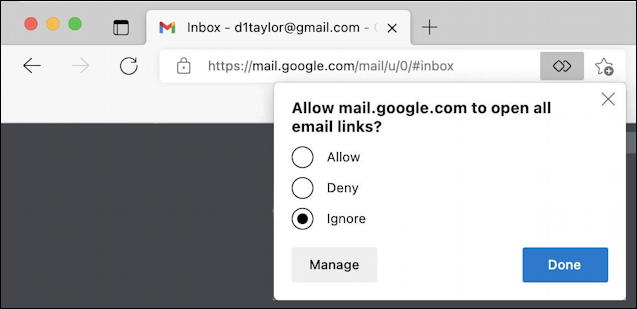 So what about Safari? Well…
ENABLE GMAIL FOR MAILTO LINKS IN APPLE SAFARI
The bad news is that there's no built-in service or handled that can let you set that up. Nyet. On the other hand, however, there is a free Gmail mailto handler that you can install to do the job if you're willing to experiment just a little bit. You'll want to go to GitHub, a massive repository of open-source software. There you'll find the confusingly named mailto-chromeextension, which will also work with Safari.
Don't want to deal with that? I completely get it. There's a $1.99 extension that's an alternative for Safari users you can get from the App Store on your Mac. It's here: Open in Webmail. I haven't tried it so if you do install it, please do leave a comment with an update for everyone about how it works for you.
CHOOSE YOUR WEB BROWSER AS YOUR DEFAULT EMAIL PROGRAM
The final step once you have your Web browser of choice selected is to go back into Apple Mail Settings and choose the Web browser as your default email program. Just choose "Select…" and it'll let you pick any app. When I choose Google Chrome, for example, I now see this in my Settings > General:

And, finally, that's it. All set up, whether you're in Chrome, Edge or Safari. Most other Web browsers (Firefox, Brave, etc) have a very similar service handler you'll set in settings or right from the address bar, as appropriate. Then choose that browser in Apple Mail instead. Done. Phew!
Pro Tip: I've been writing about the Mac since, well, the very beginning. Please check out my extensive Mac help library for hundreds of useful tutorials and how-to guides. Thanks!