I often forget to mute my Galaxy S4 and people glare at me when it rings. Not so good when I have a gf who likes to call every 30 minutes! Is there a way I can set my Android smartphone to just vibrate on incoming calls?
First off, you might ask your girlfriend to slow down the rate of her incoming calls, as a thought. No? Yeah, staying in a relationship and dealing with the tech problem is doubtless smarter in the long run! Fortunately there are a couple of ways you can deal with this issue that don't involve being single again…
The first way is to set a specific ringtone for individuals, though for some reason the "None" ringtone isn't an option in this case, as I'll show you momentarily. Plan B is to have your entire phone be vibrate-only with no ringtone, then set specific audible ringtones custom for individuals. Neither is optimal, but it'll at least quiet your phone.
Of course, you can also mute your phone by setting the volume to zero when you're in a "no ring zone", but that's a manual intervention and it's easy to forget and hard to be 100% perfect with that.
Let's look at the options. First, go to Settings…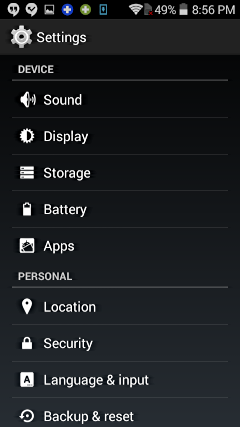 Tap on "Sound"…
Now tap to select "Vibrate when ringing", then tap on "Phone ringtone" to select a new ringtone.
Notice that mine's set to verykool_SL5000, a ringtone custom for the SL5000 Android phone.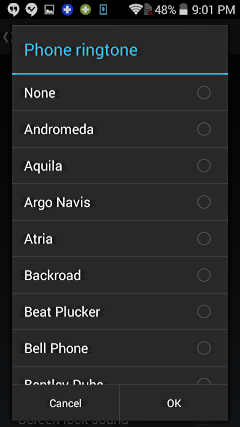 Now just select "None".
That's it.
Or… go into your "People" app and find your girlfriend's phone book entry, as I've done  here for my friend Andy, then tap on the three vertical dots icon on the top right.
The menu that pops up includes "Set ringtone":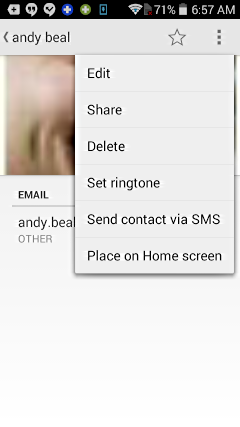 If you're guessing you should tap on "Set ringtone", well, you're right. Do so.
What's missing here? "None". Hmmm….
So those are your two primary choices. I hope one of them will meet your needs!