Not sure you know this one, Dave, but I just got a Chase checking account and want to set up some email and text alerts for specific types of transactions. How can I set that all up?
That is a pretty unlikely question for me to be able to handle, but you're in luck because I just opened up a Chase Bank "premier plus" checking account of my own and as someone who is already a long-time Chase account holder — so long that I still think of it as "Chase Manhattan" — I know exactly how to go through the steps to set this up properly.
The most important thing to do is to gain online access to your account through the Chase.com Web site. Get that set up, then go into your account settings and make sure that you have the right cellphone number (for text message notifications if that's what you want) and your best email address. Keep in mind that certain types of notifications include balance information too, so you want a secure email account, not one that others might be able to stumble across or access.
With that all set up, go to your account Home Page. It'll look like this:

See the option in red on the right? Click on "See more choices".
(yours might be blue, no worries, click on it anyway)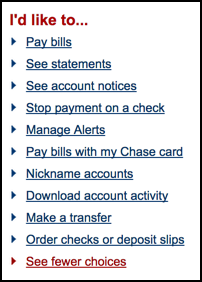 The option you want is about halfway down: "Manage Alerts".
Click on "Manage Alerts" to set up your Chase checking account alerts as you desire.
There are a LOT of choices. Here's just the general account ones: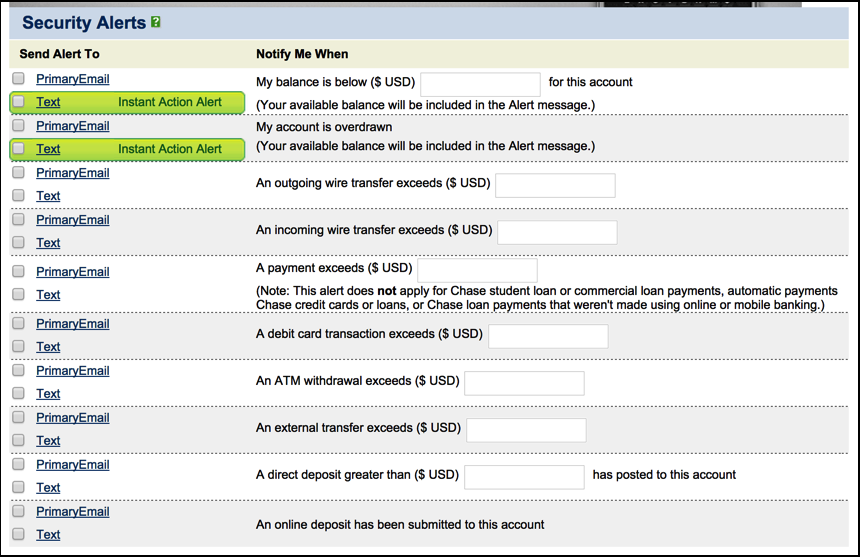 Not enough options? Okay, here are some more that are more transactional based that you can find by scrolling down on that page: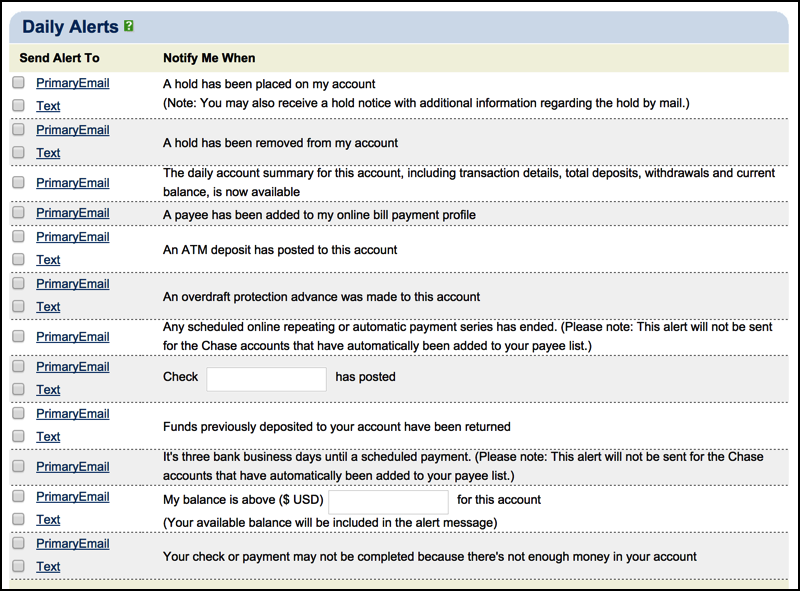 Personally, I like to get text alerts if something is wonky with the balance and email about individual debit, credit card or check transactions.
Set it up as you prefer, indicating which you want as email and which you want as SMS messages, then scroll to the bottom:

Click on "Update Alerts" and you'll be done.
Here's the acknowledgement you'll see: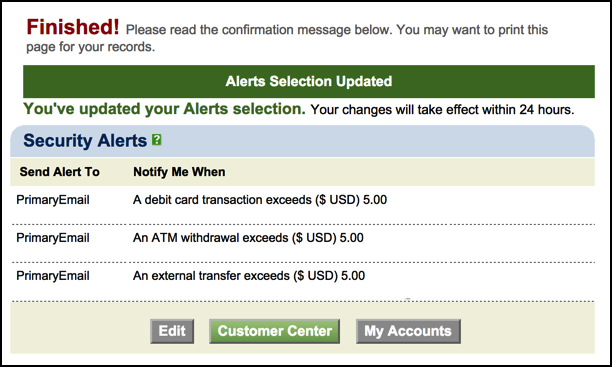 As you can see, I just have it set to email me when things happen that are more than $5.00. Your settings will likely differ, and don't forget that this will work with credit card accounts too.