I have a document on my computer that I need to fax to someone. But I don't have a fax machine, and really don't want to figure out how to configure my fax modem. Is there a reliable way to fax a document over the Internet?
I asked my long-time friend Kevin Savetz to help me with this question, and he offered up a splendidly useful answer that also includes pointers to a couple of fax-related services he offers too…
There are many services that let you send faxes from your computer, without having to hook up a fax machine or a fax modem. For occasional faxing, I suggest FaxZero. Using the simple form, you can type your and the recipient's information, upload a Microsoft Word file or Adobe Acrobat file, and your fax will be sent in just a few minutes.
Shorter faxes — up to 3 pages — can be sent for free, if you don't mind an advertisement on the cover page. If you need to send a longer fax or don't want the cover page ad, you can pay $1.99 to send your fax (which is still a bargain). There's no subscription fee or monthly service charge, it's a one-shot deal.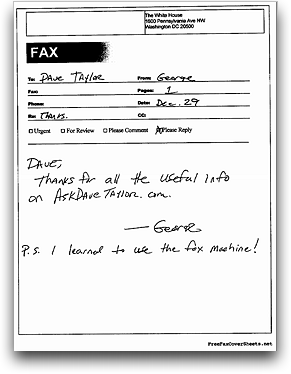 If you need to send or receive faxes on a more regular basis, other services are probably better choices. Many Internet fax services let you send and receive hundreds of pages for $10 to $15 per month. FaxPrices.com is a price comparison site that compares more than 100 faxing services. What I like about FaxPrices is that it shows exact pricing based on the number of faxes you expect to send and receive. Light users — someone sending 10 and receiving 20 pages each month, for instance — can pay less than $5 per month, according to FaxPrices.com. Someone who needs to transmit 500 pages each month has a dozen options for under $30.
There's one more useful site to check out: the Internet Fax FAQ, which describes dozens of faxing services, sorted into categories such as Faxing From Web and E-mail, and Services For Receiving Faxes Only. Each service includes ratings from customers, so you can choose a service with a good track record.
An Internet fax service is, in many ways, more convenient than a fax modem or a regular fax machine. For one thing, you can receive faxes at any time without dedicating a phone line to your fax machine. Also, many Internet fax services will give you a toll-free number for incoming faxes, which the people faxing you will appreciate. You can send a fax from your laptop, from any Internet connection, without having to stand around waiting for the office fax machine.