Is there a way in Google Mail (aka Gmail) to write my email but queue it to be sent later in the day or even the next day? I keep weird hours because I often do business with colleagues in India but when I email people in the States I prefer not having 2am or 4am as the send time. Is that possible?
There's quite a lot that Gmail can do for you, and if you add some of the cool extensions from Google Labs there are lots of nifty tweaks. Include third party Gmail-extensions from other developers and it's quite a rich little world of email messaging, regardless of what you're trying to accomplish.
Deferring or queueing up email messages is one of the most logical tasks though as someone else who keeps weird hours, I rarely have anyone notice the send times of my email, so it might be much ado about nothing. Still, since you ask, there's a terrific Gmail extension called Boomerang that lets you send an email until it's answered, schedule recurring messages, and specify when an email message should be sent rather than immediately send it to the recipient.
If you're running Google Chrome as your Web browser, it's an easy extension to install. Click on the link from the Boomerang Web page and you'll see this:

Click on "Add to Chrome" and it'll download and install automagically. Once you grant it permissions, of course:

That's all there is to it. Now when you use Gmail within Google Chrome, the extension will automatically be fired up and add its features to your Gmail experience.
When composing a message, I now have more Send options:
As you can see there's a whole new ribbon of options along the bottom, highlighted with a bright red "Send Later" button. Notice also that if I check the button, I can have boomerang automatically resend the letter to the recipient in two days if I haven't received a reply.
This particularly message is to the President on his last day in office (Jan 19, 2017), so let's click on "Send Later" and specify that. The default includes tons of options, which I've already winnowed down to a few basics:
If you're working late into the night or in the wee hours of the morning, "Tomorrow afternoon" might be exactly what you seek. In this case, however, let's click within the specified date/time field to bring up a calendar: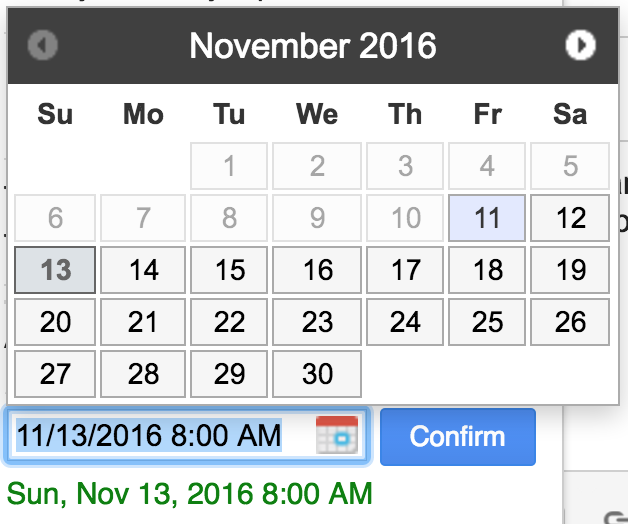 Now you can find the specified date – and add a time – so you can pre-load happy birthday emails, creepy notes that'll be sent in 5-10 years, or simply an email to be sent a few hours from now. I find the date, click "Confirm" and…

Looks good! A click on "Confirm" and it'll be queued up for sending:

That's it. Super easy, Boomerang does all the work here. All you have to do is figure out when you want to send it and remember to click "Send Later" rather than just "Send".
Hope that helps you time shift all your email messages!