When I meet people at a party, I'd like to add them as friends on Facebook. Can I do that from my iPhone or is that a Web-only task?
As time has passed, there's no question that Facebook has become more and more and even more complicated, with at least a million different things you can do and tools you can tap into. It's no surprise then that the mobile apps have a tendency to lag a bit behind the Web interface, where all the neat stuff seems to show up first.
In this case, however, while it's not obvious how to accomplish it, you can indeed add someone as a friend (or more accurately send them a friend request) directly from your iPhone or Android cellphone.
For this example, I'm using Facebook's iPhone iOS app version 9.0.0.025.31. How can I tell? It's hidden in the "Settings" app: look for "Facebook", then go to "Settings" within the Facebook area and it'll show a bunch of interesting info about versions, etc. If you're using a much older version (or much newer version) all of this might well have changed. In other words, business as usual in the modern world. 🙂
To start, here I am looking at my regular Facebook newsfeed on my Apple iPhone 5:
If you look closely along the bottom, the second icon is "Requests". That's the "Friends" area. Tap on it.
Apparently Ted's request to friend me is still pending. Sorry, Ted, I'll get to that a bit later!
For now, tap on the "+" symbol on the very top right of the screen.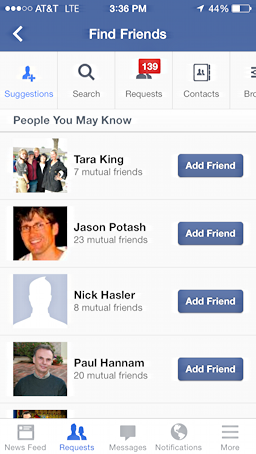 I'm going to add my friend and colleague Ali, but she's not showing up by default in what Facebook is guessing are people I should be friends with but am not. Sorry Paul, Nick, Jason and Tara!
I want to tap on "Search" to enter Ali's name…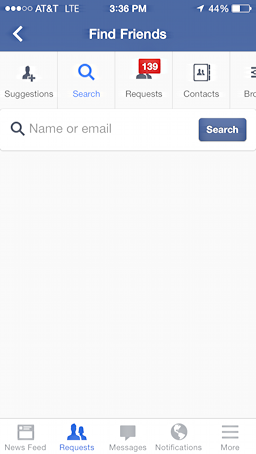 and enter her full name (with billions of users, a first name is not going to work regardless of how unique they say that they are in the world!)…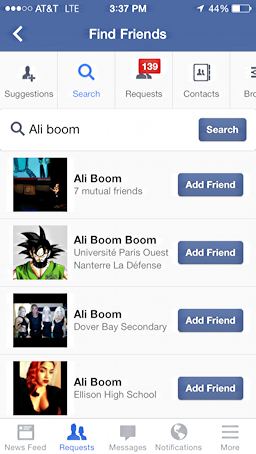 There she is, the first match. Notice that Facebook is smart enough to show me the matches with whom I have mutual friends, greatly increasing the chance that it's the right person. In this case, it is!
I tap on "Add Friend" and a friend request is sent along…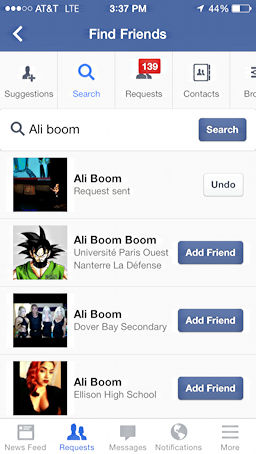 That's all there is to it. Now I just have to wait for Ali to hopefully approve my request.
Not too bad, though you have to know where to look, as I said at the beginning.
Looking for more Facebook help? Oh man, I have tons of Facebook help here on the site. And if you don't find what you want, please don't hesitate to ask me a question!