I read online that one of the best places to sell my used iPad 2, now that I have a new iPad 3 [ed: "new iPad". No "3" involved], is to Amazon.com. I understand that they pay in store credit, but heck, I spend over $100/mo on Amazon, I'm sure I can spend a big credit! So is it a good deal, and if so, how do I get started?
As soon as there's a new device in the marketplace, the early adopters often face that dilemma of what to do with the previous generation unit. Do they give it to a spouse or child? Sell it on Craigslist? Keep it as a backup? Or sell it to one of the used equipment buyers online? Of course, when my new iPad (not "iPad 3" 🙂 arrived, my kids were all quite vocal about me keeping the iPad 2 so they could use it, but these are expensive devices, and if I could get some money for it, well, cash flow is good.
As many sites have written about, there are a lot of buy back options if you prefer not dealing with the hassle of Craigslist or eBay, including Apple itself. The question is: who offers the most cash, and from my research, Amazon.com's Trade-In program is hands-down the most generous. My 64GB iPad 2, wifi-only, had a valuation of between $360-$440, depending on condition. The fact that the company pays with Amazon credit? Not a problem, I definitely buy hundreds of dollars worth of merchandise from them on an annual basis.
Before you sell your iPad, by the way, you really should wipe all the data off of it. It's for your privacy and security. Here's an easy primer: Erase Everything Off Apple iPad.
To get started, I went to the Amazon Electronics Trade-In area on the site. You can go there too: Amazon Electronics Trade-In Program.
A quick search for my product, and here's the match: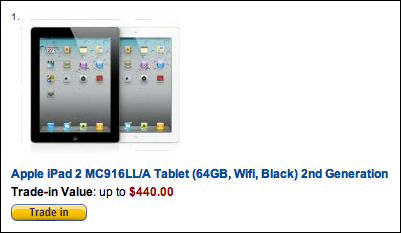 To get started with the process, click on "Trade In"…


Now you'll have to assess the condition of your iPad. Mine really is in perfect, pristine shape, not a scratch on the front or back, no cracks, no chips. I have all the original packing and box, and even left the Apple stickers in the box. It's definitely "like new", so that's what I check.
$440
. Nice!
To continue, "Continue", and you'll get to pick your shipping option:


I'll go with the free UPS drop-off, knowing that there are a lot of UPS drop-off places in my neighborhood. Better, I have the box that Apple used to ship my new iPad, so it's the perfect shipping container. No hassle, and I'm recycling!
Next I'll need to choose a ship-from address (for the return label). I'll use my business address in this instance:


One more thing to decide: what happens if you assess the iPad as being in one condition, but they open the box and decide it's not quite that clean, good or pristine? Do you want to have it returned, or do you want to just take their next best offer?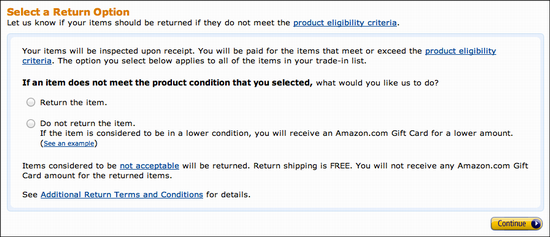 I'm confident in my "like new" assessment, so I'll choose "do not return the item" and "Continue".


One last check that everything's as I want, and if it all looks good, "Submit your trade-ins". One last step, before we're done…


Click on "Print" to print your UPS label, tape it to your box, drop it at the local UPS shipper, and congrats, you've just sold your old iPad 2 to Amazon.com for some good coin!