I have to admit, I usually spend time on Facebook, but as I'm looking for a job, I have updated my LinkedIn profile and spend time on there digging around and seeking positions. What I'm wondering is if there's a way to see if it's doing any good. That is, can I gauge whether people are actually finding me in searches they're doing on LinkedIn?
You certainly can. One of the coolest things about LinkedIn, actually, is that they reveal a lot of the stats that other social networks tend to hide, like how many friends of friends you have online, not just how many friends you're connected to directly. In a similar way, you can ascertain how many people have viewed your profile on LinkedIn and even see trending graphs. In your situation, that seems ideal too: As you're adding more keywords relevant to your skillset and job search (you are doing that, aren't you?) you can see if it's resulting in more people finding you in searches.
There's a secondary thing you can ascertain too: As more people are finding you, are you getting more query letters, more contact? If not, then it's indicative of a second issue: your actual profile description (and photo?) aren't encouraging them to connect. If that's the case, I'd make sure that your photo is suitable for a professional environment (suit? tie? dress (if you're a gal)?) and that your prose is similarly engaging and upbeat. Emphasize what you learned during your different positions as well as what you did too, for example.
Of course, how to write a really good LinkedIn profile is a completely separate topic. Let's get back to just seeing who viewed you.
On your LI home page, on the lower right, you should see this: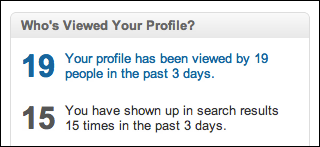 My profile's been viewed by 19 people in the last three days. Not too bad, considering I'm not actively seeking a position myself. Yours should hopefully be much higher!
Click on the first item, and you'll find that there's more detail available: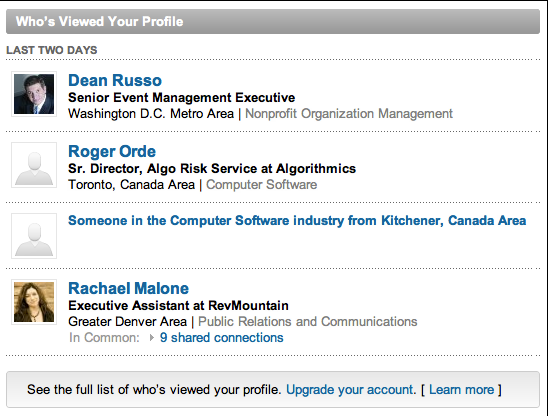 This is where paying attention to LinkedIn can be hugely beneficial, because if you see someone who has viewed your profile and they seem a likely candidate to bring you in for an interview — or are just a cool company — you can directly email them and bring yourself back to their attention. Who knows, that level of initiative might just get you that first interview!
Look on the right of this page before you leave, there's a nice trending graph too: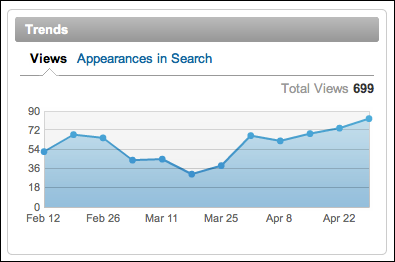 Here's where you can ascertain if you're gaining in popularity on searches people are doing on the site or not. If you're busy working on your LinkedIn profile, I would say that the trend should be similar to what you're seeing on mine. Upward.
Good luck with your job search!