Just bought a new smartphone and want to ensure that everything you do is secure and private? Cellular data networks are typically secure, but wifi networks? Most of them put you at risk, particularly public wi-fi networks in coffee shops, schools and libraries. Fortunately, there's a simple solution to ensuring your smartphone is as secure as possible: A Virtual Private Network like NordVPN.
It's easy to forget that not only should you be considering the security of the connection within your Web browser on your new device, but the security of every app that's on your device. Chrome might use https to encrypt your Web surfing, but what about the Nest app? Or the data being collected by that game you're becoming addicted to that keeps wanting to invite all your friends to join you? For that matter, do you want the local coffee shop to track and monitor what sites you visit and what you do online? That's not to mention geolocation data, saved data files from your banking and health apps, and so much more.
All of these reasons are why all the cool kids use a Virtual Private Network to help ensure that their online communication is safe and secure. It essentially acts as a proxy server, encrypting all Internet traffic and routing it through one of hundreds of VPN servers throughout the world. It's a tiny bit slower than a straight Internet connection, but the slight performance hit is well worth the cost when you consider the value of your data and interactive privacy.
There are also a lot of different VPN solutions out there, ranging from free (which I recommend against because almost all of them are, ironically, selling your usage data to generate revenue) to big commercial services. Few make it into the top ranks for users, however. One of the best rated for both ease of use, performance and reliability is Panama-based NordVPN. It works with Windows, Mac, Linux, Android and iOS and has a network of over 5,000 servers worldwide. Costs run about $50/year if you're curious, not too bad at all for such a vital security function.
Let's get NordVPN up and running on that new Android smartphone of yours!
To start, go into the Google Play store and find NordVPN: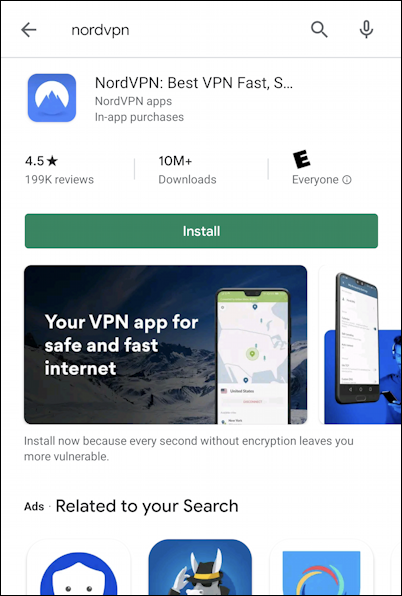 I bet you've already installed dozens of apps, utilities and games, so you know the drill. Tap on "Install" and it won't take long at all before the app's on your phone and you're ready to proceed. [Note: It's available for Mac and Windows too: You can download a VPN here]
Now launch NordVPN and the first time it fires up you'll be prompted to enable CyberSec:
There's no reason not to have CyberSec help keep your phone secure and free of malware, so enable that. And you're done.
Really. It's that easy. Now when you launch the app it's super easy to get that VPN running and protecting you too. I mean, really easy:
Tap on "Quick Connect" and it'll fire up that VPN for your data security. The very first time you do get the VPN system up, Android will prompt to confirm you want to route all Internet traffic through the utility. You do:
Once connected, the app will then show you what server you're on:
But pay attention to the very top bar as it shows you're connected too! In fact, the main set of icons has two that denote you have NordVPN running:
The left icon (the 'mountain peak') is the NordVPN icon, and the arrow is the general Android indication that there's a VPN in play.
Still not sure? No worries, swipe down from the top and you'll get confirmation that NordVPN is running and working just fine:
That's it. Super easy to work with, easy to enable and disable as desired, and generally invisible. Because it's so fast (run a speed test and you'll see) you'll forget you're using it, but your data will just be that much more secure. And that's a really smart thing if you want to secure your smartphone!
If you're not sure where to start securing your devices, I encourage you to just jump over to NordVPN directly. It's surprisingly easy! Want to get a license? Then do check out this NordVPN coupon to save a few bucks with this reliable VPN solution too.
Pro Tip: I've been writing about Android and security for quite a while. Please check out my Android help pages for lots more useful tutorials while you're here!