Even people I know who are using iTunes 11 on their Mac systems are learning about its new features and capabilities. And one of my favorites is a spin-off from the mini-player, what I call the iTunes 11 Cover Player. Let's have a look!
First off, I have to admit that I have heard a lot of negative pushback from users about iTunes 11 and its changed interface. I don't really get it because you can add the left navigational column if you want easily enough, at which point it's a whole lot like iTunes 10, but to each their own. For me, iTunes 11 is a nice upgrade because I rarely spend any time looking at the full window, but love having small windows tucked in the lower right of my screen where I can have some rudimentary control and easily see what track's on.
The main view in iTunes 11 for that view is what they call the MiniPlayer (choose MiniPlayer from the Window menu) and that's good [see my popular iTunes 11 MiniPlayer Tour for more], but I often want to just glance at the album cover and it's awful small in that view. Turns out that in both the MiniPlayer view and the full iTunes view you can actually click on the album cover and pop up another window that just shows the cover. Resize it, move it to where you want, and it's a quick visual reminder of the current tune.
But it's also more.
First off, when I click on the album cover graphic in iTunes, here's what I see pop up: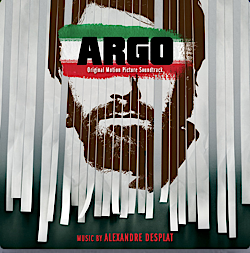 As you can see, I'm listening to the soundtrack from the terrific film
Argo
. But that's just a picture, right? Wrong!
Move your cursor over the image and controls appear: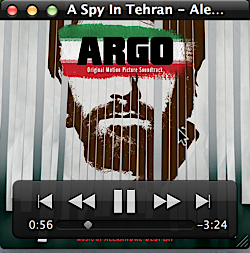 You can see that I'm 0:56 into the track and that there's 3:24 left to play. You can also quickly see that there are buttons for previous track, skip backwards, pause, skip forward and next track. Easy enough!
Some of these features are duplicated with function keys F7-F9 on the keyboard — and that's what I typically use to skip tracks — but having them on the cover when needed? Darn helpful.
And here's another little secret: make the cover player window big enough and the lower controls add one more capability:
Yup, you can adjust the volume. This is the iTunes volume, by the way, not the overall system volume, a subtle difference.
I wish I could also get to the AirPlay settings from the cover player view, since I do tend to move music around as I go from room to room, but that's a minor quibble. Having the album cover on the lower right of my screen as I work and listen is great!