If you're running Chrome OS you might be wondering where a decent calculator is hidden. Certainly the default calculator is barely sufficient to balance a checkbook, and way inadequate for homework or basic mathematics. Or is it? Learn about some of the cool tricks and secrets of the Chromebook Calculator from Google (and a better alternative too).
One of the first applications of computing was math: Calculating projectile trajectories, of all things. One of the first programs that really helped sell personal computers also revolved around math: Visicalc, the OG spreadsheet program. While we might not be solving differentiates or rotating matrices around the y-axis very often, basic math turns out to be something we encounter throughout our days, from calculating a tip to splitting a bill, figuring out supplies needed for a household fixit project, even figuring out actual gas mileage to check the vehicle display.
With that the case, it's hard to figure out why most operating systems have such mediocre calculator programs included. You don't have to be a financial professional to want to calculate mortgage payments, for example, or an engineer to occasionally need to know the square root or cosine of an angle, and if you are, you probably have an HP or TI calculator sitting next to your computer. But why?
Chromebooks are no different, even though they're specifically designed for students and similar environments where there are a lot of younger users. There is a calculator app, but at first glance it's a basic four-function emulator that isn't going to be solving many mathematical equations. Or is it?
CALCULATOR APP ON CHROMEBOOK
Fire up your Chromebook, click on the search button (the circle on the left side of the Shelf bar along the bottom), type in 'calculator' and here's what you'll launch:
Pretty rudimentary, I think you can find calculators like this in cereal boxes nowadays. 😁
But it turns out that Google Calculator for Chrome OS has some secrets. Knowing that, you might think that clicking on the "•••" (vertical) link on the top right would reveal additional features. Nope.
But click on that dark green bar on the right side and a new set of buttons slides out…
Not only that, but if you click on the light green bar, even more buttons appear!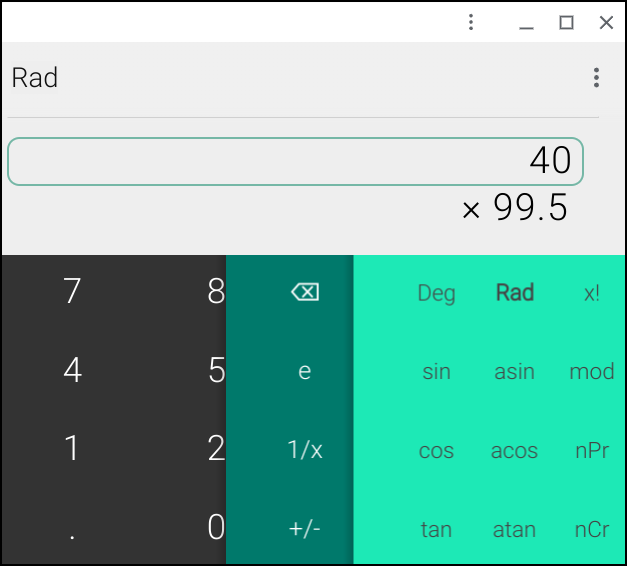 Cool stuff, but a really clumsy interface: You can't even get to the numbers!
WIDEN THAT DARN WINDOW!
The solution is to actually click and drag on an edge to widen the window, then all of the features are available at once: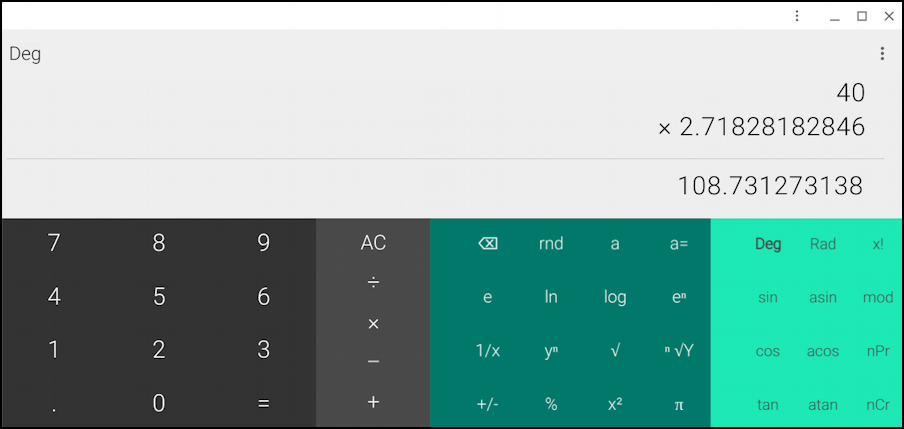 Functionality addressed, but honestly, that's a pretty mediocre user interface, whether you're a middle school math student or a professional wanting to confirm a few calculations.
Fortunately, there's another solution…
CALCULATOR AS A CHROME EXTENSION
Since the Chrome browser is the heart of Chrome OS, it's worth keeping in mind that Chrome supports Extensions, since there turn out to be a number of them available. I checked out quite a few and my favorite is "Scientific Calculator" from raad.dev. One great feature is that once you install it in Chrome on your Chromebook, it'll also show up on all other instantiation of Chrome on other computers too, whether you also have a Mac, PC, or Linux system.
Once installed, clicking on the tiny calculator icon within Chrome brings this up instantly: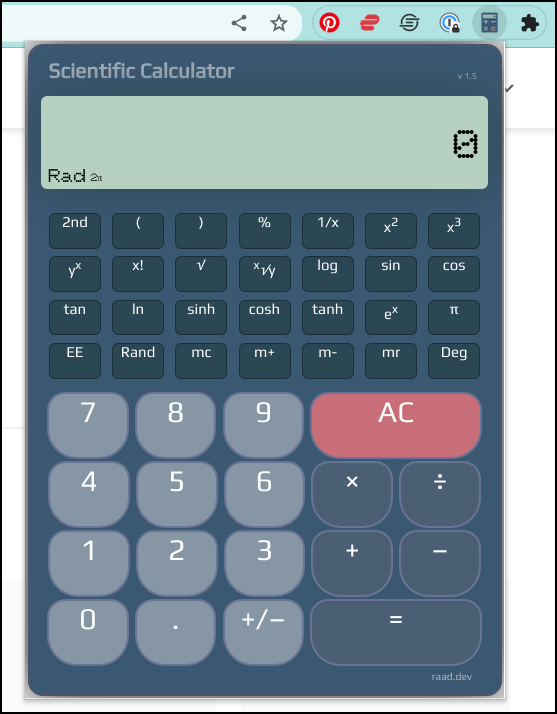 Now that's a better user interface for a basic scientific calculator. Even better, the developer indicates that there's a "programmer" calculator feature update on the way too. Helpful!
Helpful Tip: I've been writing about Chromebook systems for many years! Please check out my extensive Chromebook help area for hundreds of useful tutorials and guides! Thanks.