If you've only been using the calculator program in Windows to add numbers, you're missing out on a remarkably powerful tool. Turns out that the Microsoft Calculator program has a ton of surprising features and capabilities worth knowing! Let's have a look…
Our middle school math teachers were right; it turns out to be useful to be able to do more than just add and subtract numbers in life. Sometimes you do need to make more complicated calculations and rather than hunting down your old scientific calculator in the basement, it turns out you can use Microsoft Calculator to do quite a few different mathematical tasks. Heck, it even knows currency exchange rates if you quickly need to calculate how many drachma equal a certain number of rupees.
Because it seems to be so basic, however, most people just assume that Calculator is just a basic four function program and never explore its other capabilities. Well, it's time to remedy that. Let's dig in and have a look at some of the many cool features and calculations it can manage.
But first, did you know you can solve basic math equations right in the Windows search box? Check this out:
As you can see, I typed in (2500 + 314.2)/17 and it promptly showed me the solution. Doesn't get much easier than that (though it does, actually: If you have Cortana running on your PC you can just ask it to solve an equation too). Cool.
HIDDEN CAPABILITIES OF MICROSOFT WINDOWS CALCULATOR
Our goal here is to explore the Calculator program, however, so launch that on your PC. It'll look like this: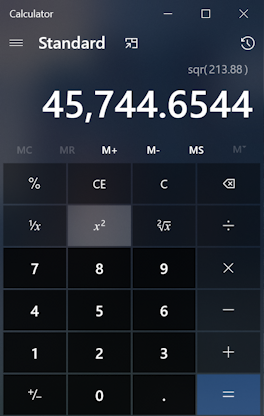 Pretty uninspiring, but lurking below that simple facade (with a few advanced features like square and square root) is a far more powerful utility. To access these features, click on the triple horizontal line button near the top left of the app window.
A menu pops up: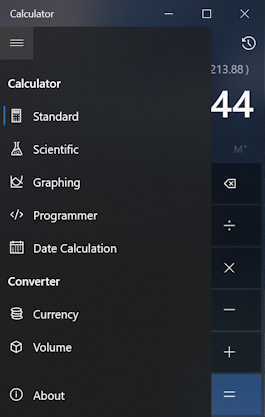 With a physical calculator, you have to choose if you want a "programmer" or "scientific" or "graphing" calculator, but with a software program you can have 'em all. Choose Scientific, for example, and the function buttons change to be much more helpful for physics or chemistry: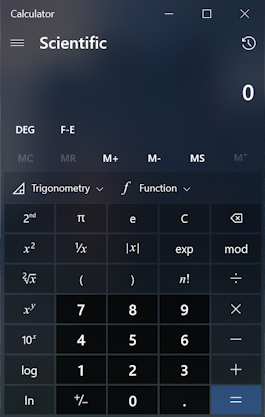 Where it really gets fun, however, is when you notice that in addition to the different personalities of mathematical calculator, the program also has lots of other types of calculations.
Like date math. Wondering how many days between two dates on the calendar? It can solve that:
What really surprises people is that Microsoft Calculator can also convert between currencies too, and it knows to get the latest conversion rates when you switch to that function.
Earlier I talked about rupees and drachma and it turns out that Calculator can manage both of those exchange rates, along with over 100 others. Here's a sample calculation in the Currency converter: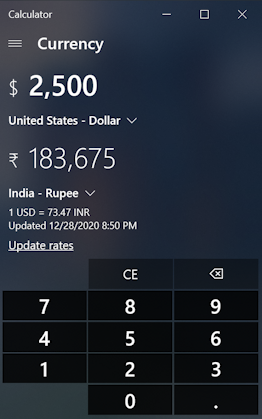 Notice the small link Update rates. If you're not sure that the data's updated (though it shows last update just above it) you can click and ensure that you have the very latest exchange rates. They change quite a bit over time, so currency conversion with old data isn't very useful. Knowing that $2,500 USD = 183,675 INR might, however, be quite useful for when your Indian friend talks about how her new computer cost over 180,000 Rupee.
Scroll down on the main menu and you'll see even more conversions and calculations with whic the program can assist: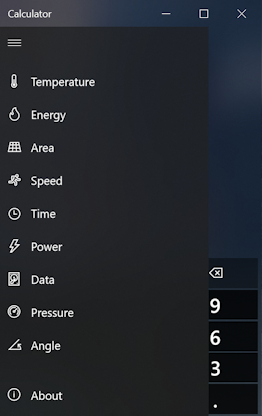 Time is an interesting conversion feature, particularly if you ever wonder about things like how many seconds are in a week or how many weeks in a certain number of years. Or how many minutes are in 200 weeks, for that matter:
Turns out that it's a bit over 2 million minutes, about the same as 3.8 years, 1400 days or 33,600 hours, as shown on the lowest line of the results.
One more example, because those "the same as" information displays are particularly fun and interesting when you get to data conversion. Here's the equivalent of 1 Terabyte of data: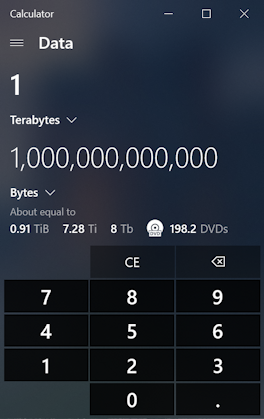 Yes, 1 Terabyte is the same as 1 trillion bytes of information, but it's also the equivalent of 198.2 DVDs, 8 Terabits of information (which makes sense since 8 bits = 1 byte) and — two rather more obscure data quantities — 0.91 Tebibytes and 7.28 Tebibits. No, I don't know what those measures of data are either. 🙂
Suffice to say, next time you need to do any sort of obscure or complicated calculation or conversion, don't forget that handy Calculator program that's include with Windows 10. It's far more powerful than you think!
Pro Tip: I've been writing about Windows since the early days and have a huge archive of Windows help tutorials here on my site. Please do check 'em out while you're visiting. Thanks!