I hear that you can now search Google for emoji and emoticons to see what other people are using them and what they mean. Is that true? And if so, how?
I read that this was a recently added feature on the main Google search page and experimented with it quite a bit, finding that it's really more of a mobile solution than one aimed at desktop users, though since it's hard to get emoji on a regular Windows or Mac keyboard, who knows, maybe it works just fine if you can figure out how to do so!
On the mobile side, however, both iOS and Android have support for a rich universe of emoji, those cute little pictures that can enliven your communication, whether it's a text message to your Mom or an Instagram posting. Do they work and display perfectly on all other devices in the digital world? Not really. But so what! They're fun and I know that my friends and I are rather addicted to their use. My most commonly used emoji? Thumbs up! Thanks, Facebook.
I did indeed manage to search for an emoji with interesting results on my iPhone 6s, however.
First, the main Google search page:
A tap in the search entry field and it shows my two most recent searches in a handy shortcut window:
Strange combination of searches, eh? Yup. I own it.
Here tap on the smiley button adjacent to the space bar and you can indeed enter an emoji: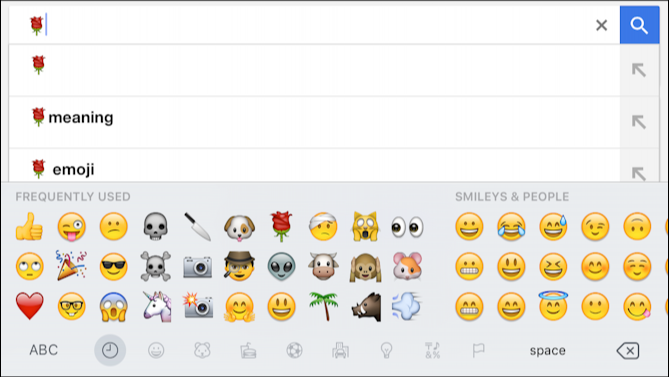 Even the search hints and suggestions show that it knows what's going on with the red rose emoji.
But instead, I'll tap on the magnifying glass button on the right to actually execute the search:
A bit nerdy as a first result, but swiping down just a bit gets to images that show Google really does know what's going on:
So there you go. A search for the red rose emoji that results in some interesting results.
Useful? Well, I wouldn't say that. But perhaps other searches would have more useful results. What did you want to search for when you first submitted this question, by the way?