I love Twitter and have a bunch of followers, but I haven't figured out a way to post tweets at a later date or time. I know there are third party apps like Hoot Suite that can do this, but I don't want to share my login credentials with them. Is there a way within Twitter to postpone tweets?
For a long time, Twitter has kept the service real-time, causing companies to hire social media interns and others who can post content on a regular, timed basis. Then the third party apps, built atop the thriving Twitter ecosystem, started to offer scheduled and delayed tweets and one presumes the company realized this was a feature very much desired by its users.
The first generation of advertising on Twitter likely included the feature but since not everyone with a Twitter account was able to consider advertising on Twitter, that wasn't much help for us mortal users.
Nowadays, however, anyyone who is on Twitter also has a Twitter advertising account and can therefore tap into its powers and capabilities, including, yes, scheduled tweets.
To start, you'll need to go to ads.twitter.com.
Along the top you'll see this:

Click on the Campaigns link along the top to pop up the menu.
Two choices:

"Cards" are interesting and it's definitely something we'll be experimenting with here at AskDaveTaylor, but for now, choose "Tweets".
The result: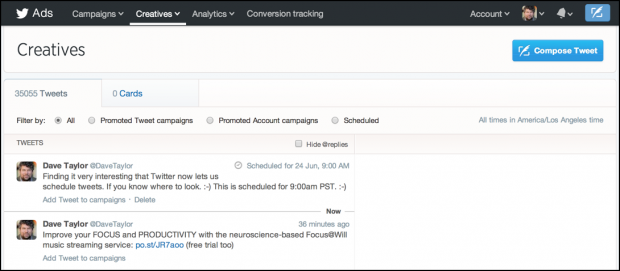 Look closely at that first tweet being shown, actually. See on the right it says "Scheduled for 24 Jun, 9:00 AM"? Right, that one's scheduled to be posted a bit down the road.
To create a new scheduled Tweet, click on the blue "Compose Tweet" link.
And by the way, bookmark this link so you don't have to go through that each time: Schedule a campaign Tweet on Twitter.
If you're used to interacting with Twitter via the web page, you might be surprised at all the different and additional options available:
Right off the bat, here's how you can — if you pay — send a Tweet to people that match a specific demographic profile. Or, leave it as the default and it'll go out to "public" and your followers.
More importantly, click on the "Scheduling" tab:
I haven't figured out how to fix the timezone problem — I'm not in Los Angeles! — but since it's only an hour off, it's not hard to compensate.
To create a scheduled tweet, compose the tweet message in the compose window, then choose the date and time you'd like the tweet to go out to your followers. Currently you can only hit hours or 30-minutes after an hour, but I don't see that as any sort of limitation.
Type in your tweet, set your schedule (and don't forget to click "Custom" rather than "Post now" on the left) and it's in the queue:
Once that time rolls around BLAMO! it's posted and there's no way for users to recognize that as a scheduled tweet rather than a regular tweet. To demonstrate, here's the above tweet:
Finding it very interesting that Twitter now lets us schedule tweets. If you know where to look. 🙂 This is scheduled for 9:00am PST. 🙂

— Dave Taylor (@DaveTaylor) June 24, 2014
As you can see, no clue that it was scheduled rather than "live" posted. Nice!