I test beta software on my Mac system and have to reboot it to remove all traces of the apps from memory before testing. Is there a way I can schedule a computer reboot just before I would start working each morning? Running the latest MacOS 11 on a 2019 Apple MacBook Air.
Production software is generally very memory stable and can run for weeks or months without requiring an app or system restart. Whether you're on a Mac or PC, it's pretty rare to see a full system fail that forces you to restart the system unless you're using sloppy or untested programs, apps or games. Malware can make your system quite a bit more unstable, but that's rarely a problem on MacOS systems nowadays. Thankfully.
But, yes, if you're testing out beta software, it's entirely possible that a mistake in a line of code can cause it to have memory creep and gradually require all the memory on your system and then more. The results are weird performance problems and, eventually, a system crash. This isn't to say that big, super complicated programs don't perform better if you occasionally restart them too (I'm looking at you, Google Chrome).
In any case, yes, there's a little-known feature in MacOS that lets you schedule system sleep, restarts, even full shutdowns at specific times of the day. And it's all tucked into what used to be called the Energy Saver Preference but is know known instead as Battery.
Fire up System Preferences (easily accessed from the Apple menu) and if you're on MacOS 11, you'll find "Battery":
A click and you're ready to set things up.
SCHEDULE REBOOT WITH THE MACOS "BATTERY" SYSTEM PREFERENCE
There's a lot of useful information and a raft of settings jammed into this System Preference, as you can see from the main window: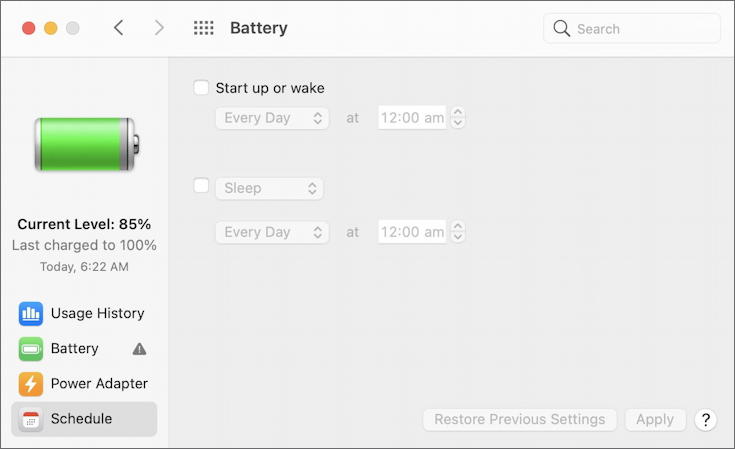 First off, notice the lower left: There are four main categories of information in the Battery preference: Usage History, Battery, Power Adapter, and Schedule. On an iMac or other Mac without a battery power option, "Battery" will be hidden from view, as will the current charge level.
You can see that there are two types of sleep you can set: waking and sleeping. Check the box adjacent to "Sleep", however, and you'll find that there are three options you can schedule, not just Sleep:

Choose "Restart", then pick the time and day that works best for you. I'll set mine to restart every Monday morning at 7am to ensure that I have a fresh start each week:
That's it. Done. If you were using your computer earlier than the scheduled 7:00 am restart, you'd see a warning like this (well, this one's for a shutdown, not a restart, but it'd be 99% the same):
Ignore it and your system will restart 10 minutes later. Or you can "Cancel" the restart if you don't want it to happen, or you can click on "Restart" (which would replace the blue Shut Down button in the above warning window) to have it occur immediately.
EXPLORING THE BATTERY SYSTEM PREFERENCE IN MACOS 11
While we're looking at the Battery system preference, however, let's check out those other views and options. First off, the actual Battery area: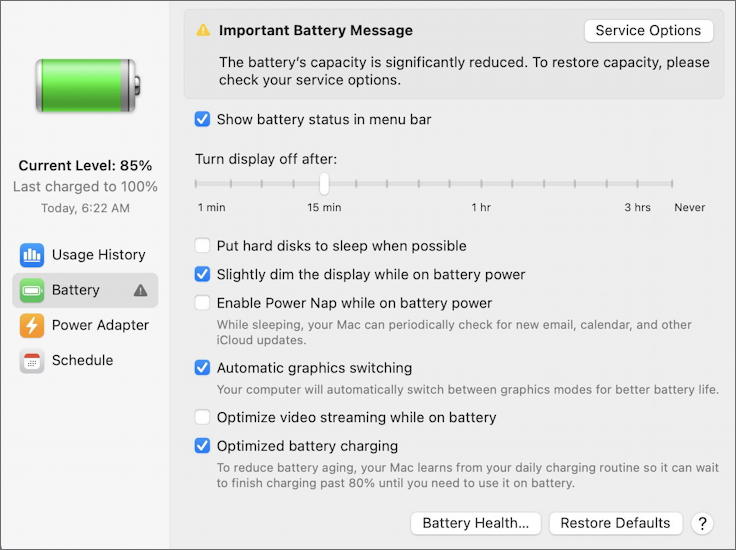 Unfortunately, you can see that the battery on my computer has seen better days. Working on fixing it. 🙂
The most important settings here are that you want to turn off the display after no more than 30 minutes to maximize battery life. You can see the other settings I prefer if you go down the list. One to be aware of is "Optimized battery charging", which changes how it charges when you do have it plugged in. If you've been wondering why does it take so long to go from 90% charged to 100% charged? this is the likely culprit. I recommend you enable it, but, hey, I'm the guy with the overcharged battery too…
What about settings for when it's plugged in? You can view Power Adapter for those settings: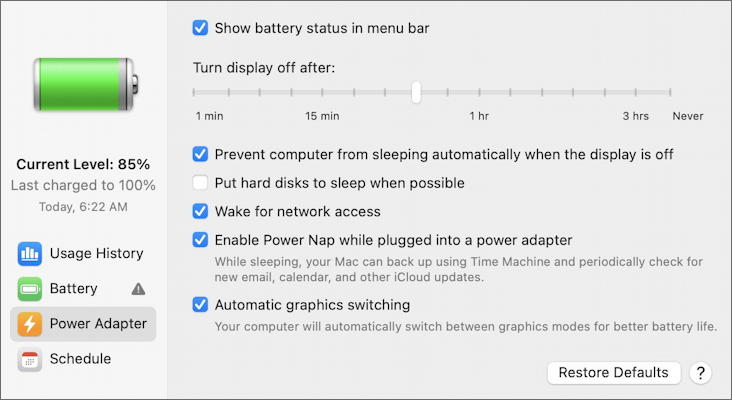 You can leave your display on whenever it's plugged in, but even choosing the maximum time of 3 hrs is still going to extend the life of your display screen (and save a bit of power overall). Otherwise, pretty basic set of options. Power Nap is cool – it lets the computer wake up long enough to check for email, etc while it's otherwise asleep – but you can disable that without any adverse consequences if you prefer.
Finally, if you're curious, you can look at Usage History to see how you use your battery (and how it correlates to when your screen is on versus off):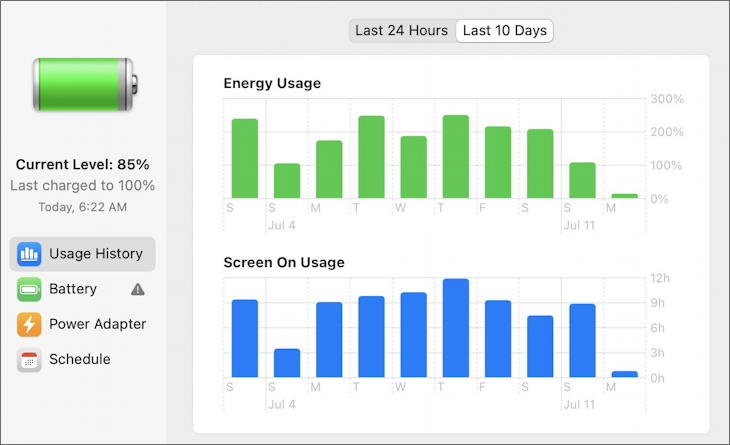 Nothing particularly interesting in my view, but I suppose you might find this useful as a way to check whether you actually have "on" days and "off" days (clearly I don't!).
That's it. Now you know everything about power management with your Apple MacBook Air and Mac systems in general, and can schedule that restart any time you want.
Pro Tip: I've been writing about the Mac since, well, the very beginning. Please check out my extensive Mac help library for hundreds of useful tutorials and how-to guides. Thanks!