I sometimes get up in the middle of the night and catch up on email from work. Which produces embarrassing questions from colleagues about the time sent. Can I write email messages in Outlook or Gmail and then defer sending until later in the morning?
While few of the standalone email programs allow you to defer sending an email message until the date and time specified, most of the online programs offer this feature. So programs like Microsoft Mail and Apple Mail just have a send button, but Outlook.com actually offers deferred send, as does Gmail. The one oddball is Yahoo Mail – still surprisingly popular – which is Web-based, but assumes that you want to send email when you're done writing it, no deferring allowed.
It's worth pointing out that if you're stuck using a program that doesn't offer "Send Later" features, you can always write an email and leave it in your Drafts folder until later in the day when you can open each one and click "send". Not a terribly difficult workaround, but it is a bit hard to understand why an easily automated task should rely on the user taking a specific action instead.
Ah well, let's have a look at how it works to defer sending an email message in Outlook.com, then I'll show you Gmail's Send Later feature too!
HOW TO DEFER SENDING EMAIL IN OUTLOOK.COM
The implementation of deferred sending in Outlook is actually quite straightforward, albeit a bit subtle if you aren't looking for it. Simply compose the email you want to send and then look closely at the "Send" options: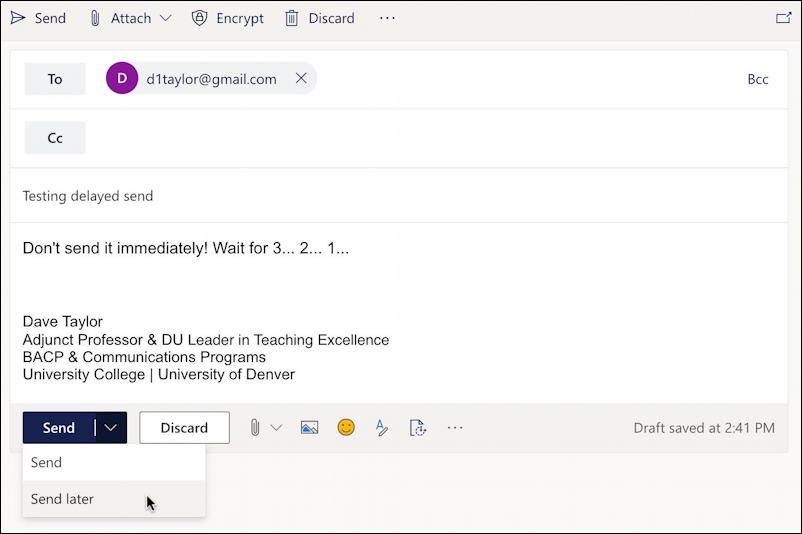 That dark blue "Send" button is actually hiding a small menu! Click on the "V" adjacent to the word Send instead of just sending the message and the above menu appears. There are two options: Send, and Send later. The first is redundant with the main Send button feature, of course, but that second option is pretty darn interesting.
Choose "Send later" here in Outlook.com and this pops up: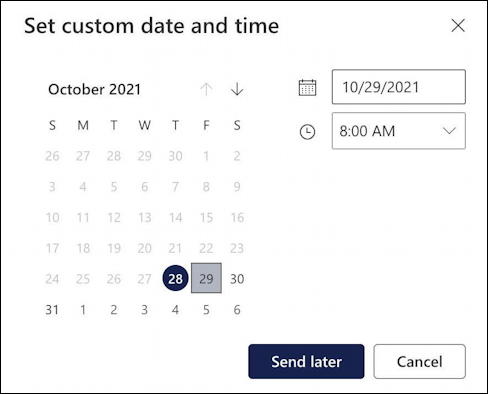 By default it will offer up a date and time – in this case tomorrow morning at 8:00 am, but you can set it to anything you want. Click on the current date (in this instance, the 28th) then type in the time you'd prefer, whether it's 30 minutes, 4 hours or two weeks from today. Ready to queue it up to be sent later? Click on "Send later". It's that easy.
You can even then see it listed as scheduled and further edit your email or even delete it before sending if you prefer (or change your mind). If you're terrible with birthdays, this is a great way to plan ahead and get those missives queued up for your loved ones and stay out of the dog house!
DEFERRED EMAIL SEND LATER IN GMAIL
Gmail is a bit more complicated in its interface, rather predictably, but it's also not too hard to defer sending an email. When you're ready to send it, click on the upward-facing triangle (why can't these companies figure out a consistent direction to point for hidden menus? 🤪 ) and you'll see "Schedule send" show up:
Once you choose "Schedule send" a new window pops up:
The preselected options are definitely friendly and easy to understand: Tomorrow morning; Tomorrow afternoon; Monday morning. Don't like any of them? Click on "Pick date & time" and you can send it an hour from now, at midnight, or on Christmas morning, as you prefer.
Unusually, Gmail for Mobile also has this feature. Most other mobile email programs seem to skip the option of letting users send later, but in Gmail you see this:
Check out the top option from the "•••" menu in the message compose window! Yep, even on your phone, you can write an email and defer sending it. Quite handy once you get the hang of it.
Now you have this superpower of sending email on your schedule, not when you compose it. Use it wisely!
Pro Tip: I've been using and writing about Microsoft's Office Suite for many years. Please check out my Outlook help library for plenty of useful tutorials, as well as additional Office 365 help pages! Thanks.