Is there a way to put a shortcut to a URL on the OS X desktop. Used to be able to do this in XP, but can't figure out how to do it in OS X.
It used to be a lot easier to figure out how to do this in Safari, actually, so I understand your point of confusion. I remember that adjacent to the title of a Web page was a small icon that was draggable: just drag that onto your desktop and you'd have a handy URL shortcut saved.
Fortunately, once you know what is still draggable, you'll realize that it's still pretty easy to do this. Instead of dragging an icon off the title bar, you need to drag the web page address from the address box. Like this:


While we're at it, turns out you can also drag a tab onto the desktop: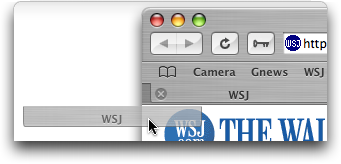 and you can drag any clickable text onto the desktop too by simply moving the cursor to the link, pushing down on the mouse button and dragging the resultant link onto the desktop
while the mouse button remains down
:



The end result is that you'll have some nice shortcuts sitting on your Mac OS X desktop: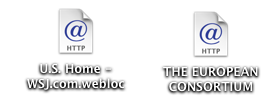 By the way, these work in Firefox too, if you're not a fan of Apple's Safari browser.