My friends send me a lot of photos via text message and I'd like to be able to save them into my Photo Gallery. Is that possible on an iPhone running the latest version of iOS?
You can indeed save photos out of the Messages app on your iPhone. Let's clarify a detail, however: it's not a text message, per se, that lets you send and receive photographs or other media but rather MMS, the multimedia messaging service. The text-only service is known as SMS, or simple messaging service. A lot of non-smartphones, for example, support SMS messages, but don't offer MMS support. This means if you send a photo to a friend with a pay-as-you-go function phone (as they call 'em) it will fail and they won't receive it. If you're constantly send these pics back and forth, you might have already encountered that one friend who just can't see them?
Apple's implementation of MMS within the iPhone environment is splendid and also includes support for iMessage too, an alternative message transport system that lets you send messages to your friends and family but if both of you are using an iOS device, there's no actual text message through the cellular network at play. Instead, it's sent via wifi. Smart.
To work with the Messages app is also a breeze. Here, this is a photo my pal Dan sent me of a car he was test driving:


Notice that to the right, adjacent to the photo thumbnail, is a circular icon with a symbol like this: ">". If I tap on it — or the image thumbnail itself — then I get to a full-screen view of the photograph: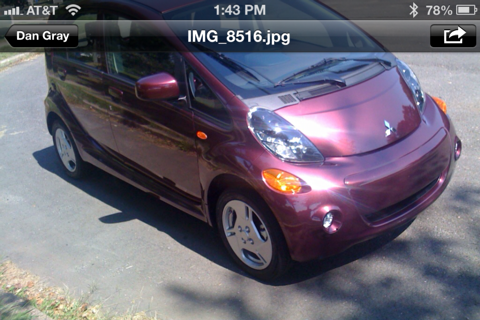 See that box on the top right with the arrow coming out of it? That's the "share" button. Tap on it and a wide range of options appear:


Directly from this MMS image, I can email it to someone, post it on Twitter or Facebook, assign to a contact or even open up in Dropbox (an optional third-party install). Slick.
What I want, however, is "Save to Camera Roll", the leftmost choice on the second row. A single tap and… nothing appears to happen. What's transpired without any feedback, however, is that the photo has indeed been saved to your Camera Roll, as a quick glance in "Photos" reveals:


You can see the saved car photo all the way to the right, just below "Edit". Tap on it and you've got the photo in your own photo gallery, ready to transfer to your computer (if you so desire) or share:


That's all there is to it.
Oh, and the funky little car? It's a Mitsubishi i-MiEV electric vehicle. Very slick.