I know that you generally discourage people from downgrading the firmware on their Sony Playstation Portable (PSP) unit, but darn it, I want to do so anyway. Can you offer some tips, even if you have to include a disclaimer?
Note: The links have been removed from this article due to a Digital Millennium Copyright Act violation filed by Sony against AskDaveTaylor. The instructions remain, but you're on your own finding any specific software, hacks or earlier versions of PSP firmware.
You're right, I will include a disclaimer because about every week or so I get an email from someone who was fiddling with the firmware version on their Sony PSP and somehow ended up freezing or "bricking" the system. The problem is, Sony doesn't make downgraders available, so you're at the mercy of the online community which, I admit, is 99% great people. But the 1% of malicious rebels can easily find it amusing to mislead you and cause you to trash your sweet little Sony device. Not good.
Nonetheless, you're all able to make your own decisions about how you work with and enjoy your devices, so as long as you recognize that there is some risk involved in the following technique, I do have a splendid article by gamer Andrew Childress on how to downgrade your PSP firmware to gain access to the treasures of the homebrew community and more. Just don't ask me questions about how to use bittorrent to download illegal copies of commercial PSP games, okay?
---
If you want to use homebrew on the PSP, there a few general steps of action to take. We will go from their in our endeavors to get you to the magical 1.5 firmware so that you can use any homebrew that you want to!
The first thing that we want to do is find out your current firmware version. Boot up your PSP to the XMB (cross media bar, the home menu) and scroll all the way to the left to what I call the "settings" column. From there, go to "System Settings" and "System Information". Your "System Software" is equivalent to your firmware. Take note of that firmware and follow the chart and the downgrading directions that follow.

| Firmware Version | Plan of action |
| --- | --- |
| 1.5 | Celebrate! You're in luck! |
| 1.51 | Update to firmware 2.0, downgrade to 1.5 |
| 1.52 | Update to firmware 2.0, downgrade to 1.5 |
| 2.0 | Downgrade to 2.0 |
| 2.01 | Update to 2.71, downgrade to 1.5 |
| 2.5 | Update to 2.71, downgrade to 1.5 |
| 2.6 | Update to 2.71, downgrade to 1.5 |
| 2.7 | Update to 2.71, downgrade to 1.5 |
| 2.71 | Use Dark_Alex's Generic Downgrader |
| 2.8 | Out of luck for now |
| 3.0 | Out of luck for now |
| 3.01 | Out of luck for now, stay tuned |

There are some general notes about downgrading. First of all, it's a fairly safe process. However, sometimes, stuff does happen. These are 1% type situations that render your PSP inoperable. Stick to the directions, and you will be alright.
Second there is a type of motherboard that is in some PSP's that is not downgradeable. If you attempt to downgrade on a PSP with this motherboard, your PSP will be rendered useless. Here is a picture of a white PSP with that motherboard. Make sure you check before starting any downgrade!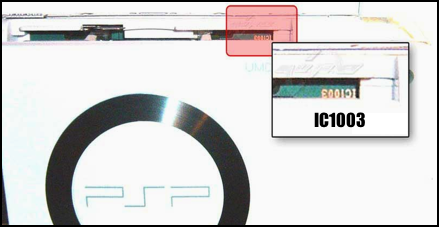 [ed note: This picture isn't very good, but it's easy to spot whether you have this earlier circuit board or not: if you can't see "IC1003" printed backwards on your circuit board edge, you're in the clear. -DT]
The Sony PSP 2.0 Firmware Downgrade Process
The 2.0 downgrade process is probably the easiest and safest out of any of the methods. It is very quick and easy:
Disable anti-virus software. (Necessary step, just trust me)
Download [link removed, sorry]
Connect your PSP to your computer
Copy the files "h.bin" and "index.dat" to the root of your PSP. The root is the topmost directory.
Copy overflow.tif into the PSP -> PHOTO folder. If you don't have these folders, create them!
Make a new folder in PSP -> GAME called "UPDATE"
Download a PSP 1.5 Update file from Google
Drop that update file in the update folder
Disconnect PSP
The prep work is finished now.
Plug your PSP into the AC adaptor
Start PSP up. Scroll to photo menu.
Click X and try to scroll down. One of two things will happen: your PSP will hit a black screen with white letters and numbers, or your PSP will freeze. If the PSP freezes, just restart and try again.
If you hit the black screen with white characters, perform a hard reset (hold power switch up 10 seconds) and restart
With the AC Adaptor plugged in, scroll to the right and access your memory stick under GAME
Run the 1.5 US Update
The update will run and inevitably fail at 99%
Restart the PSP, and you will hit the PSP's blue screen of death. No problem- hit "O"
Boom, you are done!
Sony PSP 2.5/2.6/2.71 Firmware Downgrade Process
This tutorial has been through several re-writes in this area. Why? Because, as usual, the PSP homebrew scene is always reinventing itself. At one point there were several muddled process for downgrading each of these three firmwares. This article has been written for three different downgrade processes for each. However there is now a new sheriff in town in the world of PSP downgrading. This new method is much safer and easier than any other method yet.
Before we get to that, though, let's make it simple: if you are running PSP firmware higher than 2.0, you want to update to 2.71, before you go any further. Seems counterintuitive, but this will make things very, very simple for you.
After you are updated to 2.71, (go no further) follow these steps for homebrew in no time flat:
Download [link removed, sorry].
Follow the super easy install instructions included in the readme
Run the process through the photo menu. (as dictated in the program's readme)
Download the [link removed, sorry]
Install that program by placing the UPDATE folder inside of the PSP -> GAME directory. Create directories, if necessary.
Download a 1.5 update EBOOT
Rename it to UPDATE.PBP and put it in the PSP -> GAME -> UPDATE folder
Run the downgrader program from the memory stick on the game menu
Boom, you're downgraded.
[Ed Notes: first, thanks for sharing this information with us, Andrew. Having said that, please, please be careful with downgrades and think twice before you muck with the firmware on your Sony PSP. I am not responsible for any adverse outcome from your following these directions, so you really are on your own if you try this process. Good luck.]