So ya want to buy a used Apple iPhone or other smartphone but are afraid you'll get one that's broken, stolen or not what was advertised? When I was in the same situation, needing a reliable used Apple iPhone 6, I turned to Orchard. Here's how it all turned out…
We'd moved my daughter from an iPod to a feature phone but it wasn't really cutting it and she never carried the phone with her so we couldn't stay in touch. After much discussion we decided that we'd jump her up to an Apple iPhone 6 if she'd agree to certain parameters around the ownership of the phone (namely that it was a privilege and that she'd have to do well in school and in the family to keep it).
Which left us with a challenge: Where do you find a clean, good condition used smartphone that hasn't been stolen or otherwise has a suspicious provenance?  Craigslist and eBay both seem like they're by thieves and scammers as much as legitimate sellers and even then, there's a trust issue: I didn't want to send $300 or more to someone for a device that I'd be buying essentially sight unseen.
Enter Orchard, an online marketplace for iPhones where they actually inspect the used phones, check the phone's ID (known as the IMEI) against law enforcement and Apple databases, and make sure it's all functional and on the up-and-up. A perfect match and as we're hoping this phone will last my teen daughter at least a few years, getting something in near-new condition was important too.
I started the transaction by going to their site, where there are a wide range of used iPhones available: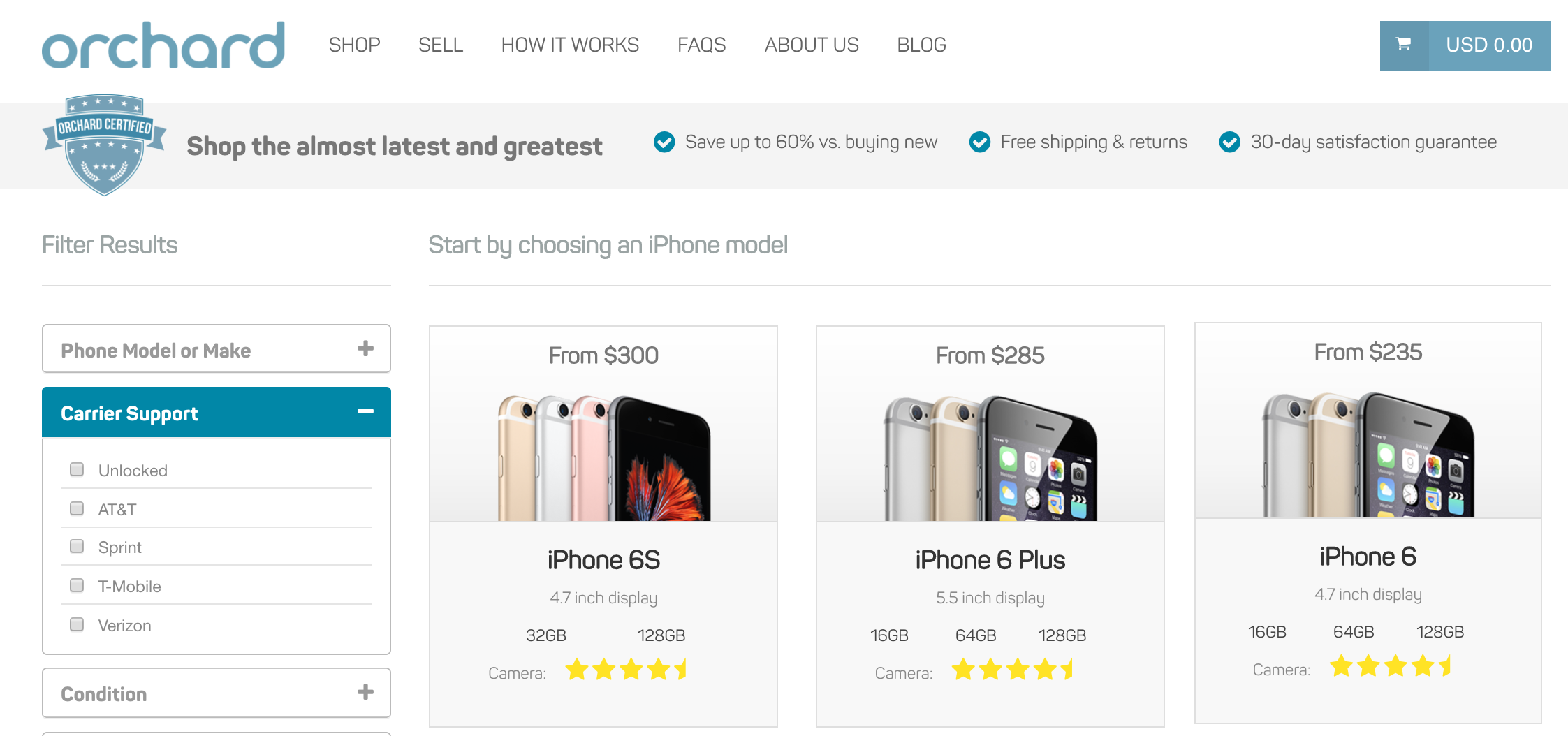 The iPhone 6s was tempting, but as a very first smartphone? Maybe not so much. Instead, I click on the "iPhone 6" listings to see what was available in the various colors and memory capacities. Pretty much every possible configuration, actually:
This is where I didn't want to be "penny wise and pound foolish", so decided that going for the best possible condition used phone would side-step any disappointment in a phone that had dings, dents or even a damaged screen.  The best match: the Space-Grey – Like New 64GB iPhone 6.
One thing that's important to keep in mind is whether the iPhone is designed for your cellular network and as an AT&T Wireless customer, that means I either needed a phone that explicitly said it was for AT&T or a phone that was "unlocked" and could work on a number of carrier networks, including AT&T. Notice that all the phones from Get Orchard are unlocked, so that's not going to be a snafu once it arrives!
A click on the listing and there's more info plus a photo of the phone itself: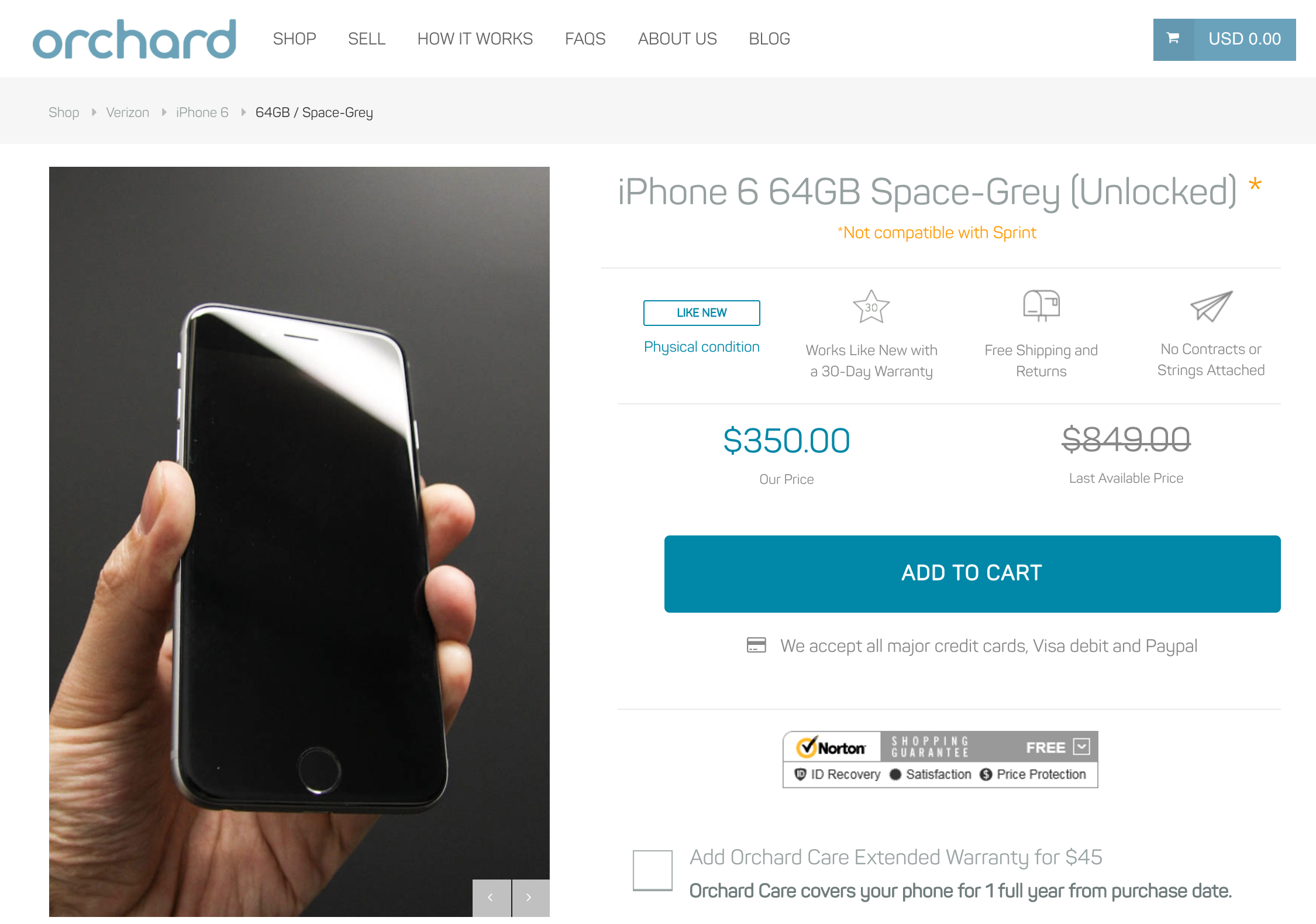 All looks good, and notice that it comes with a 30-day warranty and free shipping and returns if there's an issue. More importantly, the photo shows that it's in pristine condition, which is what I seek. And so, the fateful mouse click on "Add to Cart" and I'm just about done with the transaction. One more chance, to add on a warranty, charging cable or similar:
As long-time Apple iPhone owners, we have everything accessory-wise, and then some. The warranty was tempting, but I opted not to include it and so I completed the transaction – $350.00 for a like new Apple iPhone 6 – and in less than 24 hours had a shipping notification and two days after that had the phone in my hand.
I took it to the local AT&T Wireless store and they burned the right size SIM card for it, slipped it in and we were ready to go: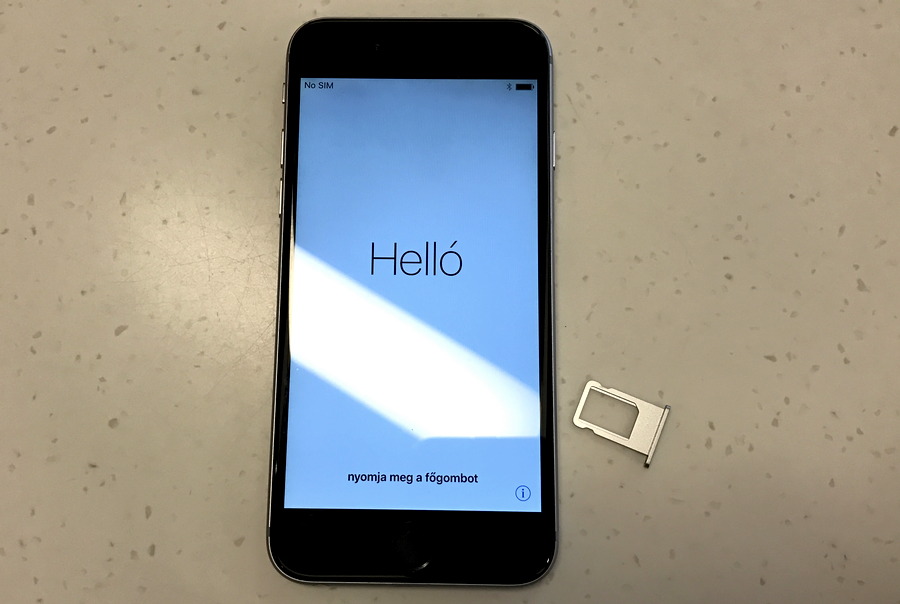 Of course, since I wanted my daughter to sign a cell phone usage agreement first, I kept it in the "new out of the box, ready to configure" mode.
Then she opened the box, unwrapped the iPhone 6 and her reaction was priceless: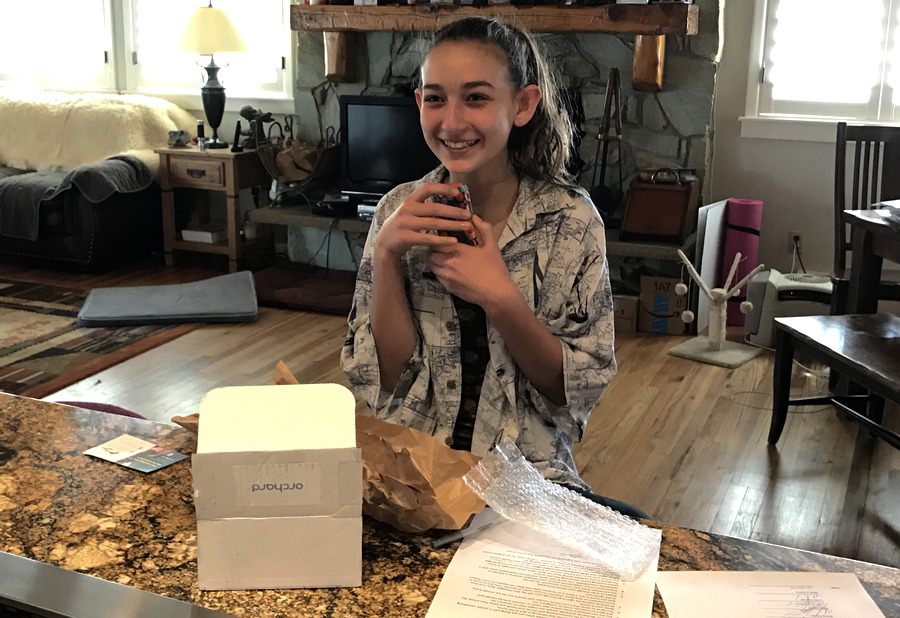 All in all, a remarkably easy transaction that gave me the confidence to buy a used Apple iPhone without having to worry about whether I'd be able to activate it and get it working on our network and without any concern about the real condition of the device once it arrived.
If you're in the market for a quality used iPhone, I strongly encourage you to check out Orchard and see if they'll meet your needs. It definitely worked great for us.
Disclosure: We were paid a sponsorship fee for this post.