I was using my Google Gmail account as usual today when a message popped up that I'm running out of storage space. I don't want to buy more space, how can I just get rid of things and free up some space?
Google makes it a bit confusing to understand, but Google Photos (formerly Picasso), Google Drive and Gmail archives all share a single drive space partition, so when you get that error, it's possibly any of those three that can be the primary culprit that's consuming your allocation. One easy way to free up space in Gmail quickly is to go into your Spam folder and delete everything, but there's another area that often ends up a problem: the trash in Google Drive is never actually emptied when you put files or folders into it, so that can sit for years consuming space without you realizing.
Let's start at the beginning, however, with the message you are likely seeing while you're in Gmail.
Note: If you're getting an email message about the problem it's a phishing attempt and should be ignored. Google doesn't email you when you're running out of storage space, it just pops up a message in the program like that shown below.
If you're lazy you can just opt to purchase more storage space, but odds are very good that a lot of what you're archiving is actually unnecessary and easily jettisoned instead, so let's focus on that solution.
First off, let's jump over to Google Drive and check that out. On the left side you'll see the following:
Notice on the bottom it shows how much space you've used versus how big your storage allocation is. For me, that's 15GB out of 15GB. Ouch. You can click on that information to get a more detailed view, but let's focus attention on something just a bit higher up: "Bin". Click on that and you'll probably see a folder full of images, files and other folders, like this:
Some of the files I have in my Bin go back years. Why are they just sitting there taking up space? Weird.
To delete them is non-obvious too: Turns out that the word "Bin" gains you access to a single entry menu:

Choose "Empty bin" to delete all the files from the trash and confirm that's what you want to do: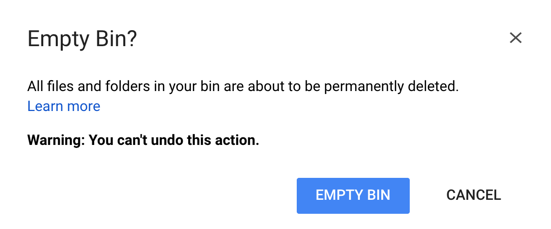 With that accomplished, hopefully you've freed up enough space to get rid of the warning message. You can tell by looking at the status message again. Mine shows I have some megabytes of space (I'm using approx 14.3 of 15GB now) but let's go further:
In Gmail, there's no easy way to see which folders (sorry, "labels") account for the most storage space, but you probably know where most of your email is hiding. You can identify them by size or age with advanced search (try label:YOURLABEL before:01/01/2015 to match all the files in that specific folder that are older than 1 Jan, 2015, for example) and then delete those. I did just that and cleaned away a bunch of older stuff. End result:
Not too bad. Managed to get it down to just a bit under 11GB. That should keep me good for a few months. Hopefully you can free up space in a similar manner and sidestep the requirement to purchase more storage space for another year!