I've only recently noticed that after years of using Gmail, I'm actually running out of space. I got a warning that I won't be able to send or receive email if I fill up my allotted space! Help! What can I do to fix it?
Google's Gmail was a game changer when it showed up, with its completely database-driven solution. "Don't delete email, don't file it in folders, just archive it and trust the search system to find anything you need." A great idea, but it does require a lot of disk space. Each user was allocated 15GB of space for Gmail and other Google content, notably including Google Photos and Google Drive, but that's a huge amount of space, right? Heck, if each email message is just text, 1GB of space should allow you to store thousands of messages.
Zoom forward more than a decade (I signed up for Gmail in April of 2004) and even just receiving a hundred email messages per day you could be starting to hit some of those storage limits. Where this can be problematical, though, is that the same 15GB of storage is utilized to store any documents you might have on Google Drive / Google Docs and any photos you're archiving through Google Photos. In fact, you can tell how much you're using and how it breaks down with just a click…
HOW MUCH SPACE ARE YOU USING IN GMAIL?
On the bottom of the main Gmail view, there's a tiny little bar graph that indicates how much of that free 15GB you're actually using. I knew I was in trouble when I saw mine:

14.23 out of 15GB? That's a lot of email. Or was it something else? A click on the figure and a window popped up that offers to upsell you on Google One (which offers a lot more storage space), but scroll down just a bit and you'll find that it also includes a display of where that space is going: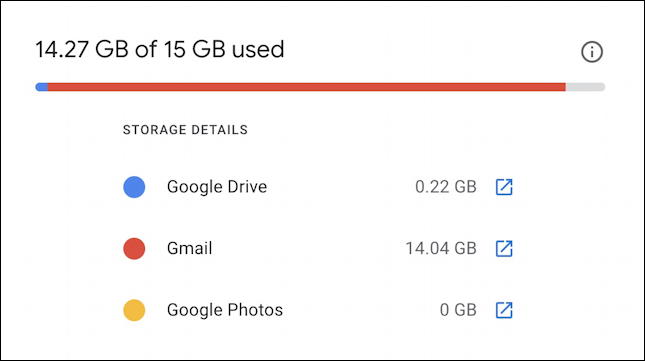 As you can see, my Google Drive documents are tiny, using up less than 250MB, and Google Photos? I don't use it at all. So all of that disk space represents saved and sent email messages in Gmail. Yikes!
HOW TO DELETE THE BIGGEST ARCHIVED MESSAGES IN GMAIL
That being the case, a smart first step is to go and clean up your email archive. I've written about that here: How to Free Up Space In Your Gmail Account? In a nutshell, you can find the biggest email messages in your archive by searching by size. Try size:2000000, for example, which might yield your dozen largest messages as it did mine:

Note: that's an older version of the Gmail interface, but the search query language hasn't changed since the service was launched, as far as I can tell.
Okay, you've done that, you've deleted your largest email messages with huge PDFs and video attachments embedded, but you still have no disk space left in your Gmail quota.
Now what?
HOW TO SUBSCRIBE TO GOOGLE ONE
What I opted to do for the cost of 3 fancy coffee drinks at Starbucks is to increase my disk quota for the cost of $19.99/year. Given that I have used Gmail for free for over 15 years and now absolutely rely on it, paying approximately $2/month seems quite reasonable (if only my other important digital utilities were so inexpensive!).
As you might suspect, Google makes this process quite easy. Indeed, when you clicked on the bar graph showing how much space you were using, the very first thing you saw was probably this: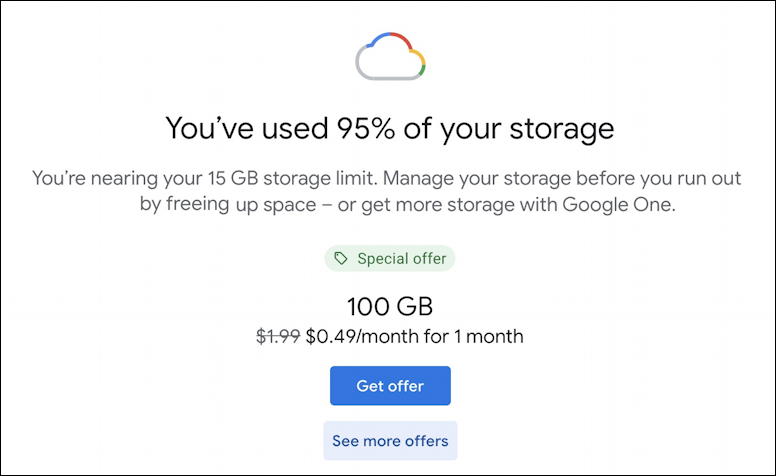 Since I wanted to see what all the options were, and had no delusions that if I opted for a bigger disk partition for a month I would be able to change my mind and go back to the smaller partition later, I clicked on "See more offers".
Turns out Google has a couple of different partition sizes as part of its Google One package: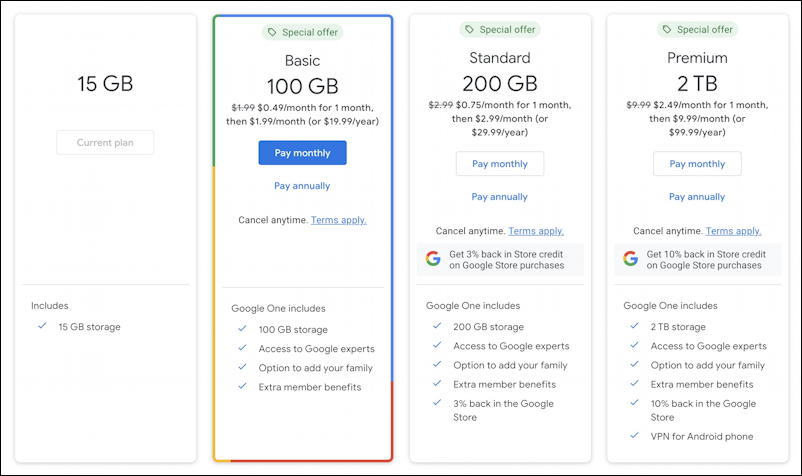 This comparison chart is a pretty common marketing approach, so I've seen these before. The question isn't "which is the best deal", however, but rather "which is the best deal for me?" Since I've done fine with that 15GB for over 15 years, I don't think I'm going to suddenly have 10x that archive of email so that 100GB option looks really good. If you do the math, it's advantageous to pay annually rather than monthly: $1.99/mo = $23.88/year, whereas $19.99/year = $1.66/mo. Yeah, it's just a few pennies, but I'd rather have that in my pocket than included in the bill.
You might calculate differently, particularly since Google One also allows you to use the disk space for a full and automatic backup of your mobile devices, Android or iPhone, including all photos and videos. Enable that and yeah, you might need quite a bit more space all of a sudden. Then again, the cost of losing all your media from your smartphone can be incalculable, so maybe that's a good move for you.
PICK YOUR GOOGLE ONE SUBSCRIPTION PLAN
I'm going to opt for the 100GB "Basic" package, paying annually. A click on "Paying annually" and it turns out that my very first month will only be $0.49, as per the current promo: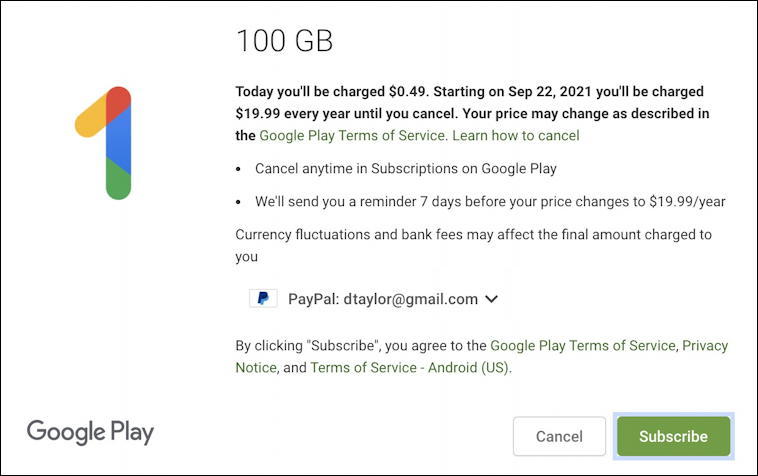 I already have PayPal set up but if you click on the "V" adjacent to the default payment method, it will show you what options you have set up and let you choose a different one:
I could use my MasterCard but for now, PayPal works fine. To proceed once I have my preferred payment method specified, all I have to do is click on the big green "Subscribe" button.
Done.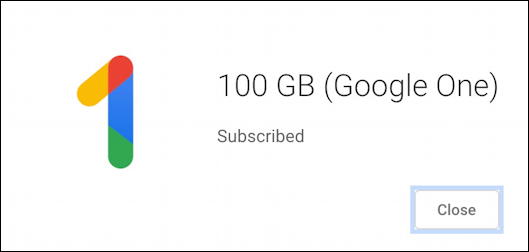 Google One does have some other features that are now enabled, including a mobile app, but for now I just want to know I won't have my Gmail frozen if I hit 100%. If you're in the same boat, you just solved your problem too.
And now the bar graph at the bottom of Gmail is a lot less anxiety provoking:

Mission accomplished and for less than $20/year. Not a bad solution, all in all.
Pro Tip: I've written quite a bit about Gmail and Google services. Please check out my Gmail help library for lots more tutorials while you're visiting!