I'm trying to fix a permissions problem on my new Windows 10.1 system and when I use the command Microsoft recommends, I get elevated permissions are required. What does this mean, and how do I 'elevate' my permissions so I can run the command?
It's curious that for most everything you'd do on a Windows system, the default login account is plenty for installing software, deleting programs and just about all administrative tasks. But every so often something comes up that requires permissions beyond the usual. The way you learn that is by the command producing the error message "elevated permissions are required."
Microsoft explains it thusly: "With User Account Control (UAC) fully enabled, interactive administrators normally run with least user privileges, but they can self-elevate to perform administrative tasks by giving explicit consent with the Consent UI. Such administrative tasks include installing software and drivers, changing system-wide settings, viewing or changing other user accounts, and running administrative tools."
Got it?
Anyway, let's just have a look at what's going on, then I'll show you how to use Task Manager, of all tools, to fix the problem.
To start, I encountered a similar error message about elevated permissions when I was trying to run Dism: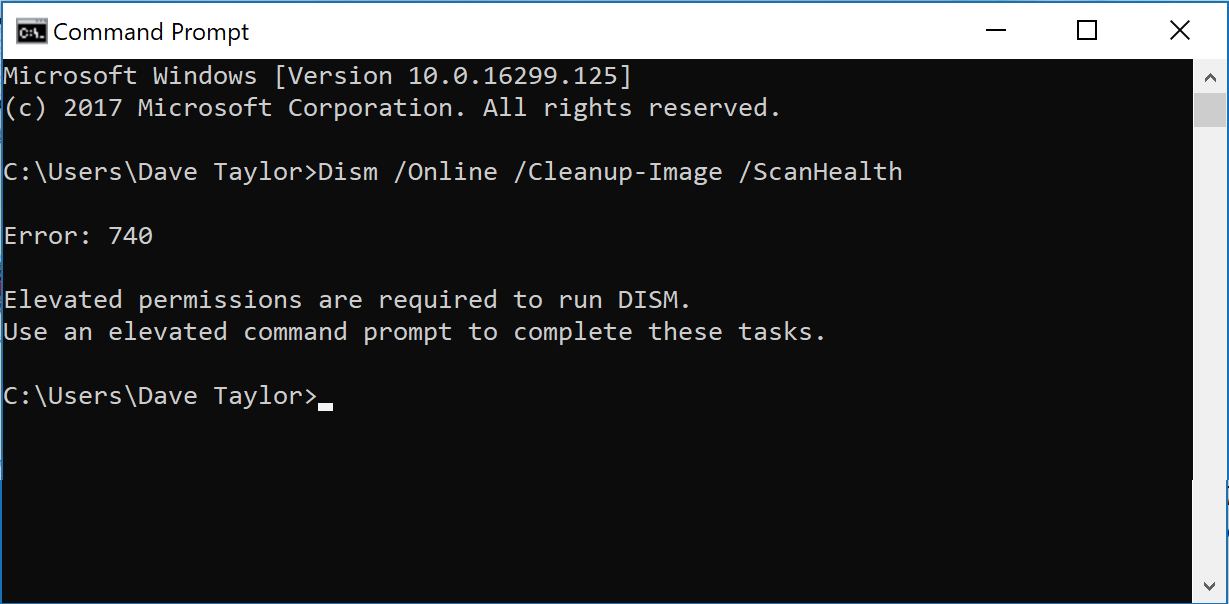 As you can see, the error message is "Elevated permissions are required to run DISM. Use an elevated command prompt to complete these tasks." What it doesn't do is tell you how to use an 'elevated command prompt'.
Fortunately it's actually rather easy to accomplish through Task Manager. Launch the program right from the Start menu / Cortana search: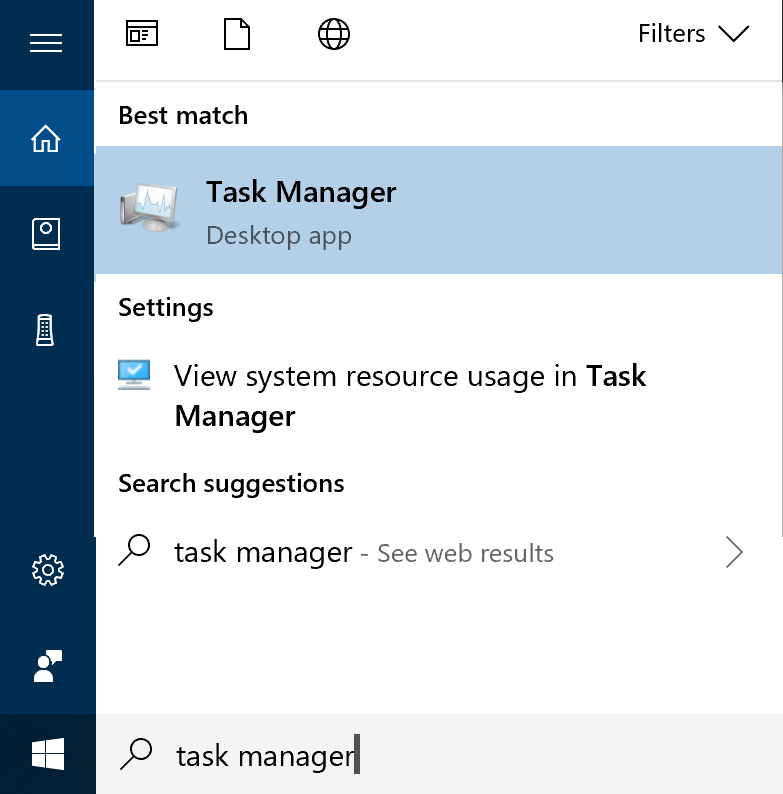 It's quite likely that when it launches you'll see a very minimalist "less information" layout, which offers almost zero information:
No worries, a click on "More details" will bring up the full – and useful – view, with a useful monitor of what's running on your computer at the time: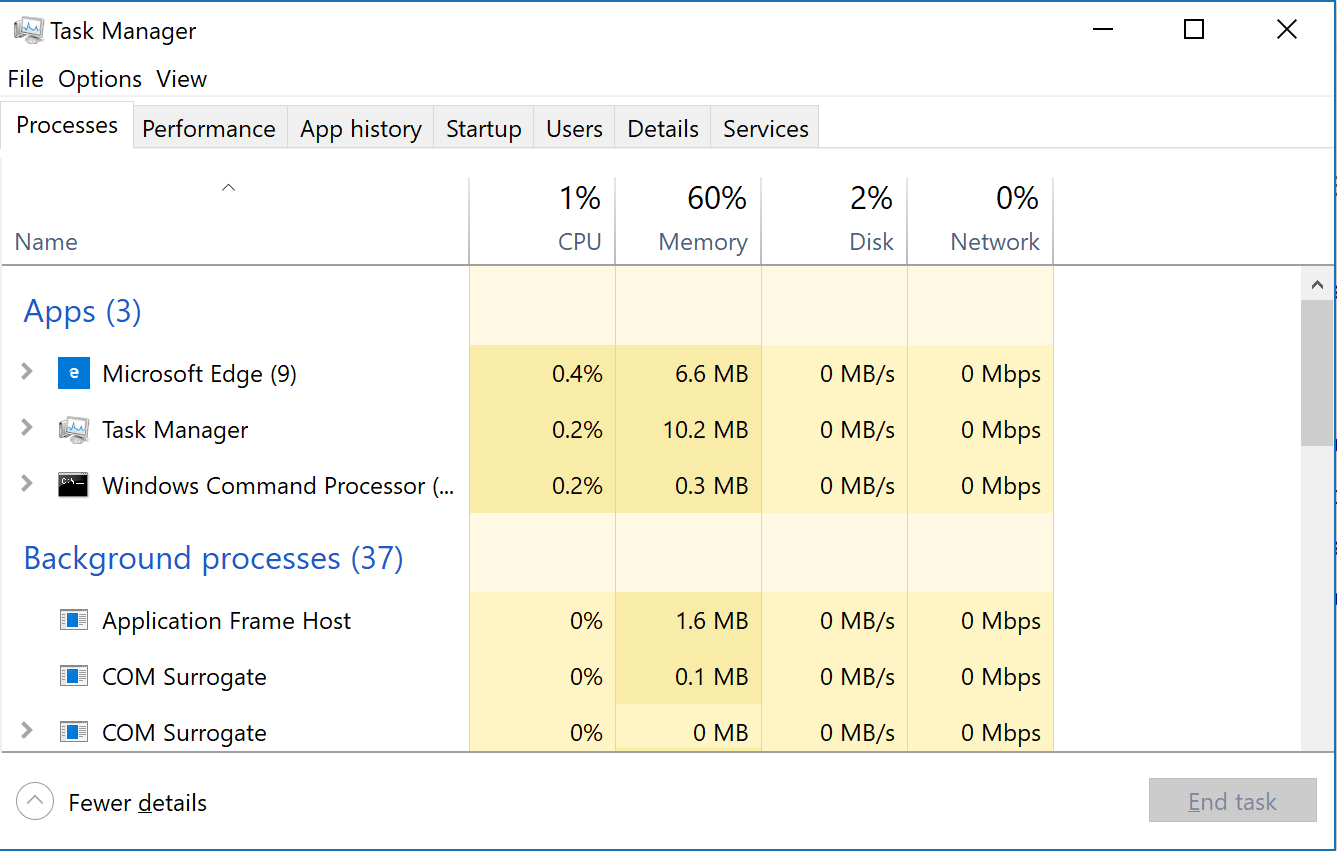 As you can see, I'm using a fair bit of memory but otherwise the computer's barely being utilized at all, 1% CPU, 2% disk and 0% network. There's more you can glean here too if you're curious, from the Performance, App history, Startup, Users, Details and Services menus, but let's stay on focus. Click on 'File' in the top left.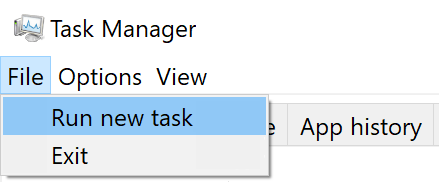 Just about done. This will pop up a window that lets you specify what task you want to run, but it also has the all-important checkbox that lets you run the command as an elevated or privileged task: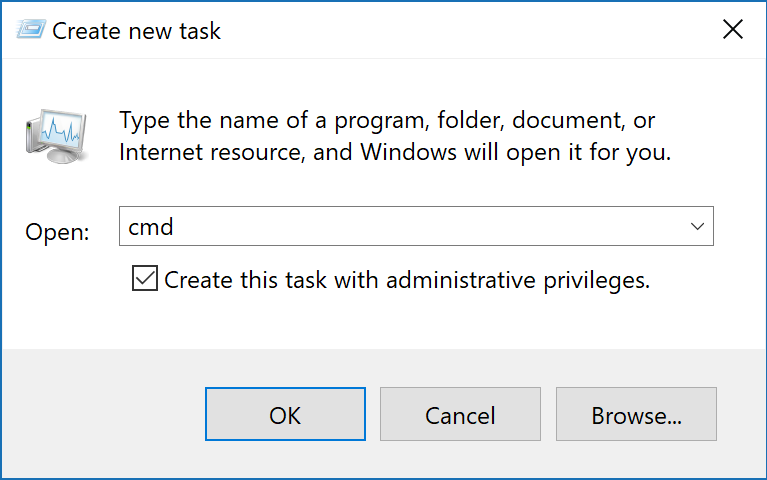 To get back to the command powershell window, I'm going to just run cmd, but it's the box adjacent to "Create this task with administrative privileges" that's so important. Check it, enter the command you want, and click OK to proceed.
Now I have a powershell command window, invoke the very same DISM command and this time it works:

And that's all there is to it. Just remember you need to launch elevated commands or programs from Task Manager and that you have to double-check that you've, well, checked the box too.
Pro Tip: While you're here, why not check out our extensive Windows 10 Help area for other useful tutorials?