My Mom just told me that Facebook released a new privacy checkup utility and that I should make sure I'm not oversharing. Okay, okay, how do I run this Privacy Checkup thing, Dave?
Facebook is the king of complexity at this point in its evolution, so it's no surprise that people can't keep up on all the different privacy settings and keep getting tripped up on what is and isn't restricted to their friends, their acquaintances, friends of friends and the public at large. In other words, Go Mom! Your Mom is actually spot on with her recommendation that you run the brand new Facebook "Privacy Checkup" tool.
My only complaint is that it educates you on what you have set up now, but doesn't make it particularly easy to go back and review those photos you posted last weekend from your bar hopping adventure with the girls, and that photo shoot you did with your old boyfriend all those years ago. That's just a tedious task you have ahead of you, going through photos and checking the privacy settings on them one by one. Sorry, no great solution for that!
But back to Privacy Checkup. You can find it on the Privacy and Settings menu on the top right of your Facebook window, near your tiny face icon:

Isn't that blue dinosaur so darn cute? Any resemblance to Barney the purple dinosaur is completely coincidental, of course. Because otherwise that'd be kinda creepy!
Click on "Privacy Checkup" to get started. It's a big screen!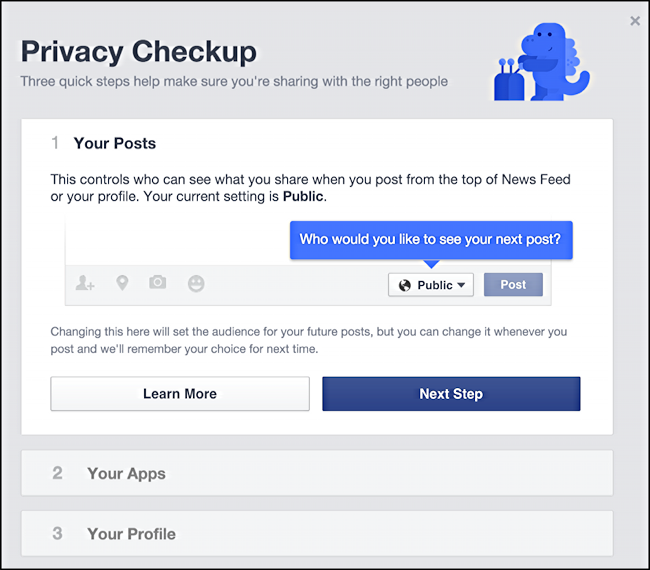 You can actually tweak and explore things as you go, and you can also click on "Learn More" at any time too.
This first section is a reminder that each and every post you make to Facebook can have different privacy settings and that — and this is important to remember — whatever you set is remembered and the default the next time you post something. That's tripped me up more than once!
Once you understand what they're showing you in this first step, click on "Next Step" to review the list of apps that you've granted permission to access some level of your Facebook info: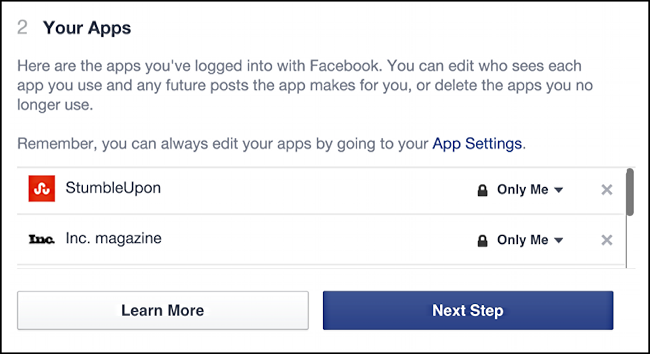 There are lots more than just the two I show here, StumbleUpon and Inc. Magazine, but I shrunk the image to avoid overwhelming you. On your own screen, you'll likely have a list of 50 or more apps that have permission. Notice that you can tweak the privacy settings of each and every app from this screen too, as shown in the options below: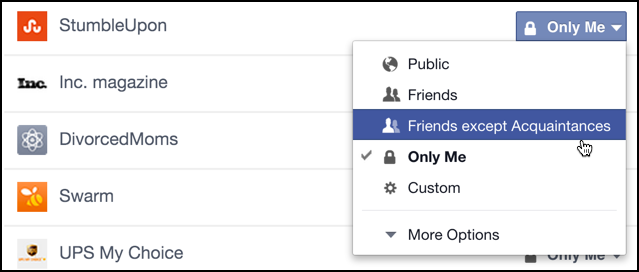 You'll notice that my default for permissions is "Only Me" to ensure that if any of them do try to post to my timeline that the default permission of that particular post will prevent anyone else being bothered by it. Easy enough, and now you can see how to tweak and adjust those settings too.
Scroll through the list, deleting any apps you don't remember or don't want to grant permission (click the "x" on the right edge).
Ready to move to the next phase? Click on "Next Step"…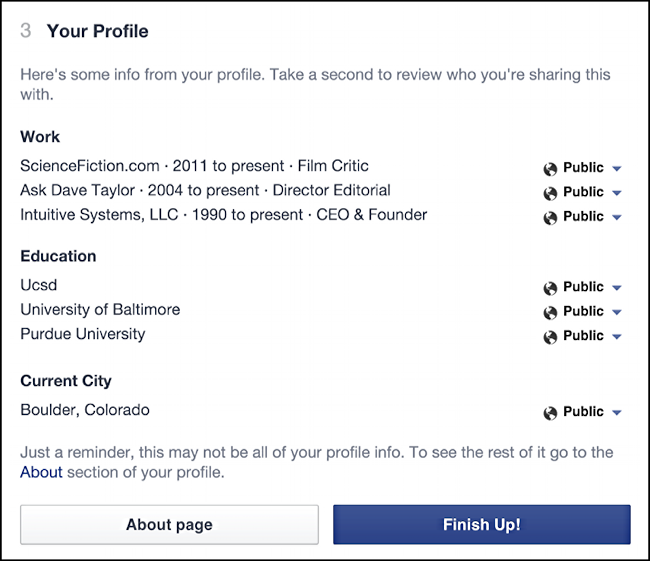 Another big screen, this one shows a subset of the personal data you've added to your Facebook profile and who can see that particular data.
In this instance you can see I'm pretty open about what colleges I attended, where I work, and where I live. If I were to change my mind, however, it's easy to change the access permission right from this screen: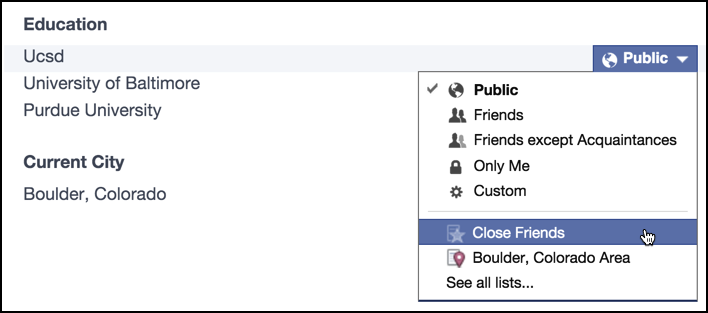 Note you can add custom settings for particular snippets or limit things by geography. My home address and phone numbers are those that I have locked down to "Only Me" too. I like you, but I don't want you to call or show up at my doorstep!
Click on "Finish Up!" when you're done, and now you have a much better handle on your privacy settings. Darn helpful!
And thank your Mom too. She's a savvy operator!