I've had a really frustrating time posting photos directly from my iPhone with Facebook for Mobile. The pics all come out sideways! Is there a way to rotate the photo to the correct orientation before I post it from my iPhone?
Turns out that the Facebook for Mobile app is hugely capable and has rather a remarkable number of features tucked into its fairly straightforward interface, including a photo editor that not only lets you rotate images before posting them, but offers quite a lot more editing capabilities too.
But let's not get sidetracked with a photo editing tutorial, okay? I'll just focus on specifically what you ask about, because I do sometimes see other people who post photos that are sideways or upside-down. And it turns out to be pretty darn easy to fix…
To start, kick off Facebook on your iPhone and you'll be looking at a screen a lot like this: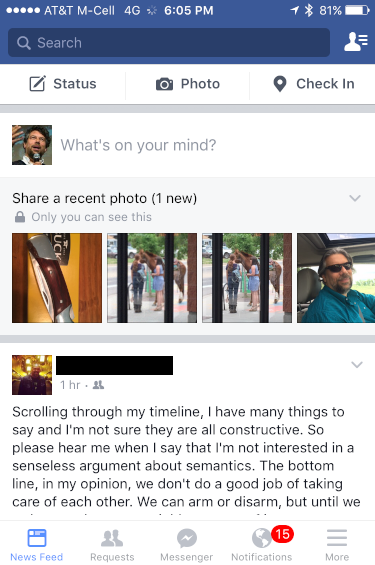 The recent photos displayed all look good, but the most recent of them (the one leftmost) is actually rotated 90-degrees. Which makes it an excellent candidate for our demo, right?!
To post it, I'll simply tap on the photo thumbnail on the phone screen and it shows up, big as life!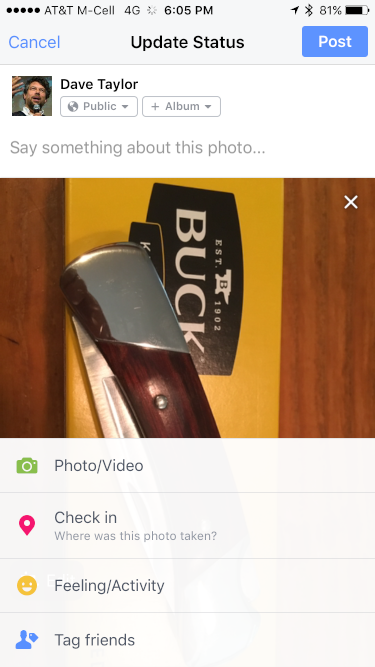 Here's where you get to too, right? The secret is to tap on the photo itself, which removes the menu of choices on the bottom and offers up something a bit more relevant: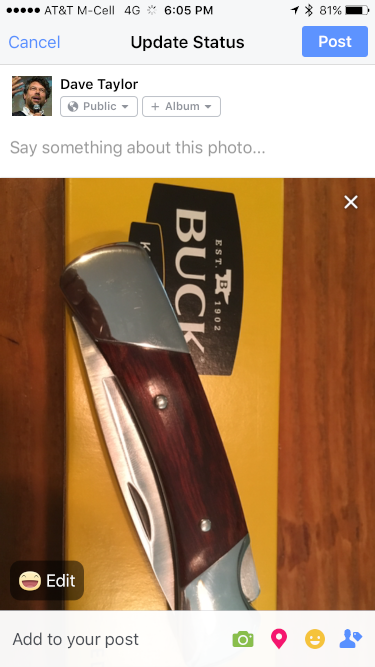 Ah, there we go! An Edit button. How helpful!
Tap on 'Edit'.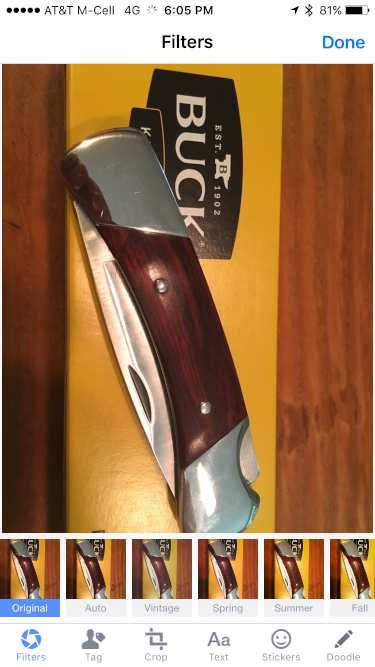 You can see that there are a number of preset filters for various color effects, ranging from "Summer" to "Vintage", along with a set of tools along the bottom row: Filters, Tag, Crop, Text, Stickers and Doodle.
You can explore the other tools on your own time 🙂 but for now, tap on "Crop".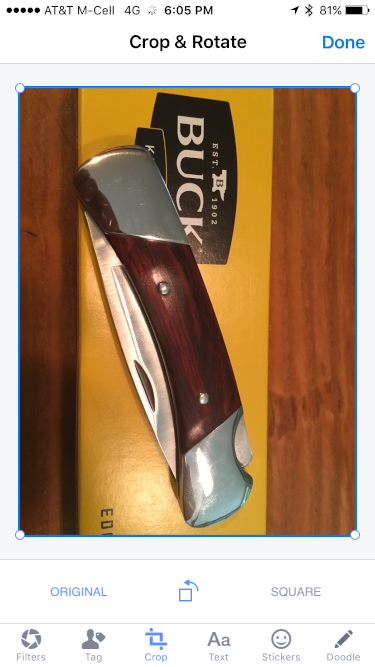 See the box with the arrow around its edge, the middle of the upper tools? Tap on it, it's the "rotate 90 counterclockwise" button.
A tap and your image is rotated 90-degrees… counter-clockwise!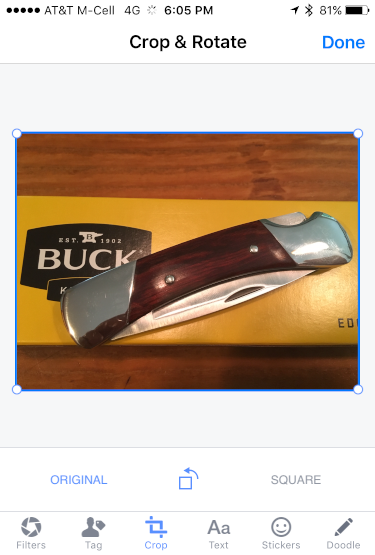 Looks much better! Now one more trick before we're done… see the little circles on the four corners of the image? Tap and drag on one of them to create a crop box. Too small to work with? Tap and drag any of the four blue side lines instead.
With a bit of finger dragging, you can produce a tighter image that's better for sharing: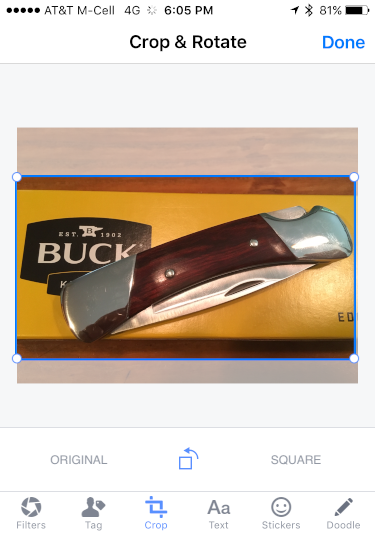 Looks good? Happy with the impending crop? Tap on "Done" on the top right and you can proceed to post it on Facebook.
As always, use the "@" notation to tag businesses, fan pages, celebrities, or even your friends. I'm going to grab the Buck Knives page, so I tap in "@buck kn" and get these matches: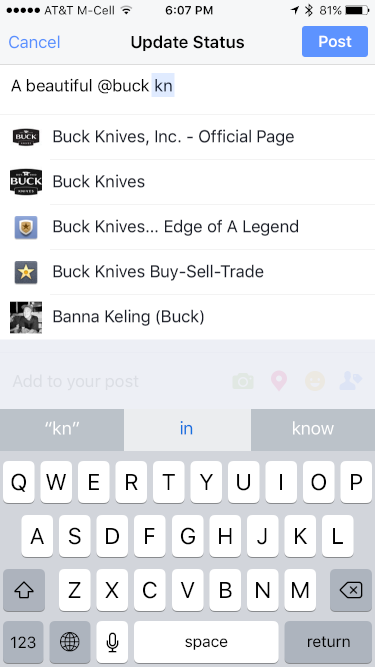 Ah, since it's plural, I'm going to slightly reword my comment to make grammatical sense.
Here's the result: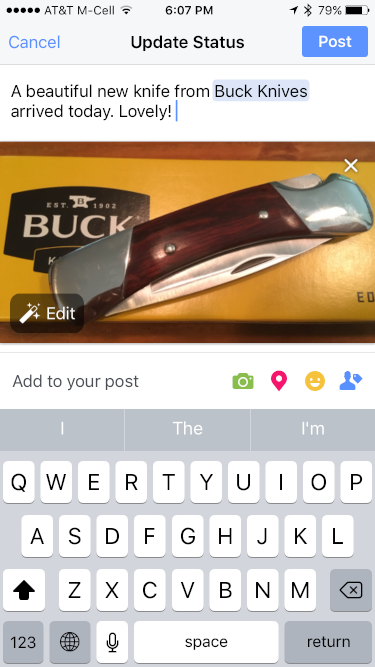 Ready to post, no further work needed.
Notice that the "Edit" button has reappeared on the photo image if needed. Fortunately, it's not.
A tap on "Post" on the top right and it's posted, complete with helpful comment: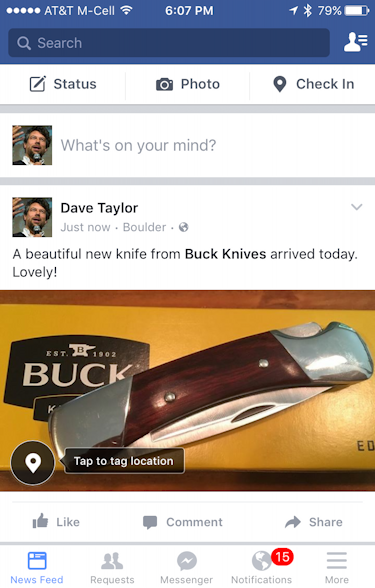 Looks good. And it's oriented properly! Hurray!
And that's how ya do it.
Tip: "Like" me on Facebook for more helpful tips and tricks: AskDaveTaylor on Facebook.