Ever look at your stack of DVDs and wish that you had digital copies of those great movies that you could watch anywhere, anytime, on your tablet or computer? With WinX DVD Ripper Platinum, you can quickly and easily produce those MP4 files from any DVD. Here's how it works…
Not only am I a film critic (you can find my reviews over on my GoFatherhood site) but I'm a long time film lover too. There's something about the challenge of creating a compelling world and telling an engaging story that's always captured my attention. Whether lightweight children's animated fare from when I was a tot or my more modern taste for dark, complex foreign productions, film has filled many an evening. I've watched thousands of films. And, like most people, I've also collected hundreds of DVDs along the way. In fact, I have a bookcase full of DVDs, which is extremely inefficient when I also have a Plex digital movie server on my network.
The challenge, of course, is turning that DVD into a digital copy of the film. There are a variety of solutions but almost all suffer from two limitations: they're really complicated and they're really slow. Heck, some solutions are so slow that they're what I call a real-time conversion: A 100 minute film will take, you guessed it, 100 minutes to convert. That's clumsy and frustrating, to say the least, and if you want to convert a few dozen favorites, well, that's a month or two of effort.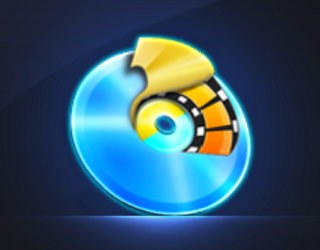 That's why one of the programs I keep on my Windows laptop is Winx DVD Ripper Platinum. WinX has managed to hide all of the complexity of formats and compatibility, tracks and refresh rates, and replace it with a fun, easy interface and a conversion engine that can rip (copy) a DVD into digital format in crazy fast speed, from 2x to 4x to even 10x. That means that 100 minute film might take no longer than 10-15 minutes to convert into MP4, depending on your hardware.
To demonstrate how easy it is, I thought it would be fun to convert the Danny Kaye classic 1955 comedy The Court Jester into an MP4 on my older Dell XPS13 laptop. Not a big gaming machine, not a high-end PC designed for video editing, just a regular old PC off the shelf. Like most modern laptops, it doesn't have a DVD slot, so I bought an external DVD drive off Amazon for about $30 that can work with all my computers, Mac or PC.
Launching Winx DVD Ripper Platinum on my Windows 10 system, here's the main screen:
The most important step is to plug in the external DVD drive and then insert The Court Jester DVD disc.
Once the disc's ready to go, tap or click on the "Disc" icon on the top left. The program will automatically detect that there's a DVD accessible on the computer and confirm that's what you want to scan:
Looks good. Click on "OK" to proceed and it'll prompt you to choose an output format for the digital copy: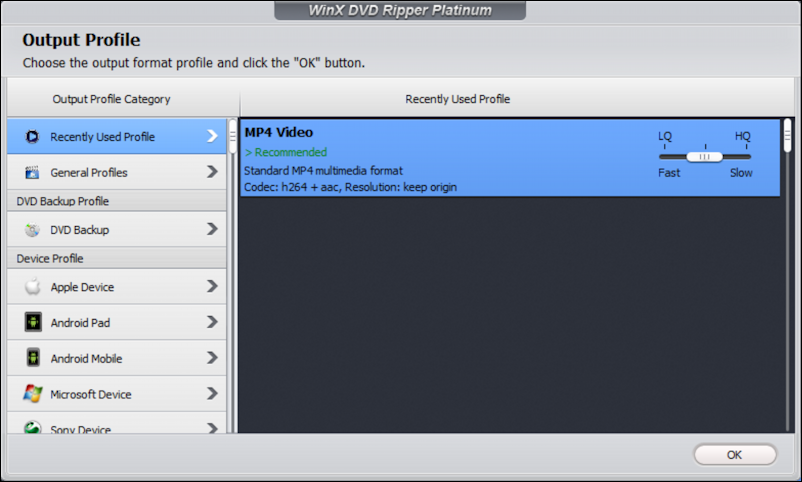 The default is exactly what you want if your goal, like mine, is to convert that old DVD into an MP4 movie: "MP4 Video". Look down the left side, however, and you'll see that there are a lot of different output formats you can specify if you'd rather have it specifically formatted for your Sony, Apple, Microsoft or other device, optimal for an Android phone, etc. Simplicity is good, though, so probably you can safely just stick with "MP4 Video" as shown and proceed.
Note the slider for quality too. By default it's in the middle: Lower quality will be faster but the output might be less attractive. Higher quality will be slower to process and produce a bigger output file, but in some instances might be what you prefer.
Another "OK" click and you're just about ready to start!
WinX DVD Ripper Platinum has already scanned the disk and figured out what it contains, as you can see. This single movie DVD disc actually has three tracks. Generally this is related to DVD menus and such, but you want to choose based on duration: notice above that Title2 has a total duration of 2:25, and Title3, with no audio, as a zero duration. Fortunately the program automatically chooses the longest of the tracks which is just about always what you want to convert. Choose a track then preview it in the player window on the right side if you're not entirely sure which is which.
I strongly encourage you to select "Use High Quality Engine" and "Deinterlacing" and any hardware accelerators not selected on the lower right. Ready? Click on that big blue "RUN" button!
Keep an eye on the "Remaining Time" field on the right side. As the program gets going, that will drop down at a remarkable rate. It starts out at that 1:1 time, so this movie starts with a remaining time of 1:40:54. In fact, I timed it, and the conversion started at 9:52 and finished at 10:42, meaning it was at 2x efficiency. Without the high quality engine and deinterlacing, it ran at least 3x faster, but the resultant MP4 was less crisp and clear (deinterlacing is important on older films especially). On a faster computer this same process would undoubtedly have been zippier.
So how big is the output? The resultant MP4 – called JESTER_Title1 by default – measures out at 965MB. That's a pretty typical size for a feature length movie in good quality, so you'll want plenty of disk space if you do want to convert lots of your old DVDs to modern MP4 files. And the image quality? It's beautiful:
Highly watchable, and remarkably little work to convert this classic comedy film from an old, dusty DVD disc into a modern, flexible and easily transported MP4 digital file. Definitely worth the effort in my opinion. Now it's time for me to go and watch my newly converted film and figure out if the poison's in the vessel with the pestle, the chalice with the palace or the flagon with the dragon…
WinX DVD Ripper Platinum, $29.95 for Windows. You can also get a free license key for the program or check out the full version with special offer promo on their site too.
Disclosure: Digiarty supplied me with a license for WinX DVD Ripper Platinum for the purposes of this writeup. The Danny Kaye DVD came out of my own library. Also, don't copy DVDs that you don't own, and don't share your MP4 with friends: The program is not intended to help you illegally share content.