I love my iPad 2, it's a solid update to the revolutionary iPad that I bought when it first hit the market, and not only do I like the iPad 2, but I also bought – and like – the "Smart Case" that Apple introduced with it. With its magnets and ability to turn the iPad 2 on and off simply by opening the case, it's a simple, elegant addition to the device.
Problem is, the Smart Cover is great for covering the screen, but the back of the iPad 2 is left unprotected, just waiting to get scratched, dinged or damaged. Not so good.
But I didn't want to get a full case because part of what I like about the iPad 2 is its slimness: putting it in a case just makes it thick again. Instead? A thick, protective skin. Like the ZAGGskin…
I've previous reviewed the GelaSkin for my Mac [see Review: GelaSkin Protective skin for the MacBook Pro] but a skin on my iPad? Is that a wise idea?
Turns out it was a great idea, and the ZAGGskin is thick and quite easily applied to the device. Interestingly, they're only offering them for the wi-fi iPad 2 devices at this point, though I'm not clear why.
The design I picked was one of over a hundred options, "Wild" by artist Deborah DaNaan: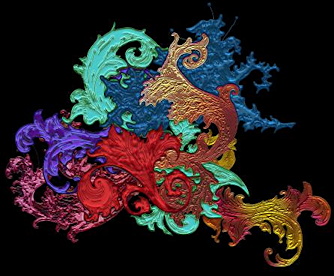 How easily did it go on? Well, before I say, here's a "before" picture that highlights how the Smart Cover really leaves the back of the iPad 2 completely unprotected: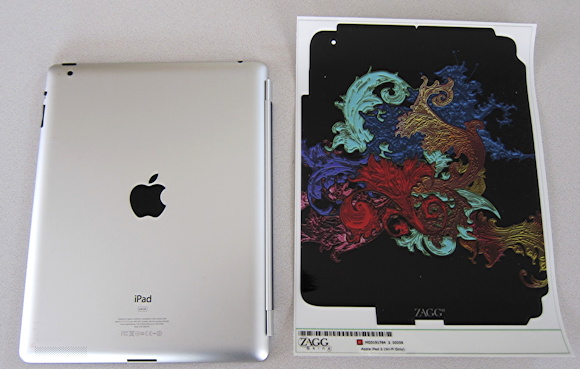 The skin goes on quite easily, actually, and it wasn't too tricky to align things properly, but I will say it's a complicated cut with some weird edges.
The biggest issue? The skin ends up having to be
underneath
the magnetic hinge of the Smart Cover, as you can see in this picture: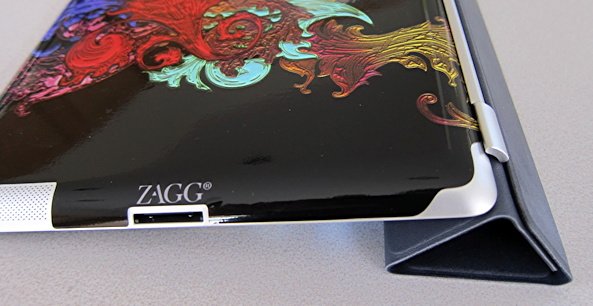 Still, the question comes down to whether the ZAGGskin is worth the $34.99 it costs (plus shipping) and I would say that if the alternatives are no protective cover at all or a case that makes the astonishingly slim iPad 2 clunky, it's a splendid option, well worth the minimal cost associated.
Disclaimer: ZAGG sent us a coupon that allowed us to select and order the ZAGGskin without charge for this review.