If you're big into movies, TV or other media, you already know that more and more shows and productions are getting short movies to advertise them, "trailers" that you can now even find for books and video games (though you're not likely to see those in a movie theater). I write a film blog too, so I pay close attention to trailers for upcoming movies, which is why the Apple iPhone app TrailerSpy Mobile [iTunes link] caught my interest. Here's what I found…
You might not know it – though you should – but there's an Ask Dave Taylor iPhone app [iTunes link] available, and as the owner of an iPhone app, I have learned that the very first question iPhone owners ask is whether the app is free or not. Like mine, Trailer Spy is $0.99, but it seems like a big chasm between free and not, to the point where I've seen comments where people complain that $0.99 is too expensive for the program. Less than a buck and it's too expensive? Really?


As a reviewer, my question is more is it worth a non-zero amount of money? and I'm glad to report that TrailerSpy Mobile is definitely worth a buck investment if you find yourself watching movie, TV, game or book trailers. It's built atop the Web site TrailerSpy.com, which features, well, d'ya wanna guess what's featured on the site? Yup, trailers. You're good!
The application is also simple and straightforward, I am confident that if any of my kids had noticed it among the sea of games I have on my iPhone, they would have been surfing movie trailers to see what's coming to the local cineplex.
And that's one of the few problems I had with the application: while generally trailers are rated "G" or are unrated, there are some NC-17 type trailers called "red band trailers" and I wanted a preference I could set that would screen those out so that my 9yo doesn't get more of an eyeful than he's ready to view.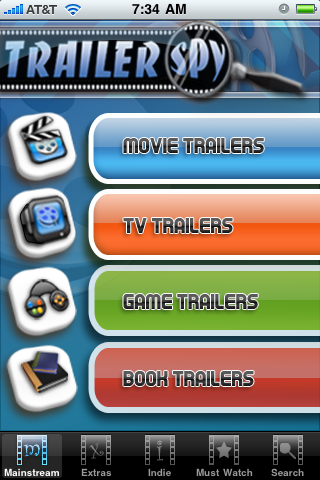 As you can see, the app's design is quite cheery and bright with big buttons for clumsy fingers, which is a smart move.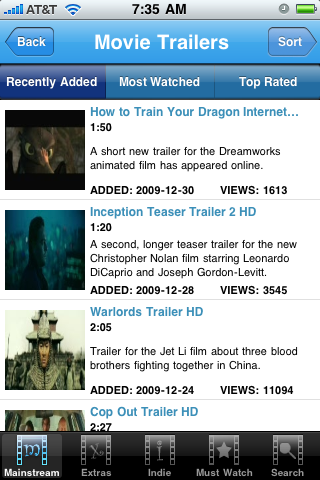 There are plenty of movies to choose from in the app too, when you're browsing trailers, though I'm not entirely sure it's easy to always differentiate between a Mainstream and Indie flim (for example, would
Slumdog Millionaire
be listed as an Indie?) Still, there is a search feature so if you seek a specific trailer, you can just go there and not worry about the classifications.
Note also that the trailers are always split into Recently Added, Most Watched, and Top Rated, which does bring up another problem: there's no way I can see to rate trailers from TrailerSpy Mobile, which means you can't vote for or against a specific trailer. Perhaps in the next version?
Books? Did you ask about book trailers?
I don't really get it, personally, but yes, there are some book trailers listed. Given that the average book has a marketing budget of about $100, this is clearly limited to the small subset of books that are expected to be blockbusters.
Finally, when you tap on a specific trailer to watch it, the app downloads a video from the TrailerSpy site and plays it with an embedded YouTube video player on the iPhone: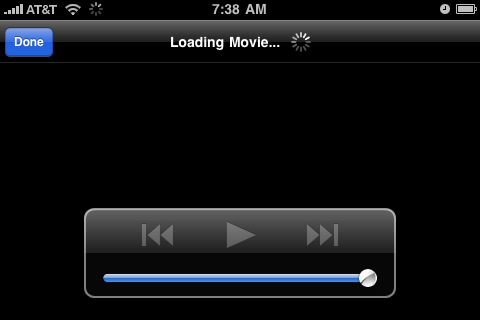 and after a moment or two, the trailer starts. Here's a snippet from the "extras" for the Jackie Chan movie
The Spy Next Door
: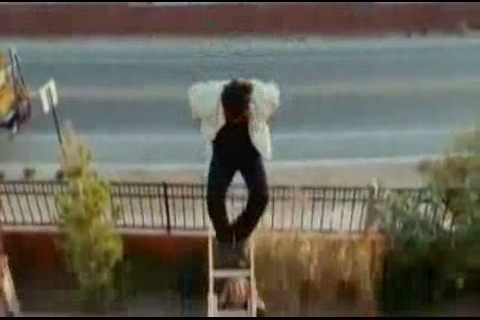 Other movie apps for the iPhone offer up the ability to watch trailers, including
Fandango
[iTunes link],
Movies
,
Showtimes
and
MovieFone
, and those are all free. But for less than a buck, TrailerSpy Mobile does a splendid job of organizing and offering easy access to movie, TV, and game trailers and if you watch them as frequently as I do, it's a pretty smart — and pretty small! — investment.
Disclosure: Tal Nuriel send us a license key so I didn't have to pay that $0.99 to review the application. But really, is there anyone who has their pricetag that low that you think it'd bias the review? 🙂