Ever wonder where your kids go during the day? Or perhaps you're curious how many miles you travel, point to point, in a typical week? Heck, maybe you're the suspicious type and want to know where your spouse drives the car while you're working?
All of these questions can now be answered by devices called GPS tracking systems that combine the geolocation capabilities of a GPS with a rudimentary recording system and a simple computer interface, typically all packaged as a chunky USB memory stick.
The Telespial Systems' Trackstick II is one of the more interesting GPS tracking systems on the market and I was pleased to get one from the company for review. It's clunky, but performs as advertised, offering a wealth of interesting data and answers to all of the questions I posed above.
The biggest problem with the Trackstick is the problem with many devices in new categories: the overall package and experience, the software, the device, all feel like they're a late alpha or early beta prototype, not a slick, polished solution for people who aren't really hardcore computer and technology geeks. Reminds me of how GPS navigational systems started out years ago too, actually.
The Trackstick itself is a sort of retro 70s USB memory stick: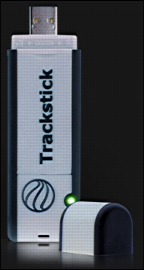 Not slim or elegant, but functional and it feels reasonably durable (after all, if it's going to live on the bottom of a kids backpack, it better be pretty darn strong!). It takes two AAA batteries and, as usual with Windows gadgets, it shows up covered in warnings for you to install the driver before you actually use the product.
In fact, let me start by stepping you through the installation of the drivers and Trackstick software.
Installing the Trackstick Software
Thought they could have included it pre-installed on the Trackstick device itself, that'd cause a bit of a conundrum since you need to install the driver before you can use the Trackstick itself, so fortunately they just give you a URL to grab the sofware from the network instead.
You go there and get a shiny pair of buttons to click:


As you can see, this device requires Windows XP or Windows Vista. There's no Mac OS X or Linux option for using the Trackstick at this time.
I clicked on "Download trackstick manager" and got the usual warning window from the browser: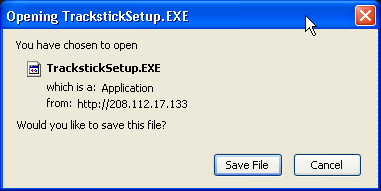 I did want to proceed, so I clicked on "Save File", though generally I'm leery of downloading any ".exe" file on my WIndows box.
Very quickly thereafter I got the Trackstick setup wizard: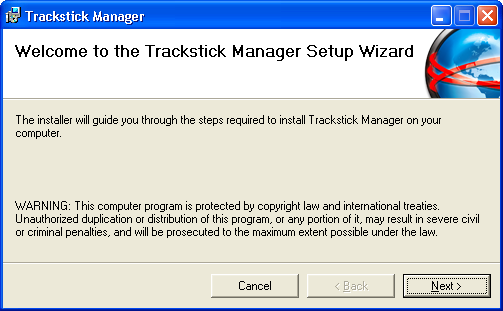 Select an installation location…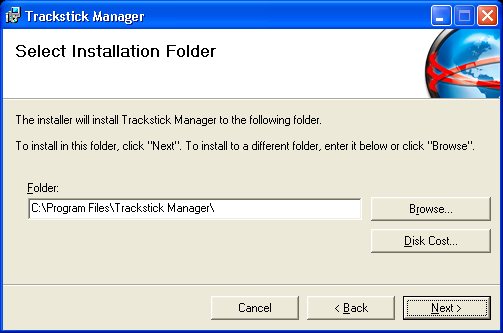 … and it installs!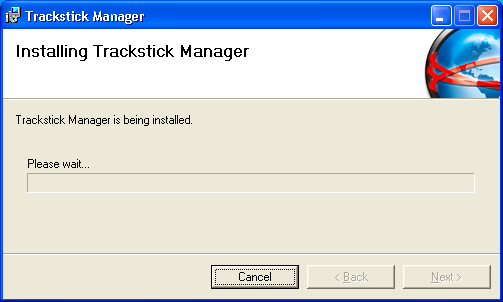 Except for one little problem. The Trackstick drivers aren't certified by Microsoft to work safely with Windows, so you get this fairly scary dialog box:


Take a deep breath. You need to click "Continue Anyway" and install the software, even if Microsoft hasn't given it the official Redmond stamp of approval.


Yay! Drivers installed. Notice, however, that there's yet another step where it's important to do things in the right order. Don't just double-click on the new Trackstick application!
This was a good point to go back to the Web page and download Google Earth if you haven't already got this amazing application on your computer. It's a similar process, though it takes quite a bit longer to download and install.
Plug in the Trackstick for the first time and you'll get another fairly familiar Windows dialog: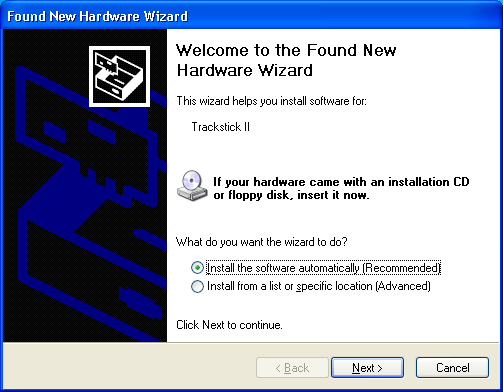 The default is fine, click "Next" and it'll connect the device to the device driver software and you're good to go.
In fact, the Trackstick application is launched and the first thing you're likely to see is:


Since I'd only just downloaded the software a few minutes earlier, it was no surprise that there weren't any updates to install.
Next the application checked the Trackstick and, to no surprise, it recognized that it hadn't been used yet and that no data was recorded:


And so endeth the installation adventure.
Using the Trackstick
To test the device, I flipped the slider switch on the side of the Trackstick to power it on (a small red LED lights up) and gave it to my 8yo son. He slipped it in the pocket of his pants and we went out for the day to have some adventures.
Many hours later I took it back and plugged it into the PC. No "no data recorded" error this time!


Cool. I said "Yes" since that's the entire point of the device and it took incredibly little time to download the 48 or so location markers it had recorded.
From what I can tell, every "n" minutes the device records the lat/long, the time and the altitude. It can calculate relative speed if each waypoint is different, of course, and can calculate time spent in a location if multiple waypoints have the exact same latitude and longitude.
Now we get into the weak link with the Trackstick: the software:


Think about this: the Trackstick is an incredibly cool gadget that can record thousands of geolocations, with time stamps, and make it easy for you to view where it's been and even do walkthroughs of the path it took in specific areas, yet the software gives you absolutely no clue that's what you're seeing.
I clicked on "Tracks", for example, to see if it'd show me some sort of physical representation of the tracks or paths we'd taken with the device and got this instead:



If I were a scientist this might be good data, but I want to
see it, man!

There's no nice way to say this: the software included is abysmal, incredibly hard to use, and clunky as heck.
After some experimentation, I realized that the way to hook into Google Earth, where I can get the tracks and paths I seek, is to use the "Export" feature on the middle of the top navigational bar. Pick the export style you want from the pop-up menu, then click "Export":



Once exported, it automatically launched Google Earth and, finally, I could see what I expected to have shown upon initial download of the data from the Trackstick itself: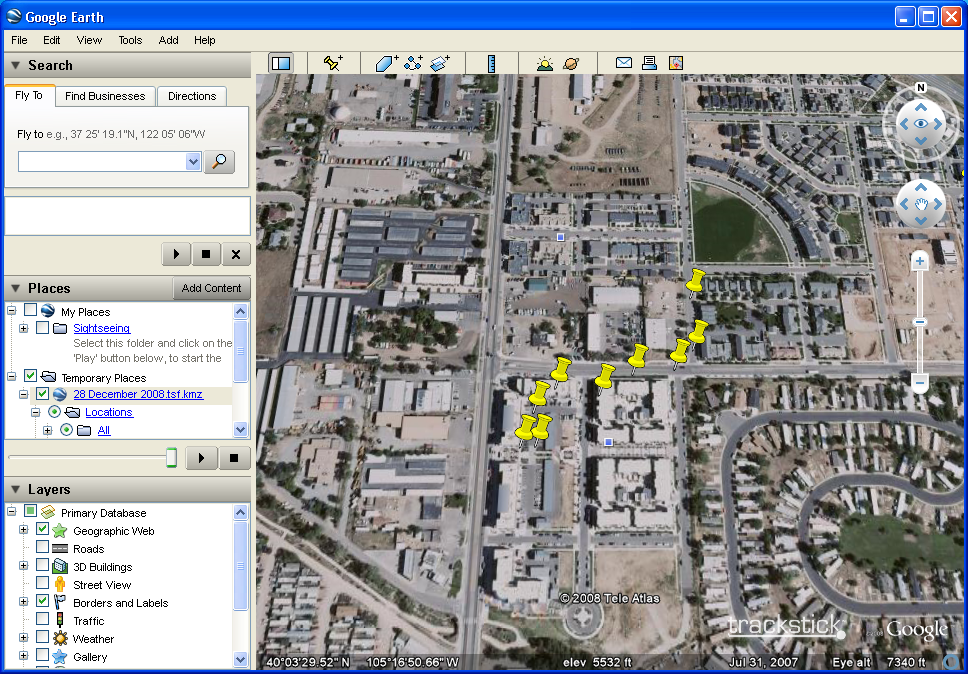 Not only can you see where we ended up for dinner (the last pushpin, since we reversed direction on the way back), but you can see the route we took too. Wicked, eh?
I also exported a Google Earth Timeline format file and the display was even more interesting:


You can see an interesting phenomenon above too: Google Earth simply draws a line from waypoint to waypoint, without any knowledge of the streets and geographic features, which is why it looks like we drove through an apartment building or two no our way to dinner. No, we weren't that hungry!
In Conclusion
The Trackstick costs about $150 (see here, for example), which is a pretty good deal for something that can make it easy to keep track of who goes where, whether it's a company car (you could really easily slip this under a seat or in the glove compartment and your employee would be none the wiser) or a kids backpack.
It's also very cool to look at routes in Google Earth, which itself is an astonishingly cool application that I still find amazing.
The problem, though, is the software. It desperately needs to be rewritten completely, redesigned, and updated to feel like a "2.0" application that you'd want to use, rather than one that you have to suffer through to get the mapping results you seek.
I also suggest you check out Blue Sky Fun for GPS related products that have similar capabilities.
Disclaimer: The company sent us the Trackstick II for review. I don't think we would have purchased one, though: I just don't have the need for this device, cool though it may be.
---
This article was written by contributing editor Chris Kauza.