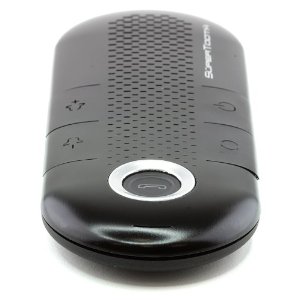 My expensive Toyota Highlander has a problem, and it's one that's bugged me for a long time: I paid the extra thousands of dollars for the high-end navigational system and hands-free Bluetooth cell phone speaker system, and while I love the nav system, the cellphone support is pretty awful. No it doesn't display caller ID when a call comes in. No it won't let me copy my phonebook — or even my ten favorite numbers — onto the system, but the kicker is that when I use the hands-free system, at least 50% of the time the person on the other end complains about how hard it is to hear and understand what I'm saying.
I called Toyota and asked if there's an upgrade path for the microphone. I'd pay $100-$200 to have a really high quality mic with noise reduction system hanging from my visor, but there's nothing. No upgrade path at all. Tough luck. Even third party solutions – of which there are quite a few – basically involve completely rewiring my dashboard and hooking the unit in as an external audio subsystem. And costs hundreds of dollars just to install.
Enter a category of Bluetooth devices called "in-car speakerphones". The idea is that these are self-contained speaker, mic and Bluetooth devices that let you sidestep the entire car audio system, and since they're generally designed to clip onto your sun visor, they're just inches from your mouth and should be clear when used hands free too.
SuperTooth sent us one of their new Crystal units, remarkably priced at about $70 on Amazon.com, and from everything I can tell, it's a big improvement on my far more expensive Toyota system.
As with any bluetooth device, there's the hassle of pairing the device with your cellphone, then the trick of actually using it on a day to day basis. Fortunately, I have an Apple iPhone 4s, and if you've ever paired a device with your iPhone, you know it's not too bad, especially since SuperTooth is smart enough to actually print pairing directions on the back of the unit – including the always important four digit security code. Even better, when you first turn the device on it detects that it's unpaired and automatically shifts into pairing mode.
Your phone, however, isn't quite that smart. Even with Siri involved. In fact, I asked Siri "enter bluetooth pairing mode" but, alas, she didn't understand what I was asking.
Thanks anyway.
The trick to pairing a bluetooth device on an Apple iPhone is knowing where to find Bluetooth, because it's not obvious. Tap on "Settings", then "General", then you'll find "Bluetooth".
Turn on the SuperTooth Crystal and you'll see something like this: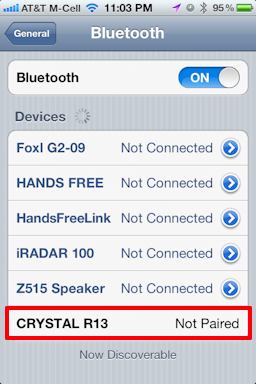 Tap on the device to confirm you want to connect and after a few moments it'll say "Connected" (without asking for the security code, which I found a bit confusing).
That's it. You'll only have to do it once.
Now when you're ready to make a phone call, simply tap on "Sources" and you'll see it as a new option: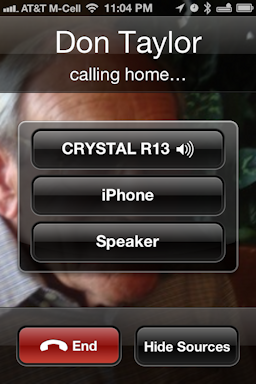 Tap "Crystal R13" and you'll be using the gizmo clipped conveniently to your visor.
On this particular call, I asked the other party how I sounded and he confirmed that it was significantly better than my usual hands free system, though still "echo-y", which is somewhat endemic to this type of product. There's still no replacement to holding the phone itself up to your mouth, but that's a bad idea when you're driving, needless to say.
One issue with a portable in-car speakerphone is power: you can plug it directly into your cigarette lighter, but I have having wires all over my dashboard, so its rechargeable battery with 40-hours of standby time is a good addition to this slim device, and with my usage pattern, as long as I remember to turn the unit off at the end of the day and turn it on the next morning, it easily lasts a week between charges. (In fact, it's rated for 20 hrs of talk time, 40 days of standby)
For its primary purpose, the SuperTooth Crystal is a very acceptable solution, though don't expect a high-fidelity sound out of the little speaker included. It's definitely tuned for voice, which makes it a bit puzzling why it also supports A2DP, Bluetooth-based stereo transmission. Cool idea, sort of like AirPlay, but without a good speaker designed for music, I didn't find it very useful, certainly when compared to my JBL sound system.
If you're looking for a hands-free solution for your cellphone, one that can sit unobtrusively in your car until you're ready to make a call, or perhaps a low-cost desktop speaker phone solution, I'd recommend the SuperTooth Crystal. At $69 (
through Amazon.com
) it's hard to go wrong.
Disclaimer: SuperTooth sent us a Crystal to try out for the purposes of this review.