It's the stuff of digital nightmares: you boot up your computer and the drive's corrupt, or you plug in an external drive — or even USB drive — and it doesn't appear on the desktop at all, or shows up without the files and data you need. Sure you can restart and hope, but a smarter strategy is to try some disk recovery software.
You can use Disk Utility that's included with Mac OS X but it's not going to help you recover the lost data, just fix any easy formatting hiccups on the media, commonly producing a functional but blank drive. Yikes.
Enter the awkwardly named Stellar Phoenix Mac Data Recovery Software application. A quick download, it does a good job of scanning broken or corrupt drives and making recovery of the information thereon a breeze…
One of the biggest challenges with data recovery is that the program can't trust the file system information tables so it can't show you the file and directory structure that you think is on the drive. The bigger the drive, the more of a pain this is. A USB drive with a dozen PSD files from your latest Photoshop project? No worries. A photo archive of 10,000 RAW and PNG files? That's going to be a bit of work if you need to just extract a dozen from six months ago.
As is common with these type of programs, Stellar Phoenix Mac actually scans the entire drive to identify every file it can find, typically even including those that have been deleted. In fact, one of its capabilities is to help you recover files that you might have already accidentally dropped into the trash and deleted. Handy in a crisis!
Let's see how it works with recovering a pretty big 32G USB drive that isn't properly mounted on my system.
At the point I start up the program, I've already tried other apps and not gotten very far with recovering any of the data on the USB drive. The opening screen gives me a few options, and I bet you can guess which I choose:
"Recover Data". Go figure. 🙂
Here are the four basic types of data recovery that the program can do: a quick recovery special mode, deleted file recovery, lost file / formatted media recovery and a filter that lets you search the damaged media for a specific file. Since my entire USB drive is messed up, I'll choose "Formatted Media / Lost File Recovery".
Now it shows me the media options it can find:
If you're running Lion or Mountain Lion, you should already know that the OS install actually creates a special hidden partition called "Recovery HD" that you can use if your OS gets messed up – just reboot while holding down Cmd-R. That's not what I want, nor is "Macintosh HD". The USB drive is listed as "NO NAME" (the first clue that something's wrong as it actually has a name when it's working properly).
On the right you can see the specs on this drive: 31.4GB capacity, 0B available. Totally full? Nope, but for the recovery software there's no way for it to know what files are present, so it assumes that it's wall-to-wall at capacity. No worries, it hasn't scanned anything yet to analyze the contents.
Chose the correct drive and continue. Now the program will scan the media…
and read the media…
And finally, after a fair amount of time – my 32GB drive took about 10min for a full scan – the scan's complete…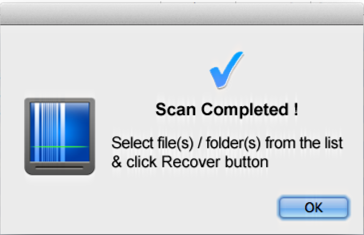 "OK" gets me to where there's a display of what was found as recoverable:
Notice on the left that the contents of the drive are organized by file type. Again, the original file and folder structure is gone because the recovery software can't trust the disk information blocks. This is about file recovery, not folder system recovery, as is true of all applications in this category. Here I'm looking at photos and it only found JPG files so that's the only subfolder under Photos.
What's really helpful is that you don't have to recover blindly because along the top are three tiny buttons, one of which — the "eye" — lets you quick preview the file you're about to recover:
When I do that on the JPG file I've selected, you can see it's an outdoor shot from up in the Rocky Mountains in Colorado: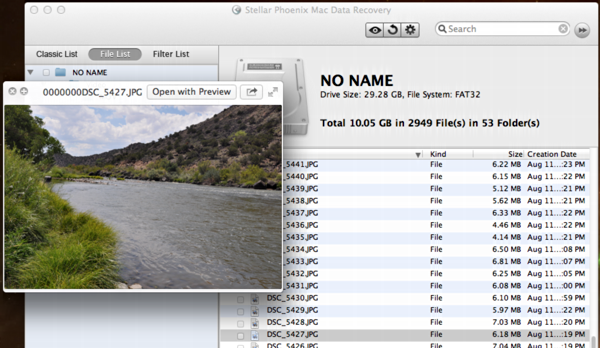 That's the file I want to actually recover from the bad USB drive, so with the check box adjacent to the file checked, along with a few dozen more critical images, I click "Recover" and it asks where I want to save the file or files:
One more mouse click and the recovery is zooming along…
That's it. Easy, fast (relatively speaking) and a life saver in those situations where your drive failed or glitched and those critical files just have to be recovered. At $119 it's fairly pricey, but if it helps you avoid wasting even two hours of your time recreating something that's been lost due to a disk failure, it's money well spent and with the combination of an instant download and CDROM for crisis situations, it's a great addition to your system management toolbox.
Stellar Phoenix Mac Data Recovery. $99 download only, $119 w/ CDROM copy, from Stellar Data Recovery. Recommended.
Disclosure: Stellar paid a nominal slotting fee to prioritize this product review, but had zero influence over the evaluation and review itself. Of course. Oh, and the links are affiliate links, which means you pay the same if you purchase the product, but we make a buck or two to help keep the lights on at AskDaveTaylor HQ.