It seems anachronistic to have a portable radio the size of a hardback book when you can grab an iPhone app or even listen to Internet radio on your laptop, but rather to my surprise I've grown to really like the One Flow radio from Pure.
The device comes from UK-based high-end audio purveyor Pure, and combines digital, FM and Internet radio in a wifi-enabled device that also has an AUX in (in case you want to hook up your iPod or iPhone), a long-life rechargeable battery and even an alarm clock feature.
What really causes me to like the One Flow, however, is that it ties into the company's web-based Lounge service, which makes it a breeze to find your favorite live or Internet-based stations out of the thousands available online, mark them as favorites, then push the updated favorites list directly to the radio.
Let's have a look…
Before I get into the One Flow, however, I should tell you that I am an avid radio listener, spending a lot of time at home listening to KUVO, the local Denver jazz station, and, now, listening to BBC Radio 2. Both of which are easily found in The Lounge, where you can then listen to them live on your computer or mark them as favorite stations on the Flow itself.
What's the big deal? If you travel, you know the frustration of having to find good radio stations in a foreign city or simply listen to your iPod playlist again and again. Sure, there are services like Spotify and Pandora, but they play music based on algorithmic analysis and popularity. A good radio station stays focused on a specific genre or musical style, however, and to my ears, is always superior, especially hours — or days — after you tune it in. Use the One Flow and it's a no brainer: pull it out, get it hooked up to the local wifi network, and you can listen to your same favorite live digital and Internet-based radio stations literally anywhere in the world.
Which is why it's very cool to set up the radio to allow me one-button access to my favorite Denver jazz station and BBC Radio 2, streaming live from London, England.
Connect to The Lounge and you'll see a lot of options: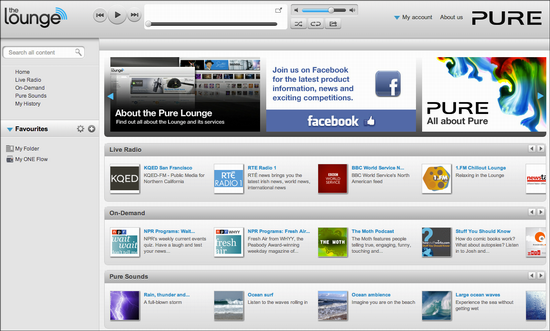 You can see that things are neatly organized into live radio, on demand (podcasts) and pure sounds, their own audio content and music you can purchase.
Search by genre, location or station name and you'll be presented with a long list of them, any of which you can preview in your browser. Like what you hear? Click on "favorite" and it'll become part of your favorites list, letting you easily push it out to the radio itself.
Here are some of my favorite stations in The Lounge:

The One Flow itself has contextual buttons, so it takes a bit of getting used to. You also need to register the radio with The Lounge service, something that proved rather tricky. Each radio has a unique MAC address, in case you're curious, and that's the "key" that unlocks it being accessible from the Internet. For a device with a small footprint and small speaker, the One Flow also has very nice sound, quite enough to enjoy in a hotel room or office.
The combination of easy access through The Lounge — including thousands of stations worldwide — and a smart interface on the Flow itself, coupled with a long-lasting rechargeable battery and easy button control makes the One Flow a winner. When I received the unit, I really didn't expect to like it very much, but I like it so much I'll be packing it in my suitcase for my next trip.
Pure One Flow Internet radio, $149 retail, $122 at
Amazon.com
. More info:
One Flow
. The rechargeable battery is an option and is a steep
$49.00 at Amazon
, but well worth the money (though I think they should include it in the product by default).
Disclaimer: Pure sent us the One Flow for review purposes.