I've written a lot about iPhones, and traveled down many different routes in terms of how to use them efficiently, how to have fun, and how to solve a wide variety of problems or glitches. If you've watched closely, you'll have also see in the screenshots that I have a lot of iPhone apps on my phone, in fact I think I've maxed out the number of screens I can create on the 3GS device.
Most of those apps? Games. I have a lot of games for my iPhone and while many of them are intended to keep my kids entertained (their favorites currently are Surviving High School, Cooking Mama, Oregon Trail, Sally's Spa and Pocket God) there are definitely some that I have added for my own enjoyment.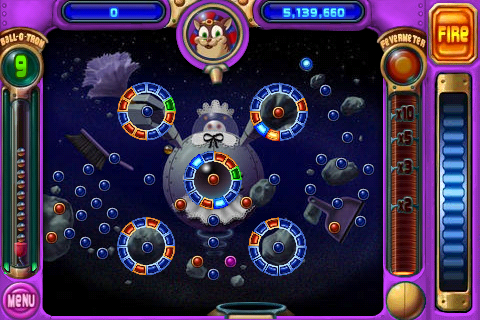 Peggle has you shooting a ball to bounce off, and thereby eliminate, red pegs on screen
Enter iPhone and computer game developer Popcap. I started out downloading
Peggle
and then finishing the game — three times through! — and asking them to release a new version so I could continue to play. Instead, they told me that they'd released a new game and wanted me to try it:
Chuzzle
.
Between finishing Peggle and getting Chuzzle, though, I had also fallen down the rabbit hole and spent many hours playing Bejeweled, also from Popcap. Their games are flawless, simple, interact with the interrupt-drive phone world beautifully (including automatically restoring wherever you were when you resume the game) and addictive. I liked Bejeweled too!
As a busy person I needed a new addictive, compelling game on my iPhone like I needed the proverbial hole in the head, and am sorry to report that Chuzzle is just that and it has had an adverse affect on my productivity, darn it!
It's pretty darn cool and highly addictive: my kids have even switched to playing Chuzzle rather than their usual games on the device.
First off, launch the game and you get a menu of options: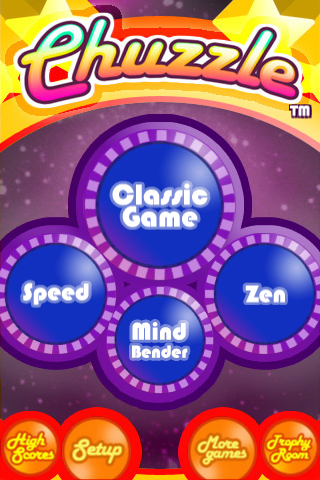 There are four different ways you can play the game, but I just play the "classic" game, pretending to myself that it's an oldie that's been around for years, hence the standard game being called "classic" in the first place. 🙂
Tap that and you get a screen full of colored "chuzzles" that look like Tribbles from an early Star Trek episode:
The basic idea here is to slide rows horizontally or columns vertically until you have three or more chuzzles of the same color in a line or adjacent in an "L" configuration or similar. Once they're all touching, they vanish and everything above them in the columns drops down, often causing other color chuzzles to find their mates and vanish too, in a point-generating cascade.
Stuck on a move? Wait a few seconds and the chuzzle that can be moved to create a grouping will shake a little bit, but if that's still not enough, tap on "Hint" and you'll get a very clear explanation of what to do, though at the cost of a few points: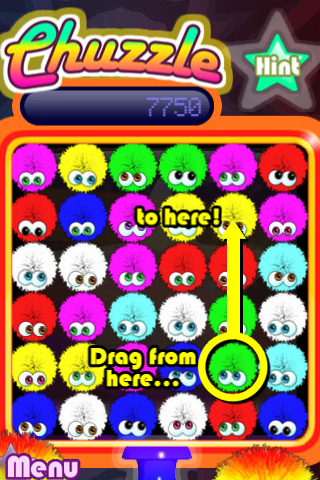 Play your sequences right and you can get a glowing chuzzle that's worth more points when you remove it from play. Do really well and you'll suddenly have an extra large chuzzle that is, again, worth more points:
You keep removing chuzzles from the screen just to have new ones keep filling the columns on screen. Hit a certain points milestone and you jump to the next level. My best? Level ten, 195,395 points. So far.
For variation there are other ways you can play Chuzzle, including the interesting Mind Bender mode: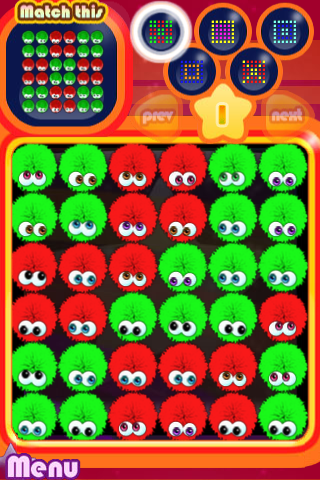 Seem reminiscent of Bejeweled? It is, as you can see from the screen shot below: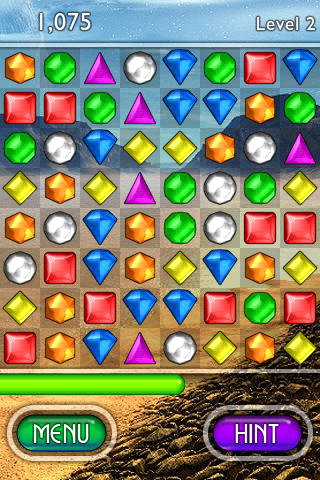 But at some level I don't care that it's inspired by another of their games. The fact is, Popcap has my vote for best casual games developer for the iPhone and based on my experience with their three titles, I'll happily buy new ones when released. My recommendation: get it, then say goodbye to your spare time for a week or three!
Disclaimer: Popcap gave me a promo code for Chuzzle, saving me the $4.99 the app costs in the iPhone app store. But I'd buy it anyway at this point!