I'm frequently asked by people for recommendations on computers and while I generally encourage people to always go for the fastest, newest they can afford, I've also started to appreciate the amazing deals you can find with factory refurbished gear. Whether you're an Apple fanboy or a PC person, all the big manufacturers find that they have excess stock when they roll out new models, and those 12-18 month old models can be great deals!
The biggest limitation for modern computing, however, and this is true whether you're running Mac OS X, Microsoft Windows or even Linux, is the amount of memory you have in the system. Known as "RAM" or random access memory, it's what all the running applications use to manage and process data. Have too little and you'll find that you can only run one app without things slowing down, but have a lot and every application you use will run faster, often noticeably faster.
That's why even though I had 4GB of RAM in my mid-2010 Apple MacBook Pro, I was very interested in an upgrade to 8GB from Otherworld Computing, a company that's long been a friend of AskDaveTaylor. My concern was how difficult it would be to disassemble my tightly integrated MacBook, pop out the old memory cards and insert new ones without messing up the rest of the system.
OWC sent me the new RAM, a $99 memory upgrade package that I could have lowered by selling them back my old 4GB RAM. On a MacBook as with most laptops, RAM is limited to two small DIMM circuit boards, so while you can get by with just one, standard configurations have both boards installed. I was upgrading, therefore, from two 2GB DIMMs to two 4GB DIMMs.
Still, even when the new memory arrived along with a link to a video the company had made on exactly how to do the upgrade, I was nervous and stalled for a few weeks before I decided to take the plunge.
The good news? It was surprisingly easy and even when I made a mistake inserting one of the new DIMM boards, it was easily fixed and recovered.
Let me talk you through it, then I'll link to the YouTube video I made of the process, a video that shows end-to-end time so gives you a sense of just how quick the process is.
First off, you can always tell how much RAM memory you have on a Mac OS X system by going to "About This Mac" on the Apple menu. Here's where I started: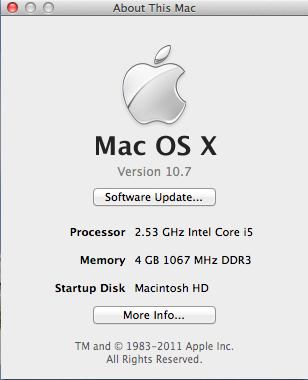 As you can see, I have 4GB of memory.
To upgrade, I shut down my MacBook Pro, flipped it over and, with a small jeweler's phillips screwdriver, carefully unscrewed and removed all eleven screws that hold the bottom plate in place. Here's what it looked like once I popped the back plate: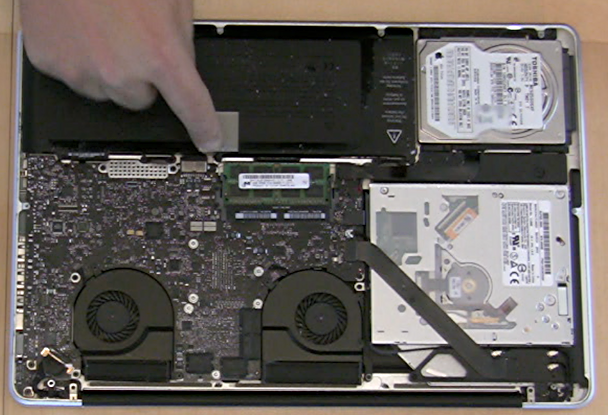 You can see that I'm pointing to the central spot where the RAM DIMM circuit boards are plugged into the main circuit board. The RAM is held in place both with a connector and small plastic "arms" . Gently pulling the arms apart let me pull out the old RAM…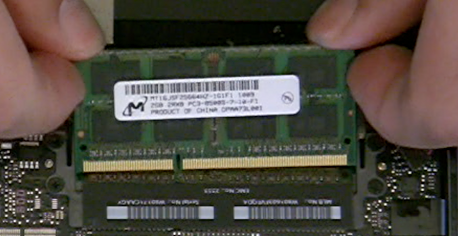 Once they were removed, I simply lined up the cut-out on the board edges of the new OWC RAM and pushed it firmly into the slot, then down so they were level with the device: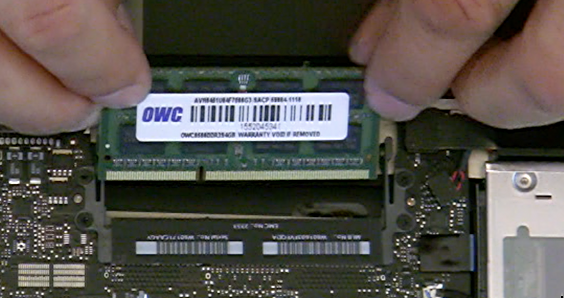 Once both boards were in place, I replaced the back cover, tightened down all the screws, and started up the MacBook Pro. Just to find that it still reported I had 4GB of memory?
What the deuce?
I pulled the MacBook Pro apart again and realized that I hadn't actually pushed the top RAM DIMM into its socket sufficiently for the electrical contact to be made, so it was a simple matter (though slightly anxiety provoking) to more firmly shove it into the slot. More screw tightening and…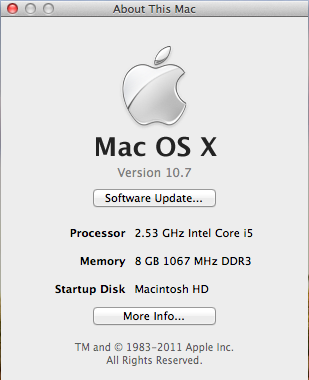 Sweet! Easy enough, and even when I made a mistake it was easily fixed. In fact, I made a video about the entire process:
Moral of the story? If you're looking for an inexpensive way to improve the performance of your computer, a RAM upgrade, even on the latest systems, is surprisingly fast and easy.