I've been a mostly casual photographer for more years than I can count, starting with cheesy little cameras and working my way up through Konica gear to Nikon, the gold standard in the world of professional photographers. Today I take photos, sometimes paid, mostly just for fun, with a Nikon D90 tricked out with a full set of additional Nikon gear, about $2500 worth, plus or minus a few hundred dollars.
The results are quite pleasing and I have photos all over the walls of my home, photos that I took, mostly of my children. When I upgraded from the D80 (which was itself an upgrade from my D100), I had shot about 18,000 pictures on it. The D90 is newer, so I think I'm still below 5,000 shots taken.

Nikon Coolpix P90 Digital SLR
When Nikon contacted me to try out one of their Coolpix cameras, the P90, I was quite intrigued. After all, in addition to my big Nikon DSLR setup, my other cameras are a Sony DSC-W90, about the size of a deck of playing cards, and my Apple iPhone. The P90 fits neatly in the middle, less complicated (and expensive) than the D90, and far more capable than the frankly crappy Sony, where 90% of the pics are too grainy to print.
What most attracted me to the P90 was its 24x digital zoom, effectively giving you a staggering focal range of 26-624mm. That's quite a zoom factor in a small camera that can easily nestle in a backpack or computer bag. But since most every feature of a modern digital camera has been commoditized and then end up identical on every camera in a specific price range, regardless of vendor, the only real question to me was: how do the pictures look?
I tested the Nikon P90 quite extensively. I wasn't interested in the dry performance specs and didn't really care much about battery life (though it definitely has less battery life than the heavy Nikon D90, about 250 photos or thereabouts), I was just interested in how the camera performed in real conditions.
As a result, I took hundreds of photographs, from those within my home to around the neighborhood, at parties, in Denver, focused on the urban landscape, and even took it with me on a trip to Chicago to see how it worked on a vacation.
The results? Quite impressive for a $339 self-contained digital camera.
I'll start by saying that the zoom was fabulous.
Check out these two pictures, taken from exactly the same spot in the middle of the crosswalk: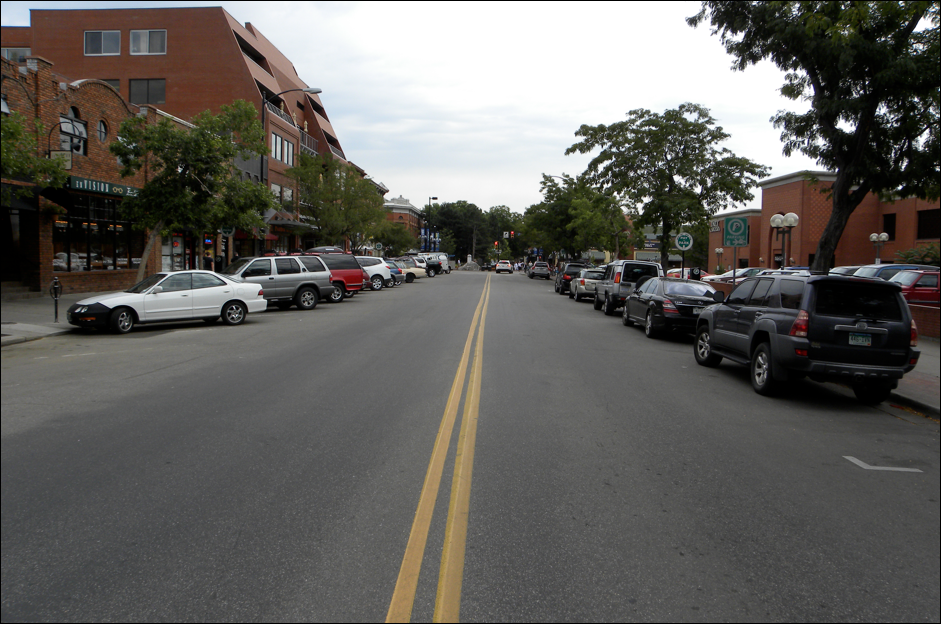 and, when I zoomed in all the way and stood as steady as possible:
Now, check out this interesting sequence of three photos. Believe it or not, I stood in exactly the same spot for all three and zoomed in tighter and tighter on the fireplace and, ultimately, the fountain behind it:
On that first picture, the P90 didn't do very well, but I zoomed in to just the fireplace and the CCD was able to do a considerably better job:
But where it really amazed me was when I zoomed all the way in, so I could see the fountain behind the glass, through the fireplace:
Nice! What's also cool is that the Coolpix P90 has a bright 3-inch LCD screen on the back of the camera that's hinged, so you can tilt it up to 90-degrees and take pictures from above a crowd, holding the camera above your head and still seeing the view screen:
Or you can lay the camera on the ground and take pictures from that vantage point too:
As you're viewing these pictures, look at the crisp colors and lack of grain. They would print up quite well at 11×16 and possibly even larger. I dropped in a 4GB SD Card and had plenty of space for 700+ photographs, even when set to image quality FINE and image size 4000×3000 (tip: always use the biggest image size you can. Lots more data = better picture resolution).
The camera couldn't always figure out what to do, even with all its smarts. The photo below was admitedly a tough one: pasta under an infrared heat lamp, but I was still surprised to see that it couldn't get any color spectrum at all out of the subject matter:
In particular, the broccoli was bright green, the pasta was a very pale yellow, and the sauce was red. The camera couldn't capture any of that.
Then again, yellow daisies against fallen leaves? A great color palette results: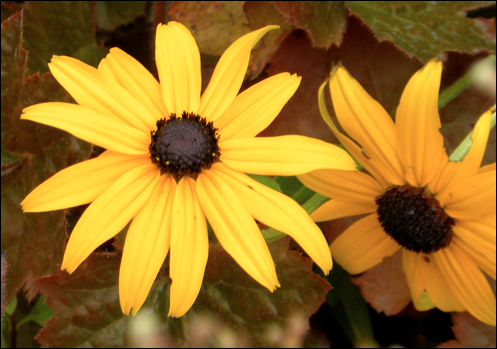 There were some other shortcomings with the camera too. The biggest? It's too darn complex. It can take videos, it has special modes for food photography, a smart sensor to retake portraits where the subject is blinking, on-camera red eye reduction editing, a multi-picture stitching capability for panoramic shots, and much more. Cool stuff, but, really, my focus is on the subject, not the gear, so even with my Nikon D90, I adjust it to the settings I like and never, ever touch or tweak it in the field.
Dying for specs?
Here are a bunch from Nikon
.
The final question, then, is would I recommend it? I think I would, particularly if you're a "zoom junkie" and like to really get up close and personal with your photographs. The self-contained zoom on this camera is nothing short of amazing, and it's light and solidly built, giving it a nice feel and great usability.