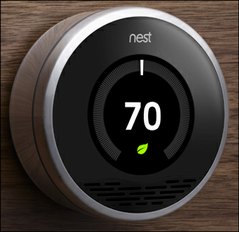 Given how much energy your home furnace and air conditioner consume, it's rather amazing how little innovation in HVAC (heating, ventilation, air conditioning, a common acronym in construction and architectural circles) we've seen in terms of the controls. Look at the thermostats in any public place, office building or home and you'll probably see a sensor and control device that's essentially unchanged since the 70s.
They work quite simply: the temperature at the thermostat is gauged and if it's hotter than the 'cool' setting, the device closes a circuit and the air conditioner turns on until the temperature drops down into the comfort zone. For heating it's the opposite: if the temperature at the thermostat goes below a preset limit, then the device closes a circuit and the furnace / heater turns on, pushing warm air throughout the space until the thermostat registers a sufficiently warm temperature that it can power things down for a period of time.
The problem is that we aren't always in the space, and that there are certain times of day where even if we are home, the temperature can safely go to a wider band of comfortable without a problem. For example, if you're asleep at 3am, why use the energy required to keep the house (or office) at the same temperature that you'd desire at 3pm, the middle of the day? In an office building, weekends should have a considerably lower "energy footprint" (a green eco-term) because they're quite likely empty.
Some companies, notably thermostat giant Honeywell, have introduced programmable thermostats for home and business, but they're difficult to work with, confusing, and quite often people just ignore the programmability and just set a heating or air conditioning "target" temperature. Super inefficient, but understandable when the programming task requires you pushing the same button a dozen or more times to slowly – painfully – get it set just so.
Enter Nest Labs of Palo Alto, California. With the design team that brought us the music paradigm shifting iPod, they set out to create the first truly smart and user friendly thermostat and having just installed one in my own home, I'll share that it's indeed elegant and fun. But there are some definite problems…
Before I talk about daily use, however, I need to share the installation experience because, well, a funny thing happened on the way to getting the Nest to work in my house: I had to buy a new $4000 Lennox furnace. Yes, it's 93% energy efficient and there was a nice $500 rebate from the local City as part of their efforts to help reduce our energy usage, but it's kind of like buying a bike tire just to realize you need a completely new bicycle. Painful.
This happened because we popped off the old Honeywell thermostat and plugged in the Nest, which was remarkably easy to install (see pic, below), with its own built-in wiring diagrams and the ability to draw all the power it needs — including for its wifi capabilities — from the power wire include in the HVAC system.
Some other smart thermostats actually require 110 volts, which is a huge pain because then you have an ugly power wire running from the thermostat to the closest electrical outlet. Aesthetically ghastly, in my opinion.
Here's the base plate, installed, with the wires connected. As you can see, everything's clearly labeled and they've even included a small level to make sure it's installed properly. Smart.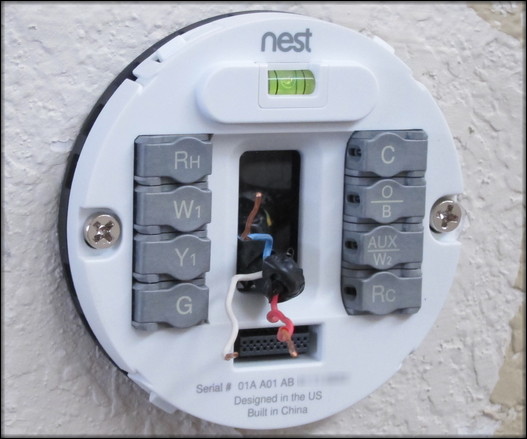 Basic programming is easily done directly on the device, including selecting your wifi network (yes, you need one for this to work properly) and entering the wireless network password: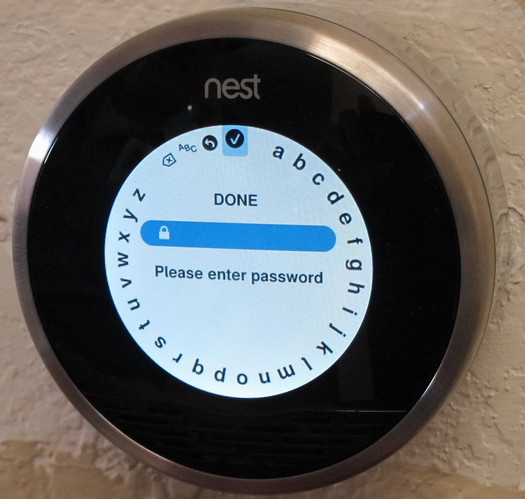 A bit more data to enter, including your zip code so it can monitor your local weather, and…
Of course, what's most cool about the Nest is that there's a Web based interface and even a remote control app for your iPhone (see:
Nest Mobile
for details). They make it a breeze to get your thermostat working perfectly for your house or place of business (there's a local café here in Boulder,
Atlas Purveyors
, that also has a Nest working, but I'll get back to them shortly)
Learning, Or Not?
And here's where the challenge began, because the Nest is a learning thermostat so it tries to figure out your daily temperature-setting schedule and remember it for the next time. Which works really well if you have a totally predictable and consistent schedule. Which I don't.
The idea is splendid, though. If I leave the house at 8.20am on Monday and spin the Nest down to 62F, then the following Monday at 8.20am it should automatically do the same, right?
In practice, my schedule is far more random, so what happened was that I'd check on the Web site to see what temperature my house was, and it'd be a temperature other than what I'd set. I'd leave the house at 9am, setting it to 63F and an hour later it'd be back at 68F. Same thing started to happen at night too; one night I woke up and it was warm in the house. When I checked the thermostat, it was at 68F. What the heck?
Still, given that it was fairly erratic in its temperature changes, I was definitely thankful that from any Internet-connected computer or my iPhone I could adjust the temperature up or down, as shown:
Notice also that the graphic, above, also shows the current temperature in the house (65F). The gray background shows that the furnace is off. If the heater were working to warm up the house, the background would be orange. Cooling is blue, logically enough.
Realizing that before we diagnosed the bad furnace problem (intermittent wiring turned out to be caused by a faulty temperature safety switch in my 18-year-old furnace, which is why I opted to replace it with a new one) I was monkeying with temperatures to force the heater to warm the house up, I reset the learning system so that it was empty.
Then I used the Web-based programming capabilities to set what is a somewhat regular schedule, certainly as a "base" schedule, though my days are actually more random and erratic than this would suggest:
That's a small screenshot, but basically at 7am the house warms up to 67F, then at 8.30am it drops down to 63F and stays there until about 5pm, when it goes back up to 67F until about 11.30pm, when it's back down to 62F. There's a slight switch on the weekends since we sleep in a bit later, but that's the basic schedule. Super easy to schedule.
Once I finally turned the learning mode off, I found a way that the Nest and I could work well together. It used my basic schedule to warm/cool the house, but any time I was leaving off schedule, I'd spin the Nest counter-clockwise to drop the desired temperature down to 62F, and it wouldn't remember that for seven days in the future, it just… dropped the temperature.
My conclusion is that learning mode has a basically impossible task with someone like me because there's no pattern to my arrival and departure times. There are times I'm not home for two or three days, then I'll spend the entire day at home without even stepping into the garage, let alone driving away from the house. In that sort of case, what's to learn?
There's a second mode that's useful in this situation too, where you set a "range" of temperatures and the Nest has to make sure the temperature stays within that band. In fact, Atlas Purveyors, as mentioned earlier, gave up on Learn mode too, ending up using the temperature range capability.

As shown above, the Nest also has an "away" mode that it'll switch into if its built-in motion sensors don't detect any activity in the house for a certain period of time. I found this capability useful because there were times I'd forget that I was leaving the house and it'd be smart enough to kick off the furnace and keep the temp cooler, saving me money.
After much experimentation, I really dig the Nest. It's very cool, very futuristic. There is some irony that I had to basically lobotomize the smart device and just use it as a remote-accessible thermostat, but I'm fine with that. I find that I do quite frequently check it on my iPhone: it's one tap away and updates data via the net in no more than five seconds. Nice to keep my house super cool during the day and have it warming up as I walk in.
The other question, of course, is
is it worth the money?
Fact is, the Nest Labs thermostat is darn expensive, at $325 (Amazon.com price), and there are other thermostats from companies like Honeywell that offer much of the Web-based interface and remote access but at less than half the price. I really like design of the system, from the Web interface to the iPhone app to the device itself. It's elegant in a way that no other thermostat I've ever seen is, even the fancy, expensive top-end systems. It's darn cool.
Do you need a new furnace to get it working? I sure hope not. I'll chalk that up to awkward and coincidental timing. Otherwise, once I disabled learning mode, the Nest Labs Thermostat is something I'm really learning to love, a home device that I can't imagine pulling off my wall. I'd be loath to go back to my clunky Honeywell thermostat that I never did figure out how program properly.
Nice job, Nest Labs. Let's see what else you have up your sleeves…
Disclaimer: Nope, there ain't one. I signed up for the Nest, waited, and paid for the thermostat when it became available. I paid for installation, and I had to drop over $4000 on a new furnace. I wish it would have been a review unit but life isn't always quite that convenient. 🙂