Can you learn how to relax, achieve a meditative state and control your own brain waves with a computer game? That was the premise of the biofeedback-based series of games from the Wild Divine Project, and when the company gave me a copy of their flagship title The Journey to Wild Divine: The Passage, I was eager to check it out.
And y'know what? It's extraordinarily cool. It's unlike any computer game you've ever played and even though I am not a fan of children playing computer games, I was happy to watch my children learn how to explore the lush interactive world of Wild Divine and overcome the various challenges and obstacles that are the heart of the game.
Imagine for a moment that you're in another world, a shangri-la of gorgeous vegetation, amazing views, sheer mountain cliffs, and beautifully landscaped gardens with architecture reminiscent of early Roman villas. As you walk around you encounter different people who explain tasks you can choose to try, or you can keep exploring, all the while relaxing to the peaceful music and environment.
Sounds a lot different from DOOM or Virtua Fighter, doesn't it? And it is. Using a biofeedback device that measures your skin conductance level and heart rate variability, you master the various challenges by learning to calm your mind, slow your breath and relax.
The Wild Divine team explains that the biofeedback device — the "magic ring" biofeedback sensors and "light stone" energy translator that hooks into your Mac or PC USB port — measures sweat gland activity, because increased perspiration indicates increased autonomic nervous system activation, which is associated with increased energy, both positive, like excitement, and negative, like nervousness."
The Journey to Wild Divine is designed as a mythic journey for the hero (the player) from an "outmoded existence" to an enhanced and creative life. You learn to enter into states of mind, body and spirit that give you access to important capacities that can be of enormous benefit, both mentally and physically.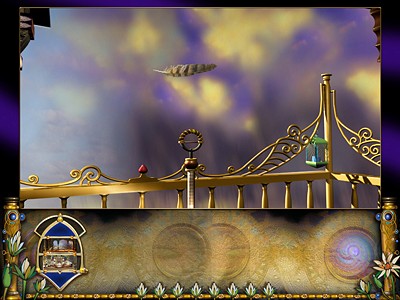 A typical challenge: help the feather float up to the top of the screen. With your mind.
The slower your heartbeat, the more you relax and "zen out", the higher the feather floats. Get interrupted by the phone ringing or your children bugging you and it'll sink back down as your body changes states, but if you can really slow down your brain and body, it's fun and not too difficult to achieve the goal of this particular challenge.
Of course, reviewing a game like this is tough because I have had some meditative practice in the past, including learning deep relaxation and mind-calming exercises. Perhaps I found the game enjoyable because it let me focus on those skills? To test it further, I let my children, 10 and 7, also try the Journey and they did
amazingly well
, quickly figuring out exactly how it all worked and eagerly spending an hour or more trying to master each and every meditative challenge.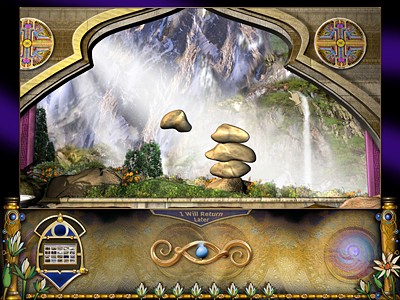 Relax enough and you'll pile up all the rocks in a virtual cairn in Journey to Wild Divine.
This second challenge is reminiscent of a scene in the movie
Star Wars
, actually, where neophyte Jedi warrior Luke Skywalker has to stack rocks with just the power of "the force", while also focusing on other tasks. In
Journey to Wild Divine: The Passage
, however, there's no Yoda to distract you, just a pile of rocks to stack based on how well you can relax and focus on the task at hand without distractions.
Finally, though, is it really fun and does it have the longevity of a good game? Kinda yes, kinda no, truth be told. There's a definite novelty factor with this game, but given its high price (retail is $147.95 at
Amazon.com
, for example) I would say that you probably aren't going to be happy with this purchase unless you make a serious commitment to playing it regularly to learn how to relax and calm your mind.
Having said that, who among us wouldn't be better off learning how to jettison stress and learn how to find that place of calm, peaceful relaxation more frequently? I imagine that it would be a very smart move for your mental and physical health, for example, to spend 30 minutes twice a week playing
Journey to Wild Divine
rather than a pick-up basketball game, bridge hand or surfing eBay for bargains.
The game runs well on Mac and PC systems, requires little disk space and only an 800×600 VGA display or the equivalent. At this point I don't know if it's Vista compatible, but it certainly works on every other Windows platform out there, as well as Mac OS X on PowerPC or Intel systems.
Recommendation: If you could benefit from learning how to relax, this could be the smartest purchase you make this year. It could also be a great gift for a gamer friend who might just need to find some balance in their life too.
Journey to Wild Divine: $147.95 at Amazon.com
.
Disclaimers: First, I am friends with the head of the Wild Divine Project and really love what they're doing in the impersonal world of gaming. Secondly, the link above is an affiliate link to Amazon and if you do buy the game through it, I'll earn a few nickels in commission. It helps keep our lights on, but if you'd rather sidestep that, just go to the Amazon home page and search for "journey to wild divine".