Wondering what to do with that Time Machine application that comes with the new Mac OS X Leopard? Have you thought about plunking $300 on Apple's Time Capsule?
Don't do it: wait until you read this review…
The LaCie Corporation have made hard disks for Macs since the beginning of time. They have a new external disk offering called the Big Disk Extreme 1TB. Let me first say yes, that's 1000 gigabytes of storage! Doubling the offering of Apple's Time Capsule device. At the time of writing this the disk was being sold for $224. That's more than $80 in savings over the Time Capsule and twice the storage too. But is it worth it?
Installation of the LaCie was straightforward. All one need do is plug it in and open the volume. I configured my LaCie Extreme to have two volumes. One volume I have configured for my Time Machine backups and the other for just plain data storage.
I will not that this is not necessary and you can leave the volume as is and do just fine with it as a ridiculously huge backup device.
With built-in FireWire 800 (9 pin to 9 pin), 400 (6 pin to 6 pin) and Hi-Speed USB 2.0 (USB 1.1 compatible), you can connect this drive to your Mac (or Windows XP or Vista PC, for that matter) any number of ways. It also has three different power management options, Auto, On and Off. The auto setting puts the drive in sleep mode after a period of inactivity and I expect the other two are pretty obvious.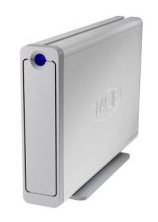 The drive is built with an aluminum body. This helps with the dissipation of heat away from the internal drive to the external casing. The cooling of the drive is exceptional in combination of the super quite thermoregulated progressive quiet fan. It's quiet, but the case does get hot after a few hours.
Did I mention it comes with a 3 year warranty? Probably a good thing.
The Big Disk Extreme also comes with a base that the drive sits on sideways, leaving plenty of room on your desk for your other gadgets. Its exact dimensions are Dimensions: 1.7 x 10.6 x 6.8 inches / 44 x 272 x 173 millimeters (W x H x D). Not bad for a disk of this size. 5.5 pounds gives the drive a nice heft and keeps it from falling off the table too, if you happen to bump it.
There is also something called the LaCie shortcut button. It can be used for one button push backups or specific application launch, though I didn't actually configure it with my system.
Besides being ideally suited for ever important data back ups the LaCie also excels at
digital video editing, SD video and 2D/3D imaging: The average write time on the drive is less than 10 milliseconds. The drive has 32Mb of cache and a rotation speed of 7200 rpm. In my tests the drive lived up to my expectations. I copied 5 Gigabytes of data in 2 minutes and 35 seconds. I suppose if you are a professional video editor you may want to look elsewhere, but this speed is just fine for hobbyists and people editing home videos and non-feature films!
In conclusion, if you've got a whole bunch of stuff and your current disks are stuffed to the gills, you can't go wrong with the LaCie Big Disk Extreme 1TB for your data storage needs.
Nick Blackman is a computer geek turned Mac Nut. He never meet a gadget he didn't want! 🙂